An all-star cast - Michael Shannon, Michiel Huisman, Katherine Waterston - headline a routine Belgium-set whodunnit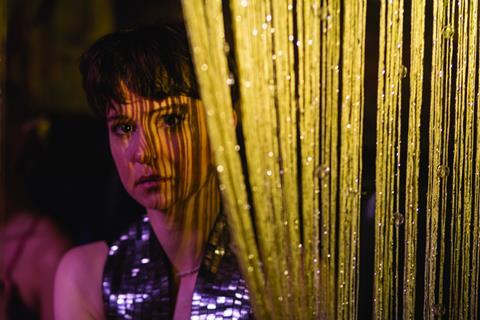 Dir. Meredith Danluck, USA, 2018, 104 minutes
In State Like Sleep, an American woman returns to Brussels, where her celebrity husband died suddenly and mysteriously in a luxury loft a year before. A whodunit inside a family drama, this headlong chase of the secrets behind a death is unlikely to get viewers' hearts racing. It will take more than the presence of Michael Shannon, Katherine Waterston and Luke Evans to fuel a following for this story about a widow who assembles a series of clues behind the killing, and there is not enough in the performances or the script to set it apart from the constant flow of indie crime dramas.
…Nothing to set it apart from the constant flow of indie crime dramas
At the core of Meredith Danluck's feature debut is the photographer Catherine Grand (Waterston), as State Like Sleep jumps back and forth between the death of her husband, heartthrob Stefan (Michiel Huisman) and her return to Brussels a year later. Clues include another woman caught on camera with Stefan by tabloid paparazzi and a sudden money transfer out of his bank account just before Stefan died of a gunshot wound.
To complicate matters, Catherine's mother (May Kay Place) is in Brussels to clean up the loft that's gone untouched since Stefan died there. Since arriving, she's suffered two strokes and is in hospital. Stefan's imperious mother (Julie Khaner), is trying to get the tortured Catherine to sell the loft and hand her all the money. Through it all, the knotted plot and flashbacks can be confusing.
DP Christopher Blauvelt's camera is affixed to Waterston for much of the time. Some of the film's most gripping moments come in close-up, when she struggles with efforts to draw her away from the truth of Stefan's death. A scene where she picks up a stranger in a bar, and then sits, stuck in a hotel tub of bubble bath, silent and bemused, as the kinky hookup convulses on his knees, captures her despair and isolation.
Michael Shannon is a hotel guest in a room nearby Catherine's, as the film suggests its kinship with other screen stories of Americans away from home. Shannon first appears as an oleaginous bullying drunk – as in an early 1990's Barbet Schroeder film - but Danluck finds less sinister (and more obvious) uses for him in advancing her story. We do see some Brussels landmarks, even though most scenes of this American production were shot in generic interiors in Canada – hotel rooms, throbbing nightclubs, a hospital room. In a statement in the film's press kit, Danluck notes that the script drew on her experiences of living in Brussels with "someone who masterfully hid a secret life," adding that her mother was also hospitalised there.
Mary Kay Place is annoyingly, uncomfortably real as an overbearing mother who becomes her daughter's burden when her health fails. Michiel Huisman is the kind of vain attention-seeking son that his self-absorbed Belgian showbiz mother deserves. Carlo Rota plays a neurologist of questionable competence who speaks with an eerie assurance of Catherine's mother's condition as she deteriorates. When he's onscreen, the film has the same absurd feel as the bathtub scene. Had Danluck found a way to deepen that mood of incomprehension and helplessness, State Like Sleep would have more of an identity of its own.
Production companies: Sight Unseen Pictures, Code Red Productions, Scythia Films
International sales: JLacy@icmpartners.com
Producers: Eddie Vaisman, Julia Lebedev, Angel Lopez
Screenplay: Meredith Danluck
Production design: Zosia Mackenzie
Editing: Curtiss Clayton
Cinematography: Christopher Blauvelt
Music: Jeff Wingo, David Mcilwain
Main cast: Katherine Waterston, Michael Shannon, Luke Evans, Michiel Huisman, Mary Kay Place, Julie Khaner, Carlo Rota