Amanda Lipitz has a hit on her hands in this crowd-pleasing documentary set in inner city Baltimore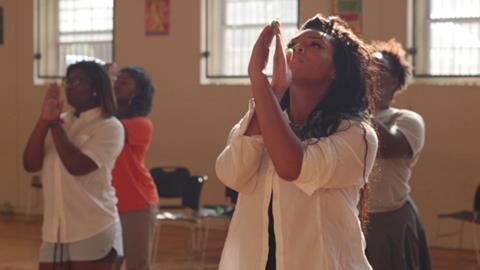 Dir. Amanda Lipitz. US, 2017, 83 mins
Step is a film with all the gifts: you'll laugh, you'll cry, you'll cheer the Lethal Ladies step team at Baltimore's Leadership School For Young Women (BLSYW) as they undergo the dual traumas of applying for college and competing in the all-important Bowie State step championships. Three teenage girls and their mothers and educators open their hearts and lives for director Amanda Lipitz; it's quite a privilege to witness their story.
There's something terribly affecting about a high school dance routine in which the girls exclaim "hands up, don't shoot!".
Thankfully, it isn't necessary to know anything about inner city Baltimore, step, or the complex college application process in the US to fall for this surefire documentary hit. Director Amanda Lipitz educates, entertains and inspires in equal measure. 2005's Mad Hot Ballroom – which also premiered at Sundance and was released by Paramount – is a parallel, but this feels more politically attuned to the current times with its high-stakes message of black female empowerment.
Lipitz, herself a Baltimore native with a background on Broadway, sets the Baltimore scene with a precision which means that even international audiences who may not remember the riots of 2015 and the death of Freddie Gray will quickly understand what is at stake for these pupils. The BLSYW is new, community-led, entry is by lottery and it has been set up specifically with the aim that every girl will proceed to college: 2016 will mark the first intake to graduate.
Lipitz starts her story, though, with the BLSYW's Lethal Ladies step club, and quickly pulls out three students through which this story will be told. (For the uninitiated, step has its roots in Africa and combines tap, gymnastics and hip-hop). First and foremost there's the exuberantly beautiful Blessin: with a different, elaborate hairstyle to match her many moods. This girl is passionate and spirited and founded the step club, which bings her to life. But there is great pain behind Blessin's perfectly made-up features, with a violent background of poverty and homelessness and a mother who is often depressed. She struggles to attend school – she missed 53 days last year - and make her grades. "My community is pretty poisonous," she admits.
Cori, meanwhile, is a self-described introvert with six siblings and a drive to attend Johns Hopkins, where the tuition nudges $50,000 per annum. Cori's mother Triana fell pregnant when she was 15; touching pictures show the mother and baby in a Mickey Mouse-themed bedroom – Triana was still a girl herself. This deeply-religious family has constantly and bravely struggled to survive. "We were homeless and I didn't know it," says Cori, admiringly, of her mother, who she describes as a "magic wand in human form". She knows university is her road out of this life, but she's terrified at even the prospect of borrowing $5,000 per year to make the fees.
Finally there's deadpan Tayla, "a notch down from Beyonce" in her step skills. Tayla's force-of-nature mother Maisha is a correctional officer by night, and a Lethal Ladies supporter by day, not averse to breaking out her own moves at the drop of a hat and barging in to take over the class.
Surrounding them are fierce step instructor Gari, determined school principal Chevonne Hall and counsellor Paula Dofat, who wears her heart on her sleeve. Their passion and the way it collides with the girls' difficult circumstances is a powerful and potent mix, and Lipitz structures her film in a way that conveys the urgency involved. This isn't just a dance competition, or a grade average: it's a struggle to survive, and to lift these young girls' lives out of poverty and violence.
Behind it all is Baltimore, a city whose black population has seethed with injustice. Giant street murals of Freddie Gray, who died in police custody, make the place look like West Belfast. Poverty and single parenthood are commonplace: like the educators, audiences can see the traps laid out for these bright girls, particularly Blessin. Lipitz enjoys great access and trust, and she gives the documentary a classic structure without falling into the trap of relying on an over-emphasised score to move the film along.
Crowds will be pleased, tears will be shed and audiences should rally to the passion and drama onscreen. The stakes are high in Step. There's something terribly affecting about a high school dance routine in which the girls exclaim "hands up, don't shoot!". The viewer wants things to change too. When the credits come up, it's hard to leave these girls behind: it wouldn't be a great surprise to see this film followed up in some way, be it on TV or film, Broadway or reality show.
Production company: Stick Figure Productions
International sales: WME Global, lcopland_asst@wmeentertainment.com
Producers: Steven Cantor, Amanda Lipitz
Executive Producers: Dan Cogan, Geralyn Dreyfous, Jenny Raskin, Scott Rudin, Paul G. Allen, Carole Tomko,
Micheal Flaherty, Valerie McGowan, Barbara Dobkin, Regina K. Scully, Debra McLeod and Jay Sears, Ann & Andrew Tisch
Cinematography: Casey Regan
Editor: Penelope Falk
Music: Laura Karpman, Raphael Saadiq
Featuring: Blessin Giraldo, Cori Grainger, Triana Grainger, Tayla Solomon, Maisha Solomon, Chevonne Hall. Gari McIntyre, Paula Dofat