A new mother is terrorised by a demon that may be all in her mind in this effective postpartum horror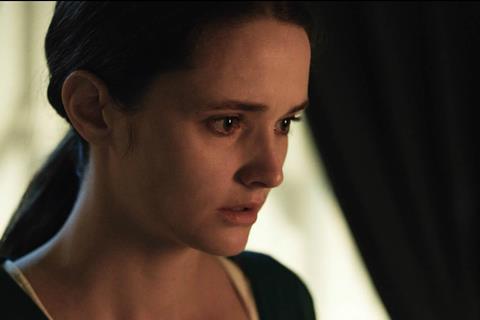 Dir Brandon Christensen. Canada. 2017. 87 mins.
If for nothing else, Still/Born would stand out for having the single most terrifying – and terrifyingly delivered – line in anything on offer in this year's FrightFest. As an emaciated female demon reveals her motivation for striving so hard to take the heroine's surviving child from her, it's a rare case of a chill delivered simply through words… and is liable to give audiences nightmare flashbacks for a long time.
The narrative strings out ambiguity about whether the monster is real or imagined for most of the film
Otherwise, this self-contained horror story – which is either the tale of a woman hallucinating during postpartum psychosis or being persecuted by a supernatural being – hews closely to familiar genre conventions. Co-written by debut director Brandon Christensen and Colin Minihan (Grave Encounters, Extraterrestrial and fellow FrightFest title It Stains The Sand Red), the narrative strings out ambiguity about whether the monster (a genuinely scary apparition, not overused) is real or imagined for most of the film. The climax, however, inevitably tips the balance towards a possible horror franchise.
Mary (Christie Burke) dotes on her newborn son Adam, but is wracked with guilt because his brother Thomas was born dead. In an effort to get her back on track, her husband Jack (Jesse Moss) moves her to an isolated, upscale home, then promptly leaves on a business trip. Alone, Mary veers between being overly protective of her baby and alarmingly careless, tormented by a baby monitor on which she is forever hearing ominous rustles and rasps.
The fact that the heroine's blandly reassuring doctor is played by genre veteran Michael Ironside means that his diagnoses are suspect from the off. The young mother's paranoia about her child's health and the sparks struck between her husband and the siren next door (Rebecca Olson) also ramps up her hysteria, and she is constantly being duped into making scenes or appearing foolish.
Like many recent horror hits (Mama, The Babadook, Under the Shadow), Still/Born is about motherhood and consequently revolves around a powerhouse performance from a lead actress. Here, Burke — perhaps best-known as the grown-up version of the scary baby in the last films in the Twilight saga — is outstanding as the fragile, yet determined heroine who is terrorised beyond the bounds of sanity but has to remember that she might be doing all this to herself.
The rest of the cast are decent, but have to play at a lower register; sometimes infuriatingly calm or cheerful when Burke's Mary is on the point of cracking up completely. Visually, there's an abundance of shadow and dusklight, but the stylised setting is a pointed contrast with the traditional old dark house.
Production companies: Digital Interference Productions, Hadron Films
International sales: Jinga jr@jingafilms.com
Producer: Colin Minihan, Chris Ball, Kurtis David Harder
Executive producers: Ben Knechtel, Jesse Moss, John Poliquin, Giovanni Bernard, Miles Forster, Steve Shiels, Chris Wilkinson, Mark Knechtel, Andrew Burrows, Josh Nichols, David Gauthier, Eric Howe
Screenplay: Colin Minihan, Brandon Christensen
Cinematography: Bradley Stuckel
Production Design: Mike Kasper
Editors: Brandon Christensen, Colin Minihan
Music: Blitz/Berlin
Main Cast: Christie Burke, Jesse Moss, Rebecca Olson, Jenn Griffin, Michael Ironside, Sheila McCarthy