Dir/Scr/Prod/Ed/Cine: Kim Ki-duk. South Korea. 2015. 85mins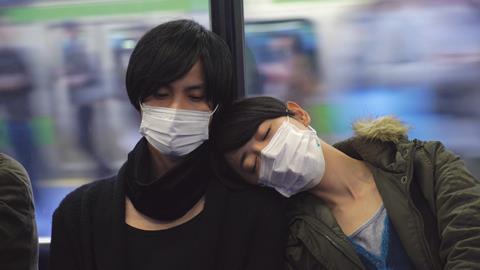 One of Korea's most controversial filmmakers, Kim Ki-duk (Pieta) moves away from home for his latest film Stop to tackle the themes of nuclear power and radiation in the wake of the meltdown at Japan's Fukushima nuclear power plant in March 2011. True to form, the film is full of Kim's eccentricity as he takes matters to the extreme, but akin to One On One, he's more focused on putting forward his arguments which results in a film with more dialogue but fewer layers.
To reverse his style in such a way as his films become less complex and more argument-driven undermines one of the traits that made Kim Ki-duk's earlier films rather compelling.
Kim's status as a provocative auteur should ensure Stop is awarded further festival exposure after its Karlovy Vary premiere, but ultimately, this will not be viewed as his strongest work. At home in Korea, where his films don't tend to attract large numbers at the box office (although Golden Lion winner Pieta is a notable exception with a $3.9m haul), audiences are unlikely to greet Kim's latest feature with a great deal of enthusiasm.
The film's opening scene takes place at a couple's home in Fukushima when an earthquake strikes, leaving them visibly shaken but more concerned by the smoke billowing from a nearby nuclear power plant. They are soon told to evacuate by two men in protective gear and they find a small place to live in Tokyo. One night, Miki (Natsuko Hori) receives a phone call from a mysterious man who knows she is pregnant. Dressed in a suit and black tie, he's soon at their apartment claiming the baby could be deformed and insinuates that an abortion is the only option. He says there is a "special team" who can assist.
After she encounters a disturbing image of a dead fetus on the Internet, Miki decides to have the abortion. But Sabu (Tsubasa Nakae), her husband, later resorts to tying her up and returns to Fukushima to take photos of animals and their offspring as proof that the radiation hasn't affected them. Once there, he discovers something far more alarming.
As Miki changes her mind, Sabu becomes intent on cutting Tokyo's power with a man called Take (Hiromitsu Takeda) who is selling fresh meat from the contaminated area. They blame the disaster on the country's dependence on electricity.
Once again, Kim Ki-duk has shot, edited, produced and written his film, only this time it is set in Japan using entirely Japanese dialogue. His touch can still be felt everywhere, as is evident in the film's handheld cinematography and editing, which feels very rough around the edges - emblematic of much of Kim's work. Unlike many of his contemporaries, Kim has never received any formal training in filmmaking, but his raw aesthetic is also due to the fact that he tends to shoot his films in just a few weeks or even less on a very limited budget.
Neither of the leads leaves a lasting impression. As happens so often with Kim's films, although he's not visibly present this time, he is at the centre of Stop with his views of society and his use of form and style.
Kim's films have until more recently used minimal dialogue, as evident in Moebius, where no dialogue is spoken reflecting his intent of telling a story entirely through visuals without resorting to speech. But to reverse his style in such a way as his films become less complex and more argument-driven undermines one of the traits that made his earlier films rather compelling.
The points Kim Ki-duk attempts to address are relatively simple: no to nuclear power and reduce our dependence on electricity and he uses this story in putting his argument across, which is aimed at Japanese, Korean and international viewers alike. But beyond this, there's little in the way of depth to really entice audiences.