Jake Gyllenhaal plays Jeff Bauman, the survivor of the Boston marathon bombing who lost both legs in the attack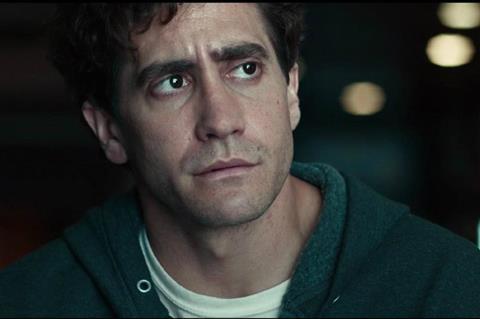 Dir. David Gordon Green. US. 2017. 119mins
Jake Gyllenhaal's appealing boyish sincerity can't cure what ails Stronger, an inspirational true-life drama which is perhaps too adoring of its subject. Playing Jeff Bauman, who lost his legs during the 2013 Boston Marathon bombing, Gyllenhaal gives us a credible depiction of a regular guy thrust into the public sphere, uncomfortably serving as a hero to those shocked by the tragedy. But although director David Gordon Green commendably opts for a realistic, unfussy depiction of Bauman and his on-again/off-again girlfriend (played with welcome grit by Tatiana Maslany), Stronger feels more perfunctory than lived-in.
As likeable as the leads are, this love story doesn't smoulder or spark as one might hope
Opening Sept. 22 in the States, Stronger will benefit from the familiarity of American audiences with the bombing, which occurred only four years ago. Gyllenhaal's commercial track record should help, too, although the disappointing grosses for last year's action-thriller Patriots Day may suggest that viewers have a limit for how much they want to see of that terrorist attack on screen.
As the film begins, Jeff (Gyllenhaal) is a goofy, immature Costco employee still hung up on his ex Erin (Maslany), who remains friendly with him. Going to cheer her on during the Boston Marathon, Jeff is right in the middle of one of the two terrorist explosions, sending him to the emergency room where he loses both legs right above the knee. Stunned but determined to walk again, he begins to win back Erin, who feels guilty that he was at the race because of her.
At its best, Stronger tries to sidestep the histrionics that such emotionally volatile material might inspire in a more manipulative director. Green not only grounds the proceedings in a melancholy minor key, but he and screenwriter John Pollono (working from Bauman's co-authored memoir) also mildly critique the cynical ways that the city of Boston carted Jeff out as a symbol to inspire others.
The movie is clear-eyed about the disconnect Jeff feels between the resilient hero that average citizens view him as and the troubled, wounded victim he sees in himself. Gyllenhaal captures all of Jeff's anger, confusion and sadness after the attack, making this young man seem both brave and pathetic as he goes on an emotional rollercoaster. The Oscar-nominated actor has a directness about him that allows us to recognise Jeff's vulnerability — but not without also realising that, during his recovery, he can sometimes be appallingly self-pitying.
For her part, Maslany ensures that Erin sympathises with Jeff's plight but, eventually, understands that she can't just be his maid — and that she needs to let go of her guilt if they're really meant to be together. The two stars have a smart-ass, affectionate rapport that clues us into why Erin kept breaking up with him — he's an overgrown kid with no aspirations — but also why his sweetness has brought her back.
As likeable as the leads are, this love story doesn't smoulder or spark as one might hope. Similarly, Stronger's depiction of Jeff's difficult relationship with his overbearing family — especially his possessive mother (played in prickly register by Miranda Richardson), who disapproves of Erin — is resolved without much fanfare. The filmmakers suggest that Jeff doesn't just need to learn how to walk — he also needs to grow up — but there's an odd politeness to the execution, as if everyone involved wanted to be sure to honour Bauman's story above all else.
Stronger is by no means a wholly glowing account of the man's life after the bombing, but Green strains to ensure a happy ending at the expense of the character complexity and dramatic nuance that would have made such an ending that much more satisfying.
Production companies: Lionsgate, Bold Films, Mandeville Films, Nine Stories
International sales: Wendy Reeds, wreeds@lionsgate.com
Producers: Todd Lieberman, David Hoberman, Jake Gyllenhaal, Michel Litvak, Scott Silver
Executive producers: Gary Michael Walters, Riva Marker, Anthony Mattero, Peter McGuigan, Nicolas Stern, Jeffrey Stott, Alexander Young
Screenplay: John Pollono, based on the book by Jeff Bauman and Bret Witter
Cinematography: Sean Bobbitt
Production design: Stephen Carter
Editor: Dylan Tichenor
Music: Michael Brook
Website: www.strongerthefilm.com
Main Cast: Jake Gyllenhaal, Tatiana Maslany, Miranda Richardson, Clancy Brown