Kumail Nanjiani and Dave Bautista play a mismatched pair in this disappointing crime caper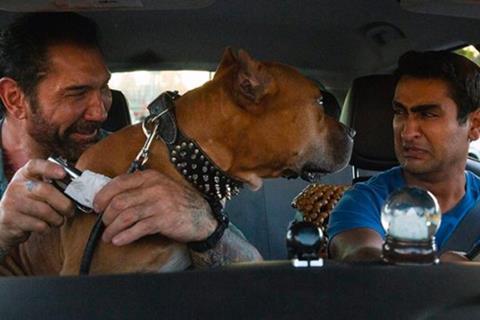 Dir: Michael Dowse. US. 2019. 93mins
Kumail Nanjiani and Dave Bautista are a likeable pair that deserve better than Stuber, a strained action-comedy with a clever premise but maddeningly uninspired execution. This tale of a meek Uber driver who finds himself trapped transporting a hardened detective broadly draws its main characters as polar opposites and, rather than hilarity ensuing, the audience is tortured with pedestrian observations about masculinity and buddy-cop flicks. Neither hysterical nor thrilling enough, Stuber sputters.
Part of the problem is that neither actor is particularly convincing in what should be tailor-made roles
Releasing in the UK and US on July 12, the movie will hope to be an alternative for adult viewers uninterested in Spider-Man and live-action Disney fare. Bautista's association with Guardians Of The Galaxy will help, and Nanjiani's star is on the rise thanks to his Oscar-nominated The Big Sick. But the betting is that the initial excitement over this wannabe-raucous film's catchy hook will quickly subside once audiences get a chance to see what's in store.
Nanjiani plays Stu, a lowly sporting-goods store worker who makes extra money driving an Uber. One day, he picks up Vic (Bautista), a tough-as-nails cop haunted by the recent death of his partner and obsessed with turning in the vicious drug dealer, Tedjo (Iko Uwais), who killed her. Vic has received a tip about Tedjo's whereabouts, but barely able to see after LASIK eye surgery, hires Stu to drive him on what will become an increasingly perilous mission.
Directed by Michael Dowse (Goon) and written by Tripper Clancy, Stuber has the potential to be a witty riff on Collateral, Michael Mann's sleek Los Angeles thriller in which a contract killer forces a cab driver to chauffeur him between assignments. Stuber shares with that 2004 film a setting and general premise, but Stu and Vic will quickly come to resent one another, their different mentalities clashing in what's meant to be humorous fashion.
Regrettably, the screenplay requires Nanjiani to play the most extreme version of a nice-guy pushover, while Bautista is equally one-dimensional as an ultra-macho cop who scoffs at Stu's sensitivity, considering him to be an unmanly wimp. (In a running joke, Vic keeps stumbling around blindly during tense moments, leading to awkward physical comedy.) Such over-the-top types require sharp writing and pitch-perfect performances, both of which Stuber badly lacks.
Part of the problem is that neither actor is particularly convincing in what should be tailor-made roles. The nerdy, slow-burn exasperation that Nanjiani mines so well in his stand-up is wasted on Stu, who fluctuates between being an unfunny doormat — a draggy Stuber subplot involves his cowardice regarding telling his best friend (Betty Gilpin) that he loves her — and a shrieking whiner who's had enough of Vic strong-arming him. The character is a beta-male cliché and, beyond a few nicely dry line readings, Nanjiani can't bring him to life.
Likewise, Bautista's burly physique makes Vic suitably intimidating, but he overdoes this cop's no-nonsense coarseness. Vic will do anything to take down Ted — even flout the law — and Stuber never hits upon the right comedic tone for his questionable antics. The idea is that Vic is supposed to be a brawny bulldozer who's not in touch with his feelings, but the character mostly just comes across as a massive jerk.
Stuber's crime narrative isn't particularly interesting, and Stu and Vic's journeys across Southern California are littered with dull twists, alongside tired bits about electric cars, Uber drivers and Uber passengers. (The movie could be a feature-length ad for the ride-sharing service.) The filmmakers have to work pretty hard to justify why Stu stays with Vic, who puts his life in greater and greater danger. (Stuber is a proudly violent and foul-mouthed comedy, complete with several fatalities.) And the attempts to transform our main characters into an unlikely buddy-cop team are only occasionally amusing.
But what's especially unfortunate is that, near Stuber's finale, Stu and Vic open up to one another, and only here do we get a sense of the actors' endearing chemistry. Of course, that's what the film has always been driving toward — showing how these two very different men can find common grou — but Stuber's earlier hackneyed opposites-attract gags have, by that point, snuffed out any warmth toward these characters. Stuber is all premise, no follow-through, letting down not just its leads but also a fine supporting cast that includes Uwais portraying a thoroughly boring baddie and Natalie Morales as Vic's endlessly disappointed daughter. This talented ensemble will be happier with this misfire in their rear-view mirror.
Production company: 20th Century Fox
US distribution: Disney / UK Distribution: 20th Century Fox
Producers: Jonathan Goldstein, John Francis Daley
Screenplay: Tripper Clancy
Production design: Naaman Marshall
Editing: Jonathan Schwartz
Cinematography: Bobby Shore
Music: Joseph Trapanese
Main cast: Kumail Nanjiani, Dave Bautista, Iko Uwais, Natalie Morales, Betty Gilpin, Jimmy Tatro, Steve Howey, Mira Sorvino, Karen Gillan