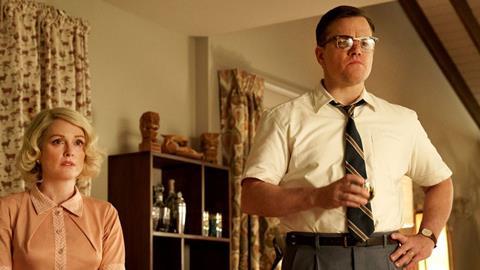 Director: George Clooney. US. 2017. 105 mins.
This year in particular, the American dream of the 1950s – so modern and gleaming from the outside – is being recast as built on foundations of racism, abuse and greed, whether that's the rotten core of fast food in The Founder, the ignored black mathematicians of the space race in Hidden Figures, or the suburban family dream of writers Joel and Ethan Coen's darkly comic Suburbicon, brought to the screen by director/co-writer George Clooney and his partner Grant Heslov.
Suburbicon gives a masterclass in heightened production design
Suburbicon is a solid, pleasing piece, even if it never quite reaches the bleak heights its set-up promises. Not entirely in command of the film's overall tone, and awkwardly grafting a race-riot plot onto a dark family drama with Matt Damon and a miscast Julianne Moore, Clooney returns to the timeframe of his greatest success as a director, Good Night And Good Luck. Production values are pin-point perfect and Suburbicon will be helped by its cast, its parallels to the situation America finds itself in again today thanks to Charlottesville, and Clooney's household name. Hearts may not beat quite as fast as for his earlier work, however.
An inspired, semi-animated prologue introduces the viewer to Suburbicon, a purpose-built slice of American heaven build in 1947 and now – 1959 – home to 60,000 souls, all of them white. When a black family moves into the suburb, there's no beating about the bush: angry residents want them out, and now. Next door, sisters Margaret and wheelchair-bound Rose (both played by Moore) watch the family move in, and Margaret sends her 11 year-old nephew Nicky (Noah Jupe) to play baseball with their young son.
Two narratives now play out, and it's no surprise to read in the film's production notes that they were written separately. The original Coen brothers script centred on the Lodge family, headed up by embattled patriarch Gardner (Damon), while Clooney and Heslov add an adapted-from-real-life strand, based around what actually happened when a black family moved into Levitttown, Pennsylvania in 1957. They remain two separate movies bundled together by a single, tentative connection between the two young boys.
Damon makes a strong mark as Gardner Lodge, husband of Rose: physically, the actor looks like the trusted Father Knows Best type, he could easily be a rock of support for his young son. But this rock has fissures, and the clues begin to mount when Elizabeth is killed as part of a burglary carried out by the threatening Coen-esque thugs Ira and Lewis (Glenn Fleshler and Alex Hassell). With cracked, blood-spattered glasses reminiscent of Michael Douglas in Falling Down, Damon has the right intensity for a typically Coen dim-bulb anti-hero.
Moore seems mature for her roles, and there's not enough time given to the character of Rose to delineate between the two. Young Noah Jupe is blessedly unaffected as the terrified young boy, while Oscar Isaac has fun with a cameo as an insurance investigator. References to opera set up expectations for a grand guignol finale.
Over in the second plot, Karimah Westbrook does as much could possibly be asked with the little she's given as embattled neighbour Mrs Meyer. The sight of the Confederate flag waving on her doorstep is suddenly alive again given recent events in the US, and Suburbicon Is all the more troubling because of it. Repeated references to the religion of the characters, however, seems pointless to either plot, and unfunny.
As Orson Welles plays on the radio and Gardner changes the channel by a remote gun, Suburbicon gives a masterclass in heightened production design, worldbuilding which works pleasingly in service of the plot (or plots). Alexandre Desplat's jaunty score helps keep the period mood bubble in place even when the going gets significantly tougher.
Production companies: Dark Castle, Smokehouse Pictures
International sales: Bloom, info@bloom-media.com
Producers: George Clooney, Grant Heslov
Executive producers: Joel Silver, Barbara A. Hall
Screenplay: Joel Coen, Ethan Coen, George Clooney, Grant Heslov
Cinematography: Robert Elswit
Production design: James D. Bissell
Editor: Stephen Mirrione
Music: Alexandre Desplat
Main cast: Matt Damon, Julianne Moore, Noah Jupe, Glenn Fleshler, Alex Hassell, Gary Basaraba, Oscar Isaac