Dir: Stefano Sollima. Italy-Fr. 2015. 130 mins.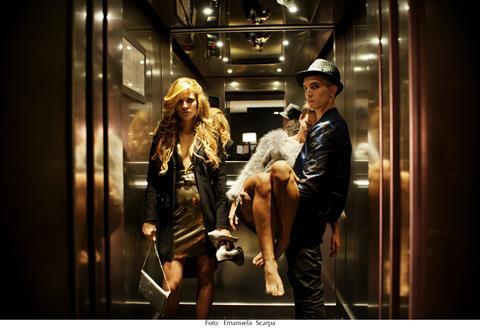 There's a new energy in Italian cinema, and it's not coming from prestige, festival-friendly auteurs like Nanni Moretti or Paolo Sorrentino. Like the Tiber floodwaters that bubble up from the gutters of Rome in this raw and tasty genre number, it's feeding in from television – once a byword for trash in a country that has, until recently, never had a serious TV drama tradition beyond the occasional mild-mannered historical romance.
Sollima's command of atmosphere and pace really impresses: the torrential rain, far from washing Rome clean, begins to suffocate it
Evidence that Italy could compete with the Scandinavians and the Americans in crafting well-made, exportable small-screen crime sagas has been provided in recent years by two live-wire franchise series, Romanzo Criminale and Gomorra – both taking a healthy distance from the novels they were based on, as well as the feature films those novels also generated. Now Stefano Sollima, the director of both of those addictive underworld packages, is making a move back to the big screen three years after his first feature, controversial riot-police dramaACAB – All Cops Are Bastards.
Based on the novel of the same name, co-written by Italian journalist Carlo Bonino and crime writer Giancarlo De Cataldo, Suburra is an atmospheric, fast-paced thriller, which draws on an earlier Italian genre tradition that went missing in action somewhere in the mid 70s, one that managed to be stylish and a little vulgar at the same time. It also taps into another even older tradition, a vision of Rome, the Eternal City, as a decadent succubus, a sink of corruption where everything – sex, votes, even the priesthood – can be bought for a price. That centuries-old view goes back, at least, to the era the film references in its title: in the shadow of the Colosseum and the Palatine, the Suburra was the sleazy area where the rich and powerful of Ancient Rome went to slum it.
It's telling that this story of the queasy connivance between venal politicians and unscrupulous crime lords in Italy's capital missed out – by choice, one presumes – on both the Venice and Rome festivals. First weekend box-office results saw the film place just below Hotel Transylvania 2 and well above The Maze Runner: The Scorch Trials. Although audiences outside Italy are unlikely to know much about the (still ongoing) municipal corruption scandals that underpin Suburra's plot, that shouldn't be too much of a hurdle for a film that has so far sold to 14 territories.
Suburra's sense of barely controlled chaos, its dramatic instinct and visual verve, should more than make up for that knowledge gap. Some territories have already had the chance to see the film: on the eve of Netflix's Italian rollout, the increasingly muscular internet TV giant aired Suburra in the US and Latin America on the same day as its Italian theatrical release. Netflix also announced it would host the global premiere of the 10-part Suburra TV series that producers Cattleya are readying for broadcast in 2017.
In early November 2011, Rome was lashed by torrential rainfall that saw the waters of the Tiber rise to dangerous levels; it was just at this moment that Pope Benedict XV took the unprecedented step of announcing his abdication. Suburra takes these two end-of-days omens as the backdrop for a story that pans over the "seven days leading up to the Apocalypse".
Opening like a poor imitation of The Great Beauty, complete with a panoramic crane shot and decadent party scene, Suburra soon finds its feet when it begins to focus on wheeler-dealing politician Filippo Malgradi (a marvellous Pierfrancesco Favino), who thinks nothing of heading straight from a parliamentary debate to a night of sex with two prostitutes, one of them underage. When the latter dies of an overdose, a chain of events is set in motion that will see Filippo drawn into a net woven by Samurai (Amendola), a former right-wing terrorist turned organised crime boss whose menace is only accentuated by the fact that he looks like a bank manager.
Also feeling the pressure is spivvish party organiser and part-time pimp Sebastiano (Germano), whose debt-ridden father's suicide puts him in the hands of the clan ruled by Manfredi Anacleti (Dionisi), the vicious leader of a gypsy family that controls the drug trade and building works in a large swathe of the city. Playing the loose cannon, not unlike the Omar character in The Wire, is hot-headed hard guy Number 8 (Borghi), who lords it over a slice of the Roman seaside around the downmarket resort of Ostia and tries to defy both the Anacleti clan and Samurai.
Number 8's smack-addict girlfriend Viola (Scarano) is a good example of the bravura of a script that keeps us on our toes by constantly recalibrating our expectations: at first little more than an appendage, she gradually draws more of our attention, until we realise that in some ways, she's the film's messed up heroine, the one character who tries, in her own way, to do what's right.
The casting is excellent, right down to a guest appearance by Jean-Hugues Anglade as a Machiavellian French cardinal. But it's Sollima's command of atmosphere and pace that really impresses: the torrential rain, far from washing the city clean, begins to suffocate it, and in this swamp minor players like Number 8, Sebastiano and even the increasingly compromised Filippo can either choose to sink defiantly, or to tread water by selling out and betraying those closest to them.
An ominous electronic soundtrack largely provided by French duo M83 is so loud in the mix sometimes that it's difficult to hear some of the dialogue. But this is all of a piece in a film that's all about living in a madhouse – like the crazy, kitsch suburban villa of the Anacletis, where everyone yells at each other while the kids play soccer in the living room.
Production company: Cattleya
International sales: Indie Sales, info@indiesales.eu
Producers: Riccardo Tozzi, Giovanni Stabilini, Marco Chimenz
Co-Producers: Eric Névé & Nicolas Eschbach
Screenplay: Sandro Petraglia, Stefano Rulli, Giancarlo De Cataldo, Carlo Bonini, based on De Cataldo and Bonini's book of the same name
Cinematography: Paolo Carnera
Editor: Patrizio Marone
Production designer: Paki Meduri
Main cast: Pierfrancesco Favino, Elio Germano, Claudio Amendola, Alessandro Borghi, Greta Scarano, Giulia Gorietti