This sensitive, assured debut focuses on the anguished adolescence of a teenager who's a bystander in her own life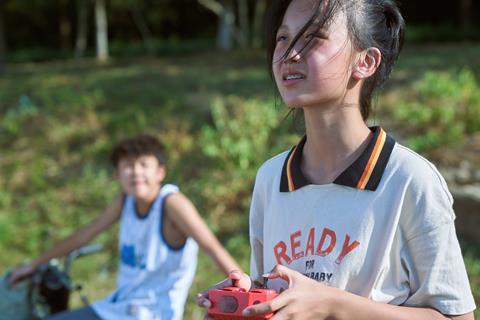 Dir/scr. Han Shuai. China. 2020. 88 mins.
Growing up is marked by deception and disappointment in Summer Blur, a restrained first feature that captures the emotional toll of an anguished adolescence. Han Shuai's sensitive, assured direction and a standout central performance from Tian Huang are among the factors that should ensure further festival attention following a Busan premiere.
A thoughtful, involving work
Thirteen-year-old Guo (Huang) is a bystander in her own life who always appears to be on the outside looking in (sometimes literally). She is not one of the in-crowd at school. She has been billeted on an aunt (Beibi Gong) in Wuhan, where filming took place before the Covid pandemic. Her remarried mother (also played by Gong) forges a new life in Shanghai. The mother offers money, gifts and promises of an imminent reunion but never a sense that Guo truly matters to her.
Adults seem to regard Guo as an inconvenience or an irrelevance. Conversations at home happen as if she is not in the room. A sullen manner and blank expression seem designed to reveal nothing of the hurt that she feels. Huang's expressive, watchful eyes are left to convey the anxiety that have become central to Guo's existence.
Luo Fenyang makes a big impression in a small role as Xiaoman, a cheeky young lad and potential admirer. His death by drowning haunts Guo as she did nothing to save him or raise the alarm. Fellow school pupil Zhao (Zhang Xinyuan) is well aware of what happened and uses this knowledge to inveigle his way into Guo's life like a horror-film stalker.
Guo may be a teenage schoolgirl, but she almost assumes the mantle of the hapless victim in a fatalistic web of noir-like intrigue. She cannot control events, escape their consequences or find a sympathetic ally. Everything places her out of her depth.
Han uses fluid camerawork to maintain a merciless focus on Guo. The constant closeups convey a sense of how she is trapped, forced into corners or left on the sidelines.
Very measured in its initial pacing, Summer Blur is a slow burn of a film that grows in its appeal as it hooks the viewer with a multilayered sense of Guo's life. There is a modest feeling of triumph as she starts to cope, weighing up her options and finding ways to escape her current circumstances. Her decision to gatecrash her cousin's film audition and to push back against Zhao's creepily controlling behaviour reveal her quiet determination. They are the first signs of a dawning emotional and physical maturity.
The audition ultimately requires Guo to don a swimsuit and take swimming lessons. It is not just the pool sequences that are reminiscent of Celine Sciamma's debut Water Lilies (2007). Han shows a similar understanding of the intense emotions and insecurities that can come with the dawn of adolescence. There is also a vague echo of Hirokazu Kore-eda in her depiction of family ties and the way someone is cast adrift when those ties fray and break. A thoughtful, involving work, Summer Blur reveals a director with a vision and a confidence that encourages us to invest in this teenage girl and her journey.
Production companies: Factory Gate Films, Dadi Films, Wuhan Tiangong Kaiwu Entertainment
International sales: Rediance, jing@rediancefilms.com
Producers: Huang Xufeng, Liang Ying
Editing: Tom Lin, Dong Jie
Cinematography: Peter Pan
Music: Hank Lee
Main cast: Beibi Gong, Tian Huang, Xinyuan Zhang, Luo Fenyang