Melissa McCarthy may save the world, but she can't fix this sci-fi farce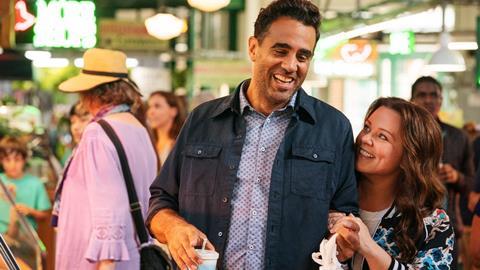 Dir: Ben Falcone. US. 2020. 106 mins.
Superintelligence isn't as smart as it thinks it is. A high-tech romantic comedy, it mixes a computer's plan to end the world with a can-this-gal-find-love? subplot. It's a strange and not very appealing mashup of two mismatched genres – as if the mad scientist of The Fly mixed the molecules of Colossus: The Forbin Project and Sleepless In Seattle and then simply walked away.
This isn't a unique idea
Despite the constant effort and genuine warmth of star Melissa McCarthy, the film's stitched-together stories come apart early on. Debuting on HBO Max in the United States, and distributed by Warner Bros worldwide, it's neither provocative enough to entice tech geeks, nor funny enough to draw rom-com fans. Like the world it's set in, its lifespan would appear to be limited.
The story, directed by McCarthy's husband and long-time creative partner Ben Falcone, takes place in Seattle, where McCarthy's Carol lives a quiet, low-expectations, perfectly normal life. That is until all the "smart" devices in her flat – her TV, her phone, her rice cooker – start talking to her. The artificial intelligence running them has, apparently, become sentient – and all-powerful. But what should it do now – help a miserable humanity, or put it out of its misery? It isn't sure what to do, and because Carol is so perfectly normal, it has chosen her to prove that the world is worth saving. She has three days.
This actually isn't a unique idea – once upon a time it would have been set in a Hollywood set-designer's idea of heaven, with plenty of dry-ice mist and an erudite film star arguing the case for man – but the cyber updating gives it a little bit of freshness. So does the cheeky idea of casting James Corden as the voice of the all-powerful villain. (The AI mimics Corden only because he's one of Carol's favourites; when co-worker Brian Tyree Henry drops by, the voice switches to Octavia Spencer.)
Admittedly, the theme of our reliance on intelligent technology is intriguing (if not terribly developed). McCarthy is, as always, winning. She has a casual, half-embarrassed comic delivery that makes even scripted lines sound improvised, and a sweet appeal. And thankfully – unlike many of McCarthy's earlier films – at least Superintelligence doesn't settle for cheap and insulting laughs by portraying its star as clumsy or unlovable. In fact, it even gives her a hunky co-star in regular-guy Bobby Cannavale, a former boyfriend Carol threw off and is now trying to win back.
Unfortunately, like other aspects of the film, the couple's relationship – what was the initial attraction, why did it fade, and why should it rekindle itself now? – is never really developed. Instead, Steve Mallory's script just rushes from one wish-fulfillment setpiece to another, as the artificial intelligence arbitrarily decides to give Carol a multi-million dollar bank account, her own charitable foundation, a penthouse loft, a super-deluxe sports car, and a designer wardrobe in order to… what? Take the sting out of the coming global apocalypse?
It's clear that McCarthy and Falcone enjoy working together, but Superintelligence feels like the sort of mediocre, family-friendly comedy Disney made 50 years ago, not like the films she has made with Judd Apatow (This Is 40) or Paul Feig (Bridesmaids) or Marielle Heller (Can You Ever Forgive Me?), in which she soars. Of course, the actress works very hard in any project she's in – just as she works very hard here to convince the cyber villain not to destroy the world. But all she may convince audiences of is the need to track down an earlier film, Lorene Scafaria's Seeking A Friend For The End Of The World, a smart, bittersweet and genuinely romantic comedy about the apocalypse. And perhaps turn off that virtual assistant before they go to bed.
Production companies: Creative Wealth Media Finance, New Line Cinema, On the Day, Warner Bros.
Worldwide distribution: HBO Max (US VOD), Warner Bros (worldwide theatrical).
Producers: Rob Cowan, Ben Falcone, Melissa McCarthy
Screenplay: Steve Mallory
Production design: Jefferson Sage
Editing: Tia Nolan
Cinematography: Barry Peterson
Music: Fil Eisler
Main cast: Melissa McCarthy, James Corden, Bobby Cannavale, Brian Tyree Henry