Ben Whishaw is an airport worker on the verge of a breakdown in Aneil Karia's fractured feature debut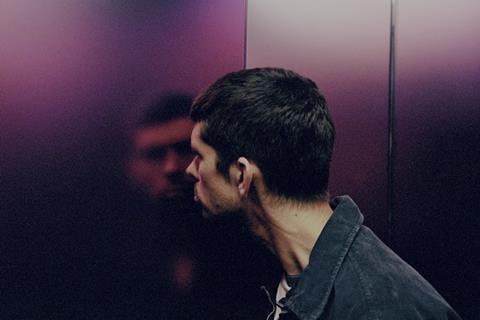 Dir. Aniel Karia. UK. 2019. 105mins
Back in 2013, young British film-maker Aneil Karia made his debut with the compelling short film Beat, in which a disturbed man played by Ben Whishaw roamed restlessly through an inner London cityscape to searing rhythms from his own headphones. For his first feature Surge, Karia removes the headset but returns to the same man; now called Joseph and played again by a jittery, gurning Whishaw. Working as a security guard at Stanstead airport, Joseph crumbles under the pressures of the job and experiences a full-blown psychotic breakdown.
Never really attempts anything deeper than extended tracking shots of a disintegrating man
Surge is a fractured work about a broken mind and, as such, is a difficult, distressing watch. Whether Joseph is experiencing something transient or whether this is part of an ongoing mental condition is never made clear, although the hardened attitudes of his dysfunctional parents would seem to indicate that Joseph's problems are not new to them, even if they were caused in part at home.
An uncomfortably un-restrained Whishaw, and an enhanced, aggressive sound design make Surge a raw experience and its eventual lack of any deeper insight is a little like rubbing salt into that experience. Karia is clearly a talented director, with a touch of the jangling nerviness that the Safdie brothers have brought to their work, and Surge's place in the World Dramatic Competition at Sundance (where it won Best Actor for Whisaw) should help him gain international exposure even as the film may struggle to find a commercial foothold. Some sequences here, such as a strip-search of a refugee at airport security, are pathetically acute in their realisation, and the racing hand-held camera work retains the sheer exhilaration of Beat.
Is it the constant tension of his airport job that has driven the thinly-functioning Joseph to the brink of mental breakdown, or is it his elderly suburban parents, played as tight-lipped monsters by Ian Gelder and Ellie Haddington? Mum and dad are both bullies, in their own ways, and conditioned to treating their adult son like an irritating infant. Finally, at what must surely be one of the most depressing birthday meals in the history of cinema, the scratchy, jumpy Joseph bites into his water glass, spurting blood and spitting glass up the stairs and all the way back to the airport the next day. Stress counselling obviously isn't an option for these low-paid Stanstead workers, and soon a swivel-eyed Joseph is back on the streets he roamed during Beat, finally addressing the many frustrations of his life – including his admiration of a sympathetic female co-worker (Jasmine Jobson).
Unlike the street-based Beat, it's actually the airport sequences which work best in this sister work. Cameras track the crowds moving through the airport, and there's a sense of teeming danger which perfectly mirrors Joseph's fraying mental condition. There's no clue as to where the film is going, and Whishaw's performance is effectively tight.
Out on the streets, though, there are equally as many scenes that don't work. A wedding banquet, perhaps inserted for light relief, misfires; a ridiculous sexual encounter with a co-worker is proof positive that consciousness-raising among young male directors – not to mention the anatomical issues of a quick shag up against a kitchen counter – still has a long way to go. Repeated bank robberies make the film feel like it's on an endless, pointless loop, with Joseph running in increasingly tight circles long after the director should have allowed him to come to a natural halt.
As an in-depth portrait of a man breaking apart on the rocks of mental illness, Surge can't help but fall short – it never really attempts anything deeper than extended tracking shots of a disintegrating man. It's a shame that the screenplay by Rupert Jones and Rita Kalnejais didn't dig further, and the second iteration of this character brings no more understanding than the first. As a showcase for Karia's talents as a visualist, though, it works, and the queasy energy the film generates is undeniably, nihilistically un-nerving. That Karia could now have left this character behind may come as a relief to his many admirers.
Production company: Rooks Nest
International sales: Protagonist vanessa@protagonistpictures.com
Producers: Julia Godzinskaya, Sophie Vickers
Screenplay: Rupert Jones, Rita Kalnejais
Cinematography: Stuart Bentley
Editing: Amanda James
Production design: Alexandra Toomey
Music: Tujiko Noriko

Main cast: Ben Whishaw, Ian Gelder, Ellie Haddington, Jasmine Jobson