A Spanish couple attempt to make a new life on the land in Mikel Gurrea's feature debut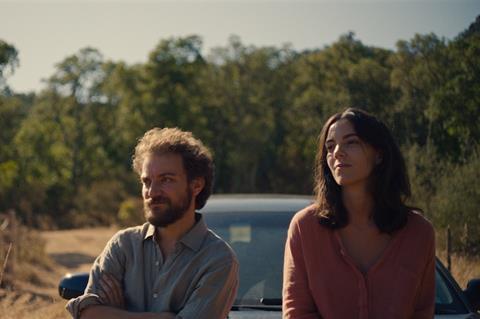 Dir: Mikel Gurrea. Spain. 2022. 116mins.
Films about the impact of outsiders on rural Spanish life are becoming a bit of a thing. Following Carla Simon's Spanish Oscar nominee Alcarras and Rodrigo Sorogoyen's Cannes player The Beasts, Mikel Gurrea's debut drama Suro picks up from the latter by delivering a penetrating portrait of the damage that these conflicts between those traditional, problematic values and their new, politically correct counterparts can wreak on even our closest relationships – in this case a young marriage.
Tells its tale unfussily and efficiently, with few stylistic flourishes
For a few years Gurrea's short films have been picking up awards at international festivals, generating a promise on which he largely delivers here. Further festival exposure is likely for a smart and accessible film which, while perhaps guilty of first-timer overreach, speaks directly to our troubled consciences.
Following a joyous farewell party, architect Helena (Vicky Luengo) and Ivan (Pol Lopez) set off to start a new life in Spain's rural Alt Amporda region. The house that the pregnant Vicky has inherited, and which she plans to restore, comes with terrain covered in cork oaks from which a tidy seasonal living can be made so, with wide-eyed idealism and the help of a team of locals, they decide to take it on. Early scenes feature respectful and fascinating shots of trees being expertly stripped of their bark; a process which crucially allows the trees to regenerate.
On paper, the couple's new life is tailor made for the new breed urban environmentalist. But from the beginning, Helena is more focused on the house, Ivan on the cork (the 'suro' of the title). The problems start when Ivan is introduced by the team leader to the labourers, a mixture of Moroccans and locals, as "the landowner's husband"—it's a subtle linguistic ploy, but typical of the film's x-ray of the way people establish power relations among themselves. Ivan jumps into his new role, trying to learn their craft and generally trying to be one of the boys, but tension is signalled by Vicky turning up, virtually taking the axe out of his hand, and doing it better than him.
Further complications follow with the arrival of 18 year-old Karim (Ilyass El Ouahdani). (Like most of the cast, he's a non-actor, and to everyone's credit, the effect through most of the dialogues, many of them requiring actual acting, is seamless.) Taking pity on Karim, the politically correct Ivan shares a spliff with him and then invites him into their home, detonating explosions from not only Helena, but also the team leader, and opening up tears in the fragile fabric of the economic structure binding this motley crew of people together. At one point, as they make Ivan the butt of a joke in French that he can't understand, Karim and Helena seem strangely complicit; a less subtle film would have them entering into a relationship, but here the impact is felt merely in Ivan's increasing insecurity.
Suro tells its tale unfussily and efficiently, with few stylistic flourishes: this is solid, traditional film making, as perhaps befits its subject. But just because a situation is replete with particular themes doesn't necessarily mean that has to dutifully deal with them all, and there is inevitably something perfunctory about the film's attempt to handle so many. That said, it sets up it situations smartly, generating a palpable tension from the multiple underlying resentments flowing in all directions—including, for one potent and decisive scene, the racial resentments between the labourers themselves, as a dark episode from Spanish history suddenly reemerges, two generations on.
Luengo, best known in Spain for her TV work, does good work as the pragmatic but temperamental Helena. Lopez, in his first leading role, cannot match her for nuance or intensity as, once he's established himself as the leader, Ivan turns into something of a little Hitler.
All these human problems, of course, pale beside the biggest problem of all; climate change. They shadow the events of Suro in the form of the forest fires, increasingly common in Spain, that threaten to carry everything—human beings and their ideals included—before them. In a clear case of leaving the best till last, the film's beautifully shot final scene impressively shows that finally, this is what it all comes down to.
Production companies: Lastor Media, Malmo Pictures, Irusoin
International sales: Reason8 Films info@reason8films.com
Producers: Tono Folguera, Laura Rubirola, Claudia Maluenda, Xabier Berzosa
Screenplay: Mikel Gurrea, Francisco Kosterlitz
Cinematography: Julian Elizalde
Production design: Isona Rigau
Editing: Ariadna Ribas
Music: Clara Aguilar
Main cast: Vicky Luengo, Pol Lopez, Ilyass El Ouahdani