Marley Morrison's debut is a Sweetheart by name and by nature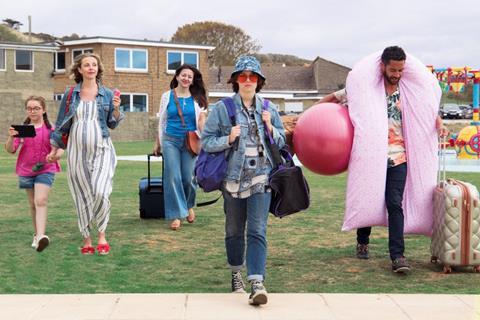 Dir. Marley Morrison. UK. 2020. 103 mins.
The contradictory energy of teenage life fuels this debut feature from writer/director Marley Morrison, which sees 17-year-old AJ (Nell Barlow) - or April, if you're her mum Tina (Jo Hartley) – as the less-than-eager participant of a family getaway to a Dorset holiday camp. Hidden beneath her Liam Gallagher-style bucket hat and orange-tinted shades, AJ feels, like many people her age, on the edge of everything – the cusp of adulthood, the fringes of her family and at the far-reaches of emotions that are just beginning to fully crystalise.
The writer/director isn't looking to push this material to extremes and her story is more interesting as a result
Morrison, stepping up from short films including Baby Gravy with ease, explores these ideas with dexterity and humour. She is helped enormously by a nuanced performance by Barlow, also making an impressive feature debut, when considering how small events - from a kiss to a family squabble - can feel very big when seen through a teenager's eyes. AJ is also a lesbian – a theme lightly handled in this universal, warm-hearted story that could see the film garner wide appeal after its world premiere at Glasgow Film Festival.
We're offered an additional window to AJ's world through her occasional, drily comic voiceover, introducing her sister as "Lucy, the pregnant princess of Dunstable". Lucy, along with her partner Steve (Samuel Anderson), is joining Tina, AJ, and her nearly nine year-old sister Dayna (Tabitha Byron) on the holiday. Dad is not along for the ride, something which is a largely unspoken source of friction between AJ and her mum.
Sweetheart is a Microwave London project – whose most recent slate also includes Rene van Pannevis' Looted and Lucy Brydon's Body Of Water – and Morrison makes a virtue of her low budget, capturing the spirit of British holiday camps without tipping into exaggeration, showing the way they can offer wall-to-wall excitement for the under-10s and a welcome escape for mums and dads while also being viewed as a source of unending boredom for teenagers. But, when AJ encounters sparky lifeguard Isla (Ella-Rae Smith), it seems that the trip may hold some consolation after all.
Barlow offers us a window into the turbulent of emotions flowing through AJ, from the elation of a sexual encounter, turning on a dime to flustered embarrassment or the way slow-build frustrations with family can sometimes tumble out in an ill-advised rush. There's good chemistry between Barlow and Smith that gives their characters' flirtation emotional heart. But though the flush of potential first romance is here, it's the older, sometimes fractious but constant love between family members that forms the meat of the narrative. AJ's family is accepting of her sexual orientation but this film is as much about the way AJ perceives and explores her own soon-to-be adult identity as it is about the way others see it.
AJ is likeable but Morrison also highlights the petulance and impetuousness that can make her hard to connect with, especially for her mum, while Steve – as the incomer to the family – acts as a sort of neutral ground, supplying crisps or coffee at just the right moment. There's an everyday to feel to events, from a night out that ends in a drunken mess to a moment when AJ realises she needs to accept more responsibility. but Morrison keeps the emphasis on humour so that even when A.J. is at her most angst-ridden we're not overly worried that something awful will happen.
The solid sense of the real world is reinforced by a handful of documentary-style moments from cinematographers Emily Almond Barr and Matthew Wicks. The writer/director isn't looking to push this material to extremes and her story is more interesting as a result, as she instead takes a refreshingly even-handed approach, allowing Tina's insecurities and worries about her daughter to surface alongside AJ's potential romance with Isla, which should help her film to appeal to both age groups.
Morrison proves a keen observer of the ebbs and flows of family dynamics more generally, and although the characters of Lucy (Sophia Di Martino) and Dayna aren't so detailed, she also shows tensions and joys of a sisterly connection. Like a typical holiday camp getaway, there may be some clouds in the sky but the warmth still breaks through.
Production company/international saes: Hazey Jane Films, info@hazeyjanefilms.com
Producer: Michelle Antoniades
Screenplay: Marley Morrison
Production design: Carys Beard
Cinematography: Matt Wicks, Emily Almond Barr
Editing: Keelan Gumbley
Original music: Toydrum
Main cast: Nell Barlow, Jo Hartley, Ella Rae-Smith, Sophia Di Martino, Samuel Anderson, Tabitha Byron