Synchronised swimming comedy closes the 2018 Edinburgh Film Festival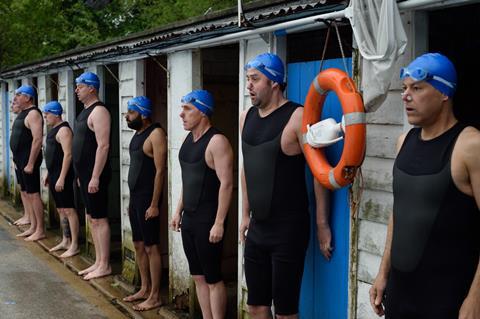 Dir. Oliver Parker. UK. 2018. 97 mins
A mismatched, and in some cases slightly misshapen, group of men find support and a sense of purpose after squeezing into their speedos and forming a male synchronised swimming team. This latest in the 'personal growth through gentle humiliation' genre is amiable enough, but does suffer from the over-familiarity of themes and plot-points. Rob Brydon, in the central role of Eric, a depressive accountant intent on sabotaging his life and marriage, creates a character so initially abrasive that he actively repels our sympathy, like water from the feathers of a duck. We warm to him eventually, but not, perhaps, as much as we need to achieve the feelgood ending Swimming With Men is aiming for.
The team are, it has to said, not always buoyed up by writing that relies on archetypes rather than fleshed out characters
Films which take as their central device same-sex groups of British people exposing themselves have traditionally done rather well at the domestic box office. However, it is hard to imagine that Swimming With Men will match the performances of the pictures it most closely resembles. It lacks the earthy Northern raunch of The Full Monty or the sassy star power of Calendar Girls. Still, given an aggressive marketing campaign, UK distributors Vertigo could hope for reasonable numbers.
Inspiration for the film comes from the documentary Men Who Swim (2010) which followed a group of middle-aged Swedish men in their conquest of the world of synchronised swimming. In Stewart Le Maréchal, the two films share a producer; there is also a kinship in a sense of general malaise and mediocrity combated by splashing about in unison in chlorinated water. Gilles Lelouche's more nuanced comedy Sink Or Swim, on precisely the same subject matter, premiered at Cannes wherre it drew warm reviews and may drench international prospects for Swimming With Men.
After tackling Dad's Army, director Oliver Parker seems to be cornering the market in films about middle-aged men who are pushed outside of their comfort zones. Here, with neat use of rhythms and repetition, he gets to the heart of Eric's disatisfaction with life. And it is no coincidence that being underwater – sinking, alone, unable to breath – is a highly effective metaphor for depression. Nonetheless, the local swimming pool provides an escape for Eric from the stresses of his deathly job and strained marriage. In fairness, the stress in his marriage is largely self-induced. His wife Heather (Jane Horrocks), a recently elected local councillor, is passionate about her new role. Eric assumes that this means that her passion for him has waned, and wallows in self-pity as well as the municipal swimming pool.
But it's there that he meets the group of men who will offer him a lifeline, in return for his unsolicited maths-based advice on their rotating formation. Eric joins their synchronised swimming team and gains a newfound enthusiasm for life.
The team are, it has to said, not always buoyed up by writing that relies on archetypes rather than fleshed out characters, and leans heavily on tropes such as training montages. And once you get past the novelty of seeing a bunch of blokes flailing about in swimwear, the comedy seems a little thin (which is more than you can say for many of the cast). Female characters – there is a grand total of two – are generally more sympathetic than most of the men, but both are relegated to love interest status rather than existing as independent entities.
A logical and satisfying end point would be the against-the-odds competition result at the men's world synchronised swimming championships. However, a tacked-on scene of voluntary public humiliation aims for closure in the question of Eric's marriage, but feels instead like a screenplay which is not waving, but drowning.
Production companies: Met Film Production
International sales: Hanway International info@hanwayfilms.com
Producers: Stewart Le Maréchal, Anna Mohr-Pietsch, Maggie Monteith
Screenplay: Aschlin Ditta
Production Design: Amanda Mcarthur
Editing: Liana Del Giudice
Cinematography: David Raedeker
Music: Charlie Mole
Main cast: Rob Brydon, Adeel Akhtar, Daniel Mays, Jim Carter, Rupert Graves, Thomas Turgoose, Charlotte Riley, Jane Horrocks, Nathaniel Parker