Seydou Cisse's economic migrants take a dangerous route from Mali to Valencia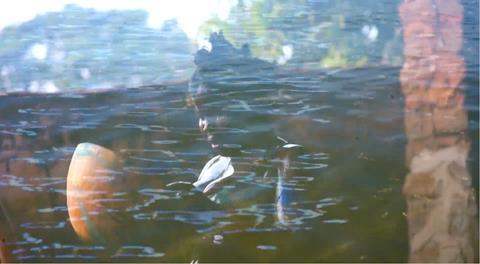 Dir/scr: Seyou Cisse. Mali/Spain/South Africa/Cameroon/France/Belgium 2021. 84 minutes
The hidden world of illegal economic migration — and its literally occult aspects — are explored with sympathy and sensitivity in Taamaden, a low-key, modestly promising first feature-length work by Malian documentarian Seydou Cisse. Focusing on his compatriot Bakary as he prepares for a second try to reach Europe — while simultaneously following several other West Africans already established in Valencia — Cisse crafts a humanistic examination of the powerful roles played by religion and superstition in the desperation-blighted lives of these easygoing young men.
All the real drama occurs offscreen
Premiering in the main competition at IDFA, this multinational co-production should parlay its topical, behind-the-headlines subject-matter and sober, atmospheric execution into further festival play. However it fails to cut particularly deep, and the steady tempo of Wei Yuang Song's smooth editing is a little too torpid for the picture to really fulfil its considerable potential.
The half-dozen main participants, all males in their early/mid-twenties, are engaging and diverse personalities. But in Bamako and Valencia alike, there is a surprising lack of notable incident, friction or energy. The emphasis is on immersing the viewer in fairly humdrum and quotidian downtime; even the abrupt incursion of the Covid-19 pandemic just after the hour mark ("lockdown! lockdown!") makes only glancing impact.
All the real drama instead occurs off-screen, during the hazardous and illicit "sea route" crossings that illicitly bring thousands to European shores each year. The lethal perils of these expensive and risky treks (footage of which is glimpsed via smartphone) form a prominent part of the folk-knowledge which has rapidly accrued in recent decades; such knowhow is eagerly shared among those who are contemplating or planning such a trip and those who have accomplished it. The word 'taamaden' means 'adventurer' in the West African language Bambara (the film also carries the French-language subtitle L'enfant de la marche, translated either as 'the walking child' or 'the walking son'.)
In addition to this folk-knowledge, the voyagers rely heavily on religious faith: most of the protagonists here are practicing Muslims, another is Christian. Nothing happens unless the divine being wills it: "I knew I would reach here thanks to God," one of the men exclaims. But while such celestial interventions are seen as very powerful, the travellers are no mere corks bobbing haplessly on the tide of destiny: they also believe strongly in mystical forces and spiritual entities from specifically West African lore, which can, with due diligence, be influenced to the supplicants' advantage.
A significant amount of Taamaden's running-time is thus taken up with prayers, offerings, sacrifices and complex matters relating to charms, amulets and talismans — 'gri-gri' in local parlance. Taking advice from marabouts (Muslim scholars) and "seers," aspiring migrants like Bakary must perform specific daily rituals. Outside the realms of culinary cinema, few films can ever have involved the cracking of quite so many eggs as Taamaden over its brisk 84 minutes. Bakary, a ripplingly fit Adonis whose morning workouts are filmed from below for maximum statuesque impact, carefully breaks eggs into the sea and onto adjoining rocks, as well as picturesquely cascades milk down his naked torso and into the water.
Not all of these sustaining foodstuffs are totally wasted: in one delightful micro-detail a lucky crab is spotted consuming the albumen, licking it avidly from its pincers. Such grace-notes abound in a film whose three cinematographers particularly excel after dark, both in the littoral margins of seaside Bamako and the tourist-haunted urban precincts of Valencia.
The casual chit-chat of these bright, articulate lads — who come to Europe in search of relatively lucrative employment, but end up hawking cheap jewellery for tiny reward — is captured in conventional fly-on-the-wall style at considerable length. Doucure from Liberia, Balde from Guinea, Ouloulou from Senegal and Kafia from Mali are all very comfortable in the presence of Cisse's cameras, perhaps because they also presumably performed the useful and amulet-like function of warding off the 'evil eyes' of police and migration officials.
Production company/international sales: STEPS (Social Transformation and Empowerment Projects), info@steps.co.za
Producers:Aurelien Bodinaux, Dieudonne Alaka, Don Edkins, Eugenie Michel-Villette, Tiny Mungwe
Editing: Wei Yuang Song
Cinematography: Seydou Cisse, Tiecoura N'Daou, Tarek Sami