Machine Gun Kelly conjures up this cliche'd tale of an addled rock star for director Tim Sutton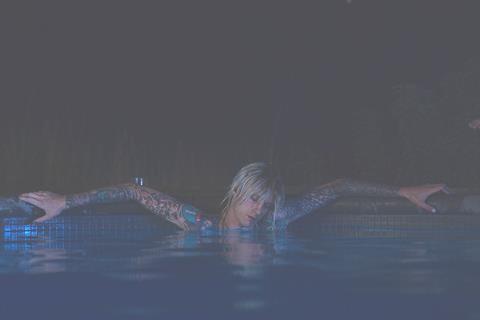 Dir/scr. Tim Sutton. US. 2022. 98 mins.
Taurus is the strangest kind of cautionary tale: one made not primarily for the benefit of its audience, but as a form of therapy for its star and co-author, Colson Baker, aka rapper Machine Gun Kelly. Directed and written by US indie stalwart Tim Sutton, this story of a musician with addictions who crashes and burns just like Kurt was entirely tailored around its lead, who also featured in Sutton's 2021 western The Last Son, and provided extensive script input, composed the music and has an executive producer credit. Anyone with a deep interest in Baker/Kelly and the demons he may be hanging out to dry here will no doubt be fascinated by the exercise, but the rest of us will be either bored or just plain baffled by this hackneyed 'the rock and roll lifestyle is bad for you' yarn.
A montage of rockstar clichés
If you arthoused up a shameless music-star vehicle like Spiceworld and turned the dial from very light to very dark, the result might be something like Taurus. Sutton is good at atmosphere, and Baker's mostly out-of-it character Cole woozes around Los Angeles accompanied by a tasty musical cut that interlaces his own contributions with tracks by, among others, obscure 1960s doo-wop band The Untouchables and UK indie poppers Fat White Family. What's missing, with one small exception, is a story and characters to engage with. That small exception is Cole's assistant, Ilana, who in the capable hands of Maddie Hasson (star of the YouTube sci-fi series Impulse) blossoms in the course of the film from coldly efficient celebrity minder to Taurus' emotional centre of gravity as a long-suffering sister figure to Cole.
Baker's turn as Motley Crue drummer Tommy Lee in the 2019 Netflix film The Dirt showed he could act, and he now has more than a dozen films under his belt. Whether he's performing himself, acting the way he used to be or just plain acting in Taurus, the problem isn't Baker's performance so much as his character – a self-centred train-wreck of a musician who has little of the pathos or impenetrable mystique of the Kurt Cobain that Gus Van Sant created and Michael Pitt interpreted so ably in Last Days. With his all-over tattoos and swaying gait, Cole lopes from the recording studio where he's trying and failing to lay just one track down, to his joyless Los Angeles rockstar house and back again, shepherded, driven, coiffed and cajoled by Ilana. He takes all kinds of drugs, fondles a crystal that "helps me manifest", burbles incoherently at his alarmed ten-year-old daughter, gets praised and trolled on Tik Tok, behaves badly in front of some suits who want him to be their brand ambassador, has desultory sex with his drug dealer, gets flak from his manager (a peppy cameo by Scoot McNairy) and takes his frustration out on Ilana. The scene when she finally blows up at him, as he's preparing for an interview with KCRW radio host Anne Litt (playing herself), brings a rare moment of true passion amidst what feels like a montage of rockstar clichés.
Baker's current fiancé Megan Fox features as Cole's ex-wife Mae in two brief scenes, one of them shot from behind the glass of a recording studio where Ilana is telling recording engineer Syl (rapper-actor Demetrius 'Lil Meech' Flenory Jr) about a disastrous date she just went on. Though it feels a little too loosely improvised, the mute, distanced love-up-turned-flare-up between Mae and Cole is a true director's gambit – just like the slow tilt of the world on its axis of the opening and closing shots. Warmly and intimately framed by DoP John Brawley, Taurus does float along for a while with a freewheeling nonchalance – as for example in a scene when rapper Lil Tjay visits Cole's studio and a spontaneous hip hop session between the two kicks off. But with its uneasy and never-resolved conflict of interest between music star vehicle and music star drama and its lack of much at all to say about life, music or the creative process, Taurus ain't rising anytime soon.
Production companies: Rivulet Films, Source Management + Production
International sales: Anonymous Content & Paradigm NShumaker@anonymouscontent.com
Producers: Jib Polhemus, Rob Paris, Mike Witherill
Production design: Francesca Palombo
Editing: Holle Singer
Cinematography: John Brawley
Music: Machine Gun Kelly
Main cast: Colson Baker, Maddie Hasson, Scoot McNairy, Demetrius 'Lil Meech' Flenory Jr., Naomi Wild, Ruby Rose, Lil Tjay, Megan Fox