A highly idiosyncratic comedy/musical that might just achieve cult status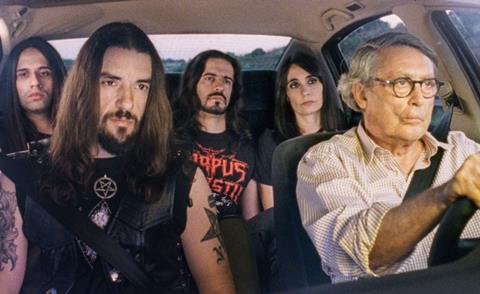 Dir: Joao Nicolau. Portugal, France. 2019. 112mins
Old dogs don't need to learn new tricks as long as they still have a song in their heart. That seems to be the moral of Technoboss, a cocktail of deadpan comedy, romantic longing and plaintive crooning that marches to its own defiantly idiosyncratic beat. Joao Nicolau's plaintive, highly original musical may just have the ingredients to secure a cult following in the wake of its Locarno world premiere.
A cocktail of deadpan comedy, romantic longing and plaintive crooning that marches to its own defiantly idiosyncratic beat
Technoboss has all the elements of an Arthur Miller play as we follow the professional death of a salesman. Luis Rovisco (Miguel Lobo Antunes) has spent thirty-seven years with SegurVale-Integrated Systems Of Access Control. He has grown old in the service of the company but is nearing the end of the line. New technology befuddles him, proper invoices rarely trouble him and the constant pain in his knee joints is just one reminder of time's passage.
Nicolau milks a generous amount of slow-burn Tati-esque comedy from Luis's encounters with malfunctioning car park barriers, forgotten code numbers and motion sensors that don't respond to even the most vigorous pounding.
The divorced Luis could strike a pathetic figure with his lonely nights on the road as a succession of Maigret novels grace the bedside tables of anonymous hotel rooms. Instead, he comes across as a blithe spirit, an amiable old duffer who still works his magic on a regular customer base and keeps on travelling the road that fate has marked for him.
Luis also has a tendency to express his emotions in the songs he performs with gusto as he drives to his next appointment. He sings duets when transporting his grandson, joins in with a band performing at one of the hotels, tries a little heavy metal and generally opens up his lungs at every opportunity.
The ace card in all of this absurdity is Miguel Lobo Antunes, a non-professional actor recruited by Nicolau for the film. He has an innate charm that matches the character perfectly. He is the that stranger who would chat to you, brighten your day and leave you with a smile on your face. He is also completely lacking in self-consciousness when it comes to signing Luis's songs and even indulging in a little shimmy. There is something about his screen presence that reminds you of that equally charming fellow Gianni Di Gregorio (Mid-August Lunch, etc).
Technoboss has the grainy texture of something that might have been made in the 1970s and Nicolau only heightens the sense of unreality by having Luis drive along surrounded by painted backdrops and unfurling banners depicting the passing countryside.
Technoboss may bit a little overlong but it is sustained by the incurable romanticism and optimism of Luis. He has set his sights on rekindling an old romance with Lucinda (Luisa Cruz), a receptionist at the Almadrava Hotel. Luisa Cruz's implacable expressions and body language convey the impression that she wants to have nothing to do with him. In the end, even she might fall under his spell, much like the audience watching this film.
Production company: O Som e a Furia, Shellac Sud
International sales: The Match Factory info@matchfactory.de
Producers: Luis Urbano, Sandro Aguilar
Screenplay: Joao Nicolau, Mariana Ricardo
Production design: Artur Pinheiro
Editing: Joao Nicolau, Alessandro Comodin
Cinematography: Mario Castanheiro
Music: Pedro da Silva Martins, Norberto Lobo, Luis Jose Martins
Main cast: Miguel Lobo Antunes, Luisa Cruz, Americo Silva, Sandra Faleiro