Radha Blank makes a lively debut with this autobiographical tale of a woman rediscovering her creativity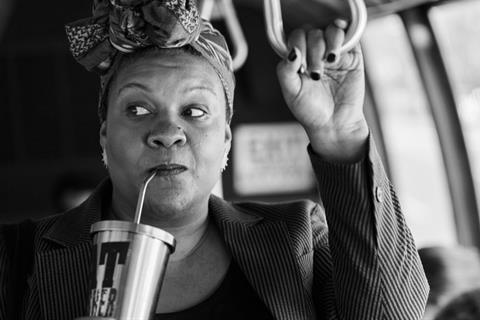 Dir/scr: Radha Blank. US. 2020. 129mins
A struggling playwright finds herself at a personal and professional crossroads on the eve of a milestone birthday in The 40-Year-Old Version, a bighearted character study that's highlighted by writer/director/star Radha Blank's candid exploration of her protagonist's aspirations and insecurities. This semi-autobiographical tale, in which an artist named Radha seeks fresh creative terrain by becoming a rapper, mixes humour, romance and astute commentary about the ways in which black talents feel pressured to compromise their work in order to satisfy mainstream white audiences.
Blank's lively debut feels liberated by its maker's creative freedom
Although a little unfocused and overlong, Version is unquestionably evidence of a filmmaker (in her feature debut) who's exhilarated by the chance to finally tell her story. Part of Sundance's US Dramatic Competition, the film boasts a crowd-pleasing tone without being saccharine, which should appeal to choosy art-house viewers. Version doesn't benefit from any star power, but warm festival reviews should compensate — as should the fact that, in another #OscarsSoWhite year, here is a smart, vital film made by an African-American writer-director deserving of notice.
Version introduces us to Radha (Blank), a broke, once-promising Harlem writer who, on the cusp of 40, is now practically a has-been, reduced to teaching playwriting to bored high school students. As she considers having one of her plays mounted by a smug, deep-pocketed white producer, Whitman (Reed Birney), who wants to water down her provocative work, Radha begins focusing on writing rap lyrics. Excited to express herself in such a straightforward, visceral way, she crosses paths with D (Oswin Benjamin), a 26-year-old beatmaker who adds backing tracks to her words.
Drawing heavily from her life, Blank (a writer/producer on Netflix's She's Gotta Have It) has crafted an inviting world, not least because Version is shot in shimmering black-and-white which gives the New York locales a beauty or grit, depending on the scene. While Radha is flawed and sometimes foolish, Blank never plays her like a sad sack but, rather, a work in progress who's trying to live up to her early potential. (Years ago, Radha was honoured with a Top 30 Under 30 playwriting prize — an award that now seems to mock her as she's about to turn 40 and has little to show for herself.)
But while the film mostly chronicles Radha's attempt to find a new creative voice through rapping — as in real life, the character's hip-hop moniker is RadhaMUSprime — Version also makes room for important people in her orbit, including her agent and childhood friend Archie (Peter Kim), who is endlessly supportive but wondering why she won't try to make her plays more "mainstream" so she can find an audience.
Eventually, though, D emerges as Version's most important supporting character. Initially concerned that she's too old to try her hand at rapping — and that this younger guy will just make fun of her — Radha develops a kinship with D, who similarly is an artist trying to protect his talent from crass commercial considerations. For much of Version, their bond is platonic, but Blank deftly hints at the possibility that something more could arise, leading to some lovely moments later in the film. Benjamin (who's principally a rapper) has a mumbling, confident charm that gives him a grownup sexiness — D may be Radha's junior by more than a decade, but it doesn't come across that way on screen.
As an actress, Blank is endearing company, letting us sympathise with Radha but also recognising that she's a bit scattered, reeling from her mother's recent death and artistically blocked. Sometimes Version is a little too simplistic in its dramatisation of the evils of selling-out, but that's to take nothing away from Blank's scathing depiction of what happens to Radha's play about Harlem gentrification once Whitman gets his hands on it. Radha may be at the mercy of cruel market forces — Version argues that white viewers only want black stories if they're sanitised and uplifting — but Blank's lively debut feels liberated by its maker's creative freedom.
Production companies: New Slate Ventures, Hillman Grad
International sales: Endeavor, abengio@endeavorcontent.com
Producers: Lena Waithe, Jordan Fudge, Radha Blank, Inuka Bacote-Capiga, Jennifer Semler, Rishi Rajani
Production design: Valeria De Felice
Editing: Robert Grigsby Wilson
Cinematography: Eric Branco
Main cast: Radha Blank, Oswin Benjamin, Peter Kim, Imani Lewis, Haskiri Velazquez, Antonio Ortiz, T.J. Atoms, Reed Birney, Jacob Ming-Trent