An all-star voice cast can't lift this flat animation.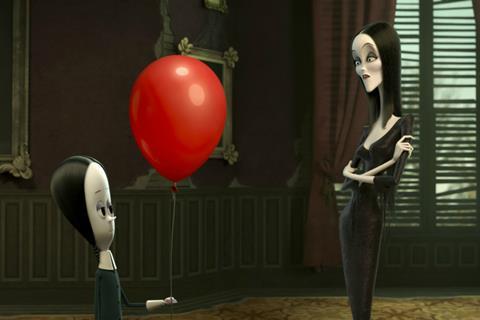 Dirs: Conrad Vernon & Greg Tiernan. US. 2019. 87mins.
Never satisfyingly kooky, spooky or ooky, the new animated Addams Family film transports Charles Addams' lovably macabre clan into the 21st century, resulting in an undistinguished children's comedy full of dull pop-culture referencing and half-hearted commentary about the importance of inclusiveness. A movie that considers it witty to have a collection of decapitated heads singing a Cardi B song, this remake boasts some nostalgic charm and a few amusing voice performances — particularly Chloe Grace Moretz as the perpetually sullen Wednesday — but directors Conrad Vernon and Greg Tiernan display little of the subversive streak that energised their raunchy Sausage Party. Gomez, Morticia and the rest of their brood deserve better.
A modest affair clearly aimed at younger viewers
Slotted in for an October 11 release in the US — the UK will have to wait two additional weeks — The Addams Family is the first big-screen iteration of these iconic characters since 1991's live-action The Addams Family and its sequel, Addams Family Values, two years later. The starry voice cast includes Oscar Isaac, Charlize Theron and Allison Janney, although the movie will face some competition from Abominable and the forthcoming Maleficent: Mistress Of Evil.
Living in an abandoned asylum up on a hill, the Addams family consists of devoted husband Gomez (voiced by Isaac), reserved wife Morticia (voiced by Theron) and eccentric kids Wednesday (Moretz) and Pugsley (Finn Wolfhard). But the nearby picket-fence community — led by small-minded, telegenic home-improvement maven Margaux (Janney) — doesn't like these weird people as neighbours and wants them gone.
Originating as a New Yorker cartoon in 1938, Charles Addams' creation has been the inspiration for a hit 1960s sitcom, those '90s films, even a musical. This new Addams Family features droll character design, emphasising the family members' comically disproportionate bodies and deadpan reactions — especially when, say, Wednesday is sending her dolls to the guillotine or Pugsley is randomly hurling explosives around the house.
The trouble is, family members are often funnier because of how they look than what comes out of their mouths: for every wry quip that lands, a dozen fall flat. While there remains a baseline of pleasure in watching the Addams family be ghoulish — we know that, deep down, they're loving, decent and fiercely loyal — The Addams Family struggles to make their brand of jet-black humour resonate amidst humdrum topical gags involving the internet, social media and reality television.
Not that the cast doesn't try its best to liven up the proceedings. Isaac makes for an appropriately enthusiastic yet slightly befuddled Gomez, while Theron supplies Morticia with just the right amount of withering disdain. But the biggest laughs are provided by Wednesday, who knows that the best way to rebel in her oddball family is to remake herself as "normal," and Uncle Fester, Gomez's hopelessly goofy brother. Moretz and Nick Kroll, respectively, take different tacks, with her Wednesday delivering every line in a delightfully contemptuous monotone, while Kroll invests Fester with unbridled, joyful idiocy.
Running less than 90 minutes, including credits, The Addams Family is a modest affair clearly aimed at younger viewers, while still hoping to tickle their parents with the occasional risqué joke that will sail right over the little ones' heads. But Vernon and Tiernan too easily settle for lazy punch lines and clattering slapstick, rarely locating the humanity within these morbid characters.
Production companies: Jackal Group, Cinesite Studios
International sales: Metro-Goldwyn-Mayer Pictures and Universal Pictures International
Producers: Gail Berman, Conrad Vernon, Alex Schwartz, Alison O'Brien
Screenplay: Matt Lieberman, story by Matt Lieberman and Erica Rivinoja and Conrad Vernon, based on characters created by Charles Addams
Editing: David Ian Salter
Music: Mychael Danna and Jeff Danna
Main voice cast: Oscar Isaac, Charlize Theron, Chloe Grace Moretz, Finn Wolfhard, Nick Kroll, Snoop Dogg, Bette Midler, Allison Janney