With Werner Herzog on board, documentarian Ian Cheney explores how humans are determined to leave their trace on the earth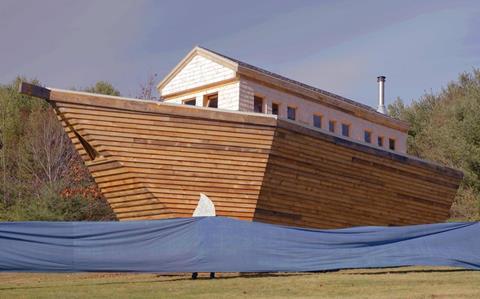 Dir/scr: Ian Cheney. US. 2023. 98mins
A likeably offbeat and disarmingly self-aware documentary essay on how humans deal with the immutable transience of the universe, Ian Cheney's globetrotting Arc Of Oblivion should leave a trace in the minds of receptive viewers. The sixth feature-length documentary from the Maine-based director follows the similarly wide-ranging The Most Unknown (2018) which translated intellectual subject-matter into a healthy Netflix run after a festival launch.
The mode is unapologetically discursive
A similar trajectory seems likely for this attractively-shot widescreen exercise in popular philosophy. Prospects will be boosted by contributions from Werner Herzog (also executive-producing) and Kirsten Johnson (Cameraperson, Dick Johnson Is Dead) among a slew of lesser-known but unfailingly articulate talking heads including Johnson's brother Kirk, a leading paleontologist who takes a breezily geological view of time, in which "mountains come and go".
Although Herzog only appears in the last ten minutes — during which he delivers the classic Shelley poem 'Ozymandias' in his instantly recognisable Bavarian accent — the director's influence is evident in terms of both the first-person style and accessibly highbrow content. A delightful, fleeting cameo from a chilled-out Arctic walrus could easily be an outtake from Herzog's Oscar-nominated Encounters At The End Of The World. "Who can say," asks Cheney about the animal, "whether he lingered so long by our boat because of the Prozac in his veins, or because he was drawn to our boat-lights like aurora borealis brought down to earth?"
This is one of the more memorable moments in a film which, among myriad conceptual speculations, spend much time pondering what gets retained in our brains, and why, and how. Cheney juxtaposes this with sections devoted to physical archives and eclectic technological storage-methods scattered across various far-flung locations: northern polar regions, the Sahara's fringes in Mauratania, an Austrian salt-mine and the tornado-ravaged shores of the Bahamas. But the main unifying narrative spine is much closer to home, as Cheney supervises the construction — cost unspecified — of a wooden, Noah-style ark (the film's title involves a touch of wordplay) on a decidedly non-littoral plot of rural land owned by his family.
As the anachronistic structure slowly takes shape in a forest clearing, it becomes both a physical storage-area for Cheney's archival materials — including the numerous hard-drives containing his film work — and a symbolic receptacle for his ideas about what people can realistically hope to retain in a cosmos rigged in favour of decay and entropy. The mode is unapologetically discursive: as Cheney specifies early on, "a film is also a journey in which you don't always know where you're going"; that journey implicitly being at least as important as any particular destination or conclusion.
The Arc of Oblivion features more than enough highlights and grace-notes to respectably delay its own tumble into obscurity. Brief bursts of stop-motion animation by Melissa McClung are casually magical, but the most charming touch comes when Cheney allows himself some wacky audacity in the form of "The Photographers [sic] Life," an unlikely musical number written by his brother Colin (also responsible for the score) and genially warbled by his ultra-game, elderly father Bryan.
Production companies: Sandbox Films, Wicked Delicate Films
International sales: Sandbox Films, info@sandboxfilms.org
Producers: Meredith Desalazar, Manette Pottle, Rebecca Taylor
Cinematography: Ezra Wolfinger
Editing: Ian Cheney
Music: Colin Cheney