Two lonely individuals find each other in a rural French town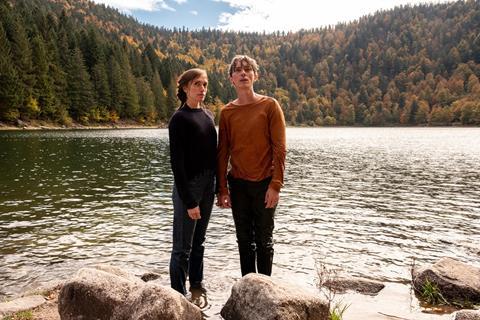 Dir/scr: Erwan Le Duc. France. 2019. 102mins
A family broken by tragedy learns how to fix itself in The Bare Necessity (Perdrix), a droll little comedy with surprisingly deep wellsprings of emotion. Writer-director Erwan Le Duc's feature debut is filled with quirky characters who, the more time you spend with them, lose some of their adorableness to the real vulnerability within. Swann Arlaud and Maud Wyler make for an unlikely but winning romantic pair, each of them playing individuals who gave up on love long ago — and who aren't sure they want to take a chance on it now.
If done poorly, The Bare Necessity could drown in its own cutesiness, but soon it becomes apparent that it has its sights set on more poignant terrain
Screening in Directors' Fortnight, The Bare Necessity has a cheeky sense of humour that could translate overseas. (Especially for Wes Anderson's fans; Le Duc's whip pans, deadpan digressions and peculiar protagonists will feel comfortingly familiar.) This crowd-pleaser should garner warm word-of-mouth.
Set in a quiet rural town, the film stars Wyler as Juliette, a wandering spirit who refuses to be tied down. Stopping in this tiny hamlet with all of her possessions in her automobile, she becomes the victim of an unfortunate carjacking at the hands of a local nudist and reports the theft to police captain Pierre (Arlaud). He allows her to stay with his highly dysfunctional extended family, who all live under one roof, and soon Juliette is engaged in the affairs of Pierre's widowed mother Thérèse (Fanny Ardant), sheltered brother Juju (Nicolas Maury) and Juju's restless daughter Marion (Patience Munchenbach).
Le Duc immerses us in the town's bizarre behaviour, which includes not just jokes about nudists but also World War II re-enactors, earthworm enthusiasts and Thérèse's radio show, where she offers advice to lovelorn callers. (Little does she know that her family secretly calls in with questions since no one else listens to the program.)
If done poorly, The Bare Necessity could drown in its own cutesiness, but soon it becomes apparent that the filmmaker and his cast have their sights set on more poignant terrain. Pierre's family has never gotten over his father's death a couple decades ago, and because Pierre prides himself on taking care of others — including the entire city as a policeman — he's abandoned any semblance of a personal life to be there for his brood.
Juliette's aggressive personality is an obvious Molotov cocktail hurled into this repressed, reserved family, but the predictable narrative friction ends up being, for the most part, more delightful and nuanced than that broad comedic setup might suggest. It certainly helps that Wyler accentuates Juliette's softer qualities, suggesting how this woman uses an outward abrasiveness to mask insecurities and a fear of intimacy. And, although both she and Pierrer have reservations about allowing an attraction to occur, the two actors believably navigate romantic-comedy clichés to arrive at a modest, lived-in love story.
Le Duc isn't quite as successful with the rest of Pierre's family, providing them with subplots that are sometimes too insubstantial. Still, the ensemble brings an unassuming charm, particularly Ardant as a matriarch whose inability to let go of her deceased husband has dragged down her sons and granddaughter in the process. The Bare Necessity is more amusing than hysterical, but the compassion shown these damaged oddballs gives the whole film a lovely glow.
Production company: Domino Films
International sales: Playtime, info@playtime.group
Producers: Stéphanie Bermann, Alexis Dulguerian
Production design: Astrid Tonnellier
Editing: Julie Dupré
Cinematography: Alexis Kavyrchine
Music: Julie Roué
Main cast: Swann Arlaud, Maud Wyler, Fanny Ardant, Nicolas Maury, Patience Munchenbach, Alexandre Steiger