Work is a killer, literally, in this violent thriller from the director of Wolf Creek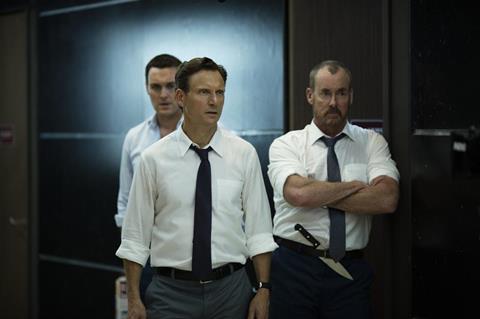 Dir: Greg McLean. US. 2016. 88mins
The corporate world is murder, quite literally, in The Belko Experiment, a violent thriller with a killer premise but not enough underlying smarts to bring its psychologically provocative conceit to fruition. Wolf Creek director Greg McLean fashions a claustrophobic tale in which a group of white-collar employees are trapped in their company's high-rise and must engage in a Battle Royale­-style fight to the death. The film's down-and-dirty nastiness does have its merits, but the bloodshed isn't nearly as interesting when the characters are as exciting as a spreadsheet.
The voice's early demonstration of his intentions, which leads to some spectacularly gruesome exploding heads, creates understandable panic at Belko
Opening March 17 in the US through Blumhouse's BH Tilt division, The Belko Experiment will attract audiences because of its ruthless kill-or-be-killed plot. Genre fans will recognize McLean's name, not to mention that of screenwriter James Gunn, who's now best known for the Guardians Of The Galaxy films. But without big stars, this Experiment will probably be a marginal theatrical performer, enjoying better fortunes on cable and VOD.
The Belko Experiment takes place in the corporate offices of Belko Industries in Bogotá, Colombia, where 80 of the company's American workers have been relocated for mysterious reasons. One morning, an ominous voice announces over the intercom that they will be participating in a game in which most of them will die. The alarmed employees, including levelheaded Mike (John Gallagher Jr) and intense boss Barry (Tony Goldwyn), discover that all exits out of the building have been blocked and there is no escape.
The escalation of the game's stakes makes for a tantalisingly grim scenario. The Belko workers are forced to pick 30 among their ranks to die — failure to comply will result in the man controlling the intercom killing 60 remotely by detonating a tracking device embedded in each employee's head. The voice's early demonstration of his intentions, which leads to some spectacularly gruesome exploding heads, creates understandable panic at Belko.
It's here where The Belko Experiment should tighten the screws, not just intensifying the urgency but also delving into human nature as the employees slowly but inevitably start turning on one another. Mike advocates working together to outsmart this unseen adversary, but Barry argues that they should weed out the weakest and least essential members of the team so as to preserve Belko's best and brightest, like himself.
A satisfying Lord Of The Flies-style darkness initially pervades The Belko Experiment as chaos takes hold in the high-rise, particularly after Barry and his team stumble upon a cache of weapons. McLean and Gunn want their film to be a bleak treatise on self-preservation, even if it's at the expense of those we consider friends. But the film's descent into madness doesn't deliver the proper impact because the characters are both too predictable and not sufficiently well-drawn for us to really appreciate the psychological implications of this mass panic.
Gallagher displays the same sensitivity and down-to-earth likeability he exuded in Short Term 12, but the bland Mike doesn't elicit a strong rooting interest. Goldwyn's Barry starts off as a compassionate, concerned boss, but his transition to a bloodthirsty maniac feels too abrupt. Others in the cast are equally unmemorable. John C McGinley is over-the-top from the get-go as one of Barry's lieutenants, and while Adria Arjona is no shrinking violet as Mike's girlfriend and co-worker, she and Gallagher don't have much time to establish a meaningful rapport.
One of The Belko Experiment's major tensions isn't just how this hideous game will end but what, exactly, is behind it. Without revealing any surprises, let it be said that the filmmakers do eventually throw a twist at us, although it's not nearly exciting enough to merit the anticipation. As the film's paranoia grows and the cat-and-mouse hunting-down of co-workers reaches a fevered pitch, The Belko Experiment has a superficially visceral thrill. But too much of the movie feels like it's just killing time.
Production companies: Orion Pictures, Troll Court Entertainment, Safran Company
International sales: Orion Pictures, www.mgm.com
Producers: Peter Safran, James Gunn
Screenplay: James Gunn
Cinematography: Luis Sansans
Production design: Carlos Osorio
Editor: Julia Wong
Music: Tyler Bates
Website: www.facebook.com/TheBelkoExperiment
Main Cast: John Gallagher, Jr., Tony Goldwyn, Adria Arjona, John C. McGinley, Melonie Diaz, Josh Brener, Michael Rooker