The 30th anniversary of Galway's Film Fleadh opens with a debut set in a small Donegal town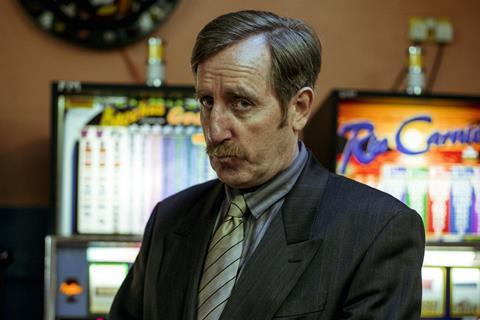 Dir. Morgan Bushe. Ireland. 2018. 83 mins
Morgan Bushe salutes the Coen Brothers in his Irish western The Belly Of The Whale, a darkly humorous, intriguing debut which trips over its own ambition but continuously tries to right itself. With veteran actors Michael Smiley and Pat Shortt working overtime to prop up young Scottish actor Lewis MacDougall (Pan, A Monster Calls), Belly is a flawed work, albeit one of promise.
Bushe has a tendency to sacrifice clarity for visual flourishes
Opening the 30th anniversary edition of Galway's Film Fleadh, Bushe's Fastnet Films-backed feature – which he also co-wrote and -produced – may be a calling card for the director as a visual innovator, but this relatively simple story about a young runaway orphan and a flailing alcoholic who team up to confront the town heavy will struggle to survive in commercial waters.
The film is centred around a derelict caravan park and a grotty small-town amusement arcade with the score taking its cues from the ringing slot machines. Yet the story tends to get lost somewhere in between. A sense of place is similarly missing: supposedly Donegal, this is a town where everyone sports a different Irish accent and the young lead seems to come, without any particular reason, from Scotland.
Aged 15, Joey Moody (MacDougall) has run away from his foster family to revisit his family's abandoned caravan park and reunite with his best friend. Flashbacks recall a close relationship with his father, now deceased, and the reason for this death is a muddled plot point whose significance seems to have suffered in the mix. Also of confused origins is the character of shambling alcoholic Ronald Tanner (Shortt), who turns up in the leisure centre trying to sell Chinese teddy bears to its grimy owner Gits (Smiley).
Eventually, the story swims into focus although Bushe has a tendency to sacrifice clarity for visual flourishes. The costume department also has a good time, cramming the vermillion-faced Shortt into a series of grimy wife-beaters and flared pantsuits and, on one occasion, a dented old beekeeper hat. The nod to the American indie is present throughout.
What's missing, though, is heart. Joe and Ronald's relationship seems forged suddenly out of nowhere, with MacDougall as out of his depth as his character. Shortt and Smiley typically deliver the goods for their outisized characters, and their presence has a calming effect even when the film, and the viewer, becomes distracted and lost in the bright lights of the penny arcade.
Production companies: Fastnet Films/Tilted Pictures
International sales: Fastnet Films
Producers: Rory Dungan, Morgan Bushe
Screenplay: Morgan Bushe, Greg Flanagan
Production design: Michael Moynihan
Editing: Derek Holland, John Walters
Cinematography: Arthur Mulhern
Music: Janez Dovč
Main cast: Lewis MacDougall, Pat Shortt, Lauren Kinsella, Michael Smiley, Art Parkinson, Peter Coonan