'Who would deny Claude LeLouche the chance to have one last roll of the A Man And A Woman dice?'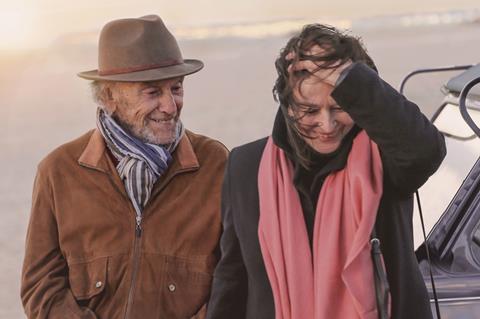 Dir: Claude Lelouch. France, 2019. 90 mins
Love conquers everything in The Best Years Of A Life (Les Plus Belles Annees D'Une Vie), even the fading of precious memories and the dying of the light. It is a typically sentimental assertion from inveterate romantic Claude Lelouch who has returned to the epitome of chic, cool 1960s romance for this melancholy reflection on the ravages of time.
An exercise in sweet nostalgia, The Best Years… is inclined towards whimsy
There is enough of a ready-made older audience, keen to make the reacquaintance of Jean-Louis Trintignant and Anouk Aimee, to create some commercial impetus for the film in France. Internationally, festivals may seem the more obvious haven for this slight but fond footnote to the Oscar-winning A Man And A Woman (Un Homme Et Une Femme).
The Best Years… begins with a quote from Victor Hugo that the best years of a life are those not yet lived. Former racing driver Jean-Louis Duroc (Trintignant) is convinced that his best years are all behind him. He now resides in a care home, refusing to make friends or participate in any of the organised activities. Instead, he sits alone in the open air, lost in his thoughts and dreaming of the one woman who meant so much to him.
Lelouch's lengthy first close-up on Trintignant confronts his frail vulnerability but shows he has lost none of his ability to convey a wealth of emotions in the flicker of an eye or the gentlest of smiles.
It is Jean-Louis's son Antoine (original cast member Antoine Sire) who decides to track down Anne (Aimee) and invite her to pay a visit. He finds her, a widow now, running a small shop, surrounded by family, including her daughter Françoise (Souad Amidou, also returning from 1966).
The first encounter between the former lovers is a gentle tango of concern and compassion, played out in one lengthy sequence. He seems not to recognise her although notices that her voice, her eyes and even the way she pushes back her tumbling tresses all remind him so potently of the woman he once loved. She takes him at face value, teasing, chiding, going along with his unreliable memory and enjoying his gentlemanly flirtations. It isn't long before Francis Lai's famous chabadabada music is in the air and the first of many lengthy excerpts from the 1966 film are used to help contrast the past and the present.
Trintignant and Aimee still have great chemistry together and it is their tender charm that gives the film its heart. Reality begins to blur with fantasy as they take trips, revisiting cherished places from their past including the Le Normandy hotel and beach in Deauville that played such a key part in the original film.
One significant new character in the mix is Jean-Louis's daughter Elena, played with teary affection by Monica Bellucci in the one visit to her father's home. Elsewhere, this is a film made with old friends, revisiting beloved characters and familiar themes. Lelouch previously reunited with Trintignant and Aimee for A Man And A Woman: 20 Years Later (1986).
An exercise in sweet nostalgia, The Best Years… is inclined towards whimsy. "We never could live together but we could die together, " Jean-Louis gallantly suggests to his rediscovered paramour. It is a couple's twilight years viewed through the eyes of a cockeyed optimist and might serve as an antidote to the grimmer realities of old age that Trintignant's character faced in Michael Haneke's Amour.
Closing in on sixty years as a filmmaker, and still very active, Lelouch has earned the right to this act of indulgence. Who would deny him the chance to have one last roll of the A Man And A Woman dice?
Production companies: Les Films 13, Davis Films, France 2 Cinema
International sales: Other Angle otheranglepics@gmail.com
Producers: Samuel Hadida, Victor Hadida, Claude Lelouch
Screenplay: Claude Lelouch, Valerie Perrin
Cinematography: Robert Alazraki
Editor: Stephane Mazalaigue
Music: Francis Lai, Calogero
Production designer: Bernard Warnas
Main cast: Jean-Louis Trintignant, Anouk Aimee, Marianne Denicourt, Monica Bellucci.