Dir. Michael Showalter. US, 2016, 119 mins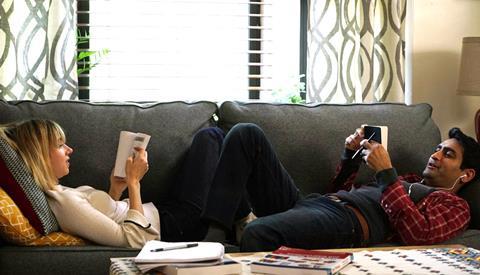 You couldn't make this delightful comedy up. The real-life nature of the cross-cultural romance between a Pakistan-born stand-up comedian and his American girlfriend – and their families - lifts the The Big Sick into the big league. It also forces the Judd Apatow-produced film into some unexpectedly dramatic moments when one of the characters becomes gravely ill, but this is a carefully-crafted comedy which can withstand the tonal shifts.
Our love affair isn't so much with Nanjiani and Emily but their loud, lively, loving families.
Deadpan stand-up comedian Kumail Nanjiani relates his own romantic history, which he has co-written with his wife Emily Gordon. The subject matter mines the same territory as 2015's home movie/documentary Meet The Patels, moving the immigrant family up from Gujarat to Muslim Pakistan. The Big Sick finds the fun in terrorism, religion and racism, proving that it's really not too early for an audacious one-liner about 9/11.
All of The Big Sick's power has gone into its script and performances, though (there's a lovely turn from Holly Hunter, sparking off on-screen husband Ray Romano). With its comedy club sets and hospital waiting rooms, it can look like a small-screen cross between Louis C.K. and E.R, and that may restrict this comedy's potential reach after its Sundance world premiere.
There's a great deal of charm to Nanjiani's central performance. The actor is clearly older than his character now, but somehow that makes his man-child even more appealing. Kumail is working at a small-time Chicago comedy club and driving for Uber when he meets grad student Emily (Zoe Kazan). Neither is looking for love, and both are hiding secrets. Kumail's close, loving, fractious, Pakistani family has made it clear that he is expected to be a good Muslim and enter into an arranged marriage, and Kumail has gone along with the charade, pretending to pray in the basement and meeting up with potential wives with no intention of taking things any further.
It seems their relationship is impossible, yet when Emily is suddenly taken sick, Kumail is forced to confront his own hypocrisy and the depth of his feelings, helped along by Emily's over-sharing parents (Hunter and Romano). Despite its frankness and rich language, The Big Sick can be reminiscent of some early Richard Curtis comedies – and not just because it's long and references Hugh Grant. There is, ultimately, an inevitability to the central romance, yet it's played out so deftly that every turn is welcome. Perhaps it's because our love affair isn't so much with Nanjiani and Emily but their loud, lively, loving families.
It's a glossier, more Hollywood affair, but The Big Sick does also reference the rough-and-ready, equally lovable British comedy East Is East (1999). Finding a rich seam of humour in the often painful process of integration may not be new, but it's always welcome, especially in these tricky political times. The real-life drama of the hospital is a difficult element for director Michael Showalter (Hello My Name Is Doris) to smoothly integrate into what essentially is a comedy of manners. That he does so with a fine sense of comic timing and a steely willingness to nudge up against the boundaries of good taste, is a tribute to a great ensemble cast and a script which has clearly been fine-tuned.
Production company: FilmNation Entertainment
Producers: Judd Apatow, Barry Mendel
Executive producers: Emily Gordon, Kumail Nanjiani
Screenplay: Emily Gordon, Kumail Nanjiani
Editor: Robert Nassau
Production design: Brandon Tonner-Connolly
Music: Michael Andrews
Main cast: Kumail Nanjiani, Zoe Kazan, Holly Hunter, Ray Romano, Anupani Euler, Zienobia Sifroff, Adeel Akfitar
International sales: UTA & FilmNation Entertainment