Disillusionment and generational frustrations come to the surface as an Algerian couple celebrate their 20th wedding anniversary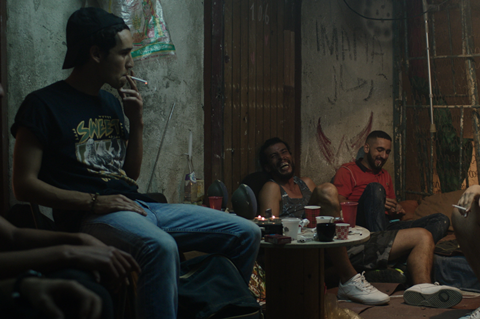 Dir/scr: Sofia Diama. Fr-Bel. 2017. 102mins
An impressive cast help give writer-director Sofia Diama's powerful film The Blessed (Les Bienheureux) a real sense of authentic insight and angst as they draw from her strong script to dwell on disillusionment, sadness and generational frustration against a backdrop of Algiers of 2008, a few years after the end of the civil war.
As the evening draws on, all will talk about their beliefs and feelings.
Gently paced and allowing its characters to develop and slowly reveal themselves, the story revolves around Amal (Nadia Kaci) and Samir (a grey-haired Sami Bouajila from Days of Glory) as they decide to celebrate their 20th wedding anniversary in a restaurant. The occasion may be a happy one, but it also spark discussions about the state of their country; of lost illusions and the possibility of a better future for their 18 year-old son Fahim (Amine Lansari).
Amal is keen for Fahim (something of a genial slacker who enjoys his life in the city) to go to France to study, clear that he has not much of a future in Algeria. She carries disillusionment physically with her, frustrated at the attitude of her husband (a gynaecologist who also performs illegal abortions) and their generation, which saw their fight for democracy fail.
Their bickering story is set against that of Fahim and his two friends Feriel (Lyna Khoudri, who won the Best Actress award in Orizzonti at the Venice Film Festival for her performance) and Reda (Adam Bessa). Fahim and Reda (a devout Muslim planning a tattoo from the Quran on his chest) play punk-rock music loudly in Fahim's room – mainly to annoy his parents – and smoke hash, while liberal Feriel balances school work while looking after her father who seems to be grieving his wife, presumably lost in the war.
As the evening draws on, all will talk about their beliefs and feelings. Feriel is keen Fahim should leave Algeria and seek a new life (she wants to eat sardines in Sicily) and she also mocks Reda's religion, while Reda hits back as he comments on her perceived feminism. But at heart these three friends want to have fun, though their night in Algiers challenges them in different ways. In the same way as Samir and Amal head to dinner with friends their opinions, passions and beliefs are brought into sharp focus.
Production companies: Liaison Cinematograhique, Artemis Productions
International sales: Bac Films, www.bacfilms.com
Producers: Serge Zeitoun, Patrick Quinet
Cinematography: Pierre Aïm
Editor: Sophie Brunet
Music: Jean Umansky
Main cast: Sami Bouajila, Nadia Kaci, Adam Bessa, Amine Lansari, Lyna Khoudri, Faouzi Bensaïdi