Dir: John Lee Hancock. US. 2009. 128 mins.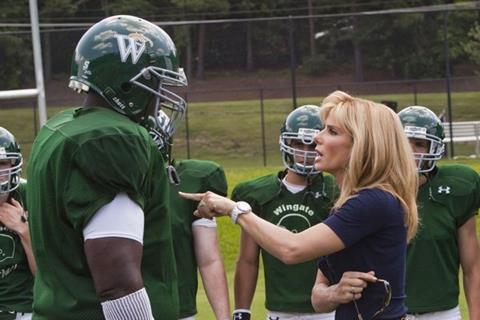 The Blind Side may have its heart in the right place, but it falters in many other respects. Based on the true story of an African-American teenager who was rescued from poverty by a wealthy middle-aged white woman and went on to become a football legend, director John Lee Hancock's film combines the conventions of the sports drama and the inspirational message movie for a simplistic treatment of potentially compelling material.
The Blind Side, which has made nearly $220m domestically, will expand to international markets in March, starting with the UK and Germany. True-life American sports dramas, such as Seabiscuit and Miracle, have traditionally fared far better in the US than overseas, but this Warner Bros. release may find more traction because of Sandra Bullock's rejuvenated star power.
Busybody Memphis decorator Leigh Anne (Bullock) takes notice of Michael (Aaron), a large, homeless African-American teen, and decides to invite him to come live with her family, much to the shock of her highfalutin white friends. Trying to escape his dead-end childhood in the projects, Michael turns his life around by joining the high school football team.
Adapted from author Michael Lewis's book, The Blind Side works best in its early stretches as Hancock underplays the feel-good banality of Michael's cautious integration into Leigh Anne's family, receiving ample support from Bullock's spunky performance. However, as The Blind Side shifts gears and becomes a predictable sports drama, Hancock litters Michael's path with heavy-handed obstacles – which include gang members from his old life and a suspicious college-athletics investigator – that don't do justice to the story's inherent questions about race and sports.
Consequently, The Blind Side never digs deeply into its subject matter, instead preferring a bland crowd-pleasing tone that smoothes over any rough edges.
Production company
Alcon Entertainment
Worldwide distribution
Warner Bros. Pictures
Producers
Gil Netter
Andrew A. Kosove
Broderick Johnson
Screenplay
John Lee Hancock, based on the book The Blind Side: Evolution Of A Game by Michael Lewis
Cinematography
Alar Kivilo
Production designer
Michael Corenblith
Editor
Mark Livolsi
Music
Carter Burwell
Main cast:
Sandra Bullock
Tim McGraw
Quinton Aaron
Kathy Bates
Jae Head
Lily Collins
Ray McKinnon