Dirs: Allen & Albert Hughes. US. 2010. 118 mins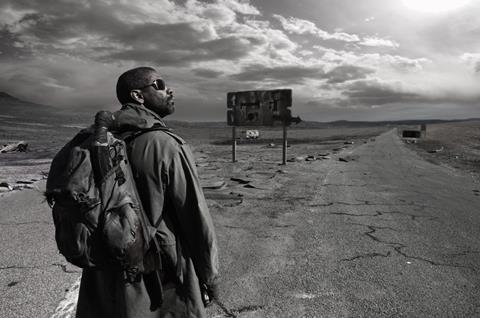 One of the first star-driven releases of 2010, The Book Of Eli is a post-apocalyptic western cursed by laborious pacing and a sense of self-importance which its nutty story does not warrant. Ponderous in the extreme and laced with portentous religious overtones, the first feature in nine years from the talented Hughes Brothers (From Hell) may struggle to last long in theatres despite the above-the-title allure of Denzel Washington.
This could still struggle to generate word of mouth in an international marketplace already apathetic to the western genre
A handsome, expensive production from Joel Silver and Alcon Entertainment, which is coming off its biggest hit to date with The Blind Side, The Book Of Eli was sold to independents outside North America per Alcon's sales arrangement with Summit. But although its production values and solid cast will help give it muscle, this could still struggle to generate word of mouth in an international marketplace already apathetic to the western genre.
The Book of Eli might also suffer over its uncanny resemblance to John Hillcoat's current release The Road in that it follows a man heading westwards across America after an apocalyptic event has devastated the world. The first half hour sees Washington's Eli battle against scavengers and take refuge in deserted houses, much like Viggo Mortenson's character and his son in (the far superior) The Road.
But when Eli hits a small frontier town run by a gangster called Carnegie (Gary Oldman, back in arch villain mode), the resemblance ends and the film evolves into an old-style good versus bad face-off straight out of a Sergio Leone movie (in fact, one of the characters repeatedly whistles Ennio Morricone's theme to Once Upon A Time In America).
Carnegie is searching for a book, and it turns out that Eli possesses the very book he is looking for. Eli tells Carnegie's adopted daughter Solara (Kunis) that he has been driven west by voices in his head telling him that he must get the book into safe hands and that he will be protected along the way.
Eli, a former K-Mart store hand but clearly believing himself a Christian prophet, manages to escape the town alongside Solara but Carnegie and his stooges (led by Ray Stevenson) are hot on his tail across the desert wastes a la Mad Max.
The film briefly comes alive towards the end as Eli and Solara hole up in a house belonging to a crotchety old cannibal couple called, appropriately, George and Martha and played with enormous relish by English acting divinities Michael Gambon and Frances De La Tour. The two Brits send a bolt of energy into the film, and give a hint of what might have been if the film allowed itself to have more fun.
Indeed fanboys who might have lapped this up had it been played with more of the pacing and zest of Desperado or From Dusk Till Dawn are unlikely to embrace The Book Of Eli's spin off into hokum-land in its final 15 minutes and a Sixth Sense-style reveal which is nothing short of nonsensical. The Hughes Brothers meanwhile can't quite decide whether they are remaking Unforgiven or Mad Max Beyond Thunderdome, switching style often and abruptly from soporific western to CSI-style flash-cutting.
To sign up for Screen's weekly Reviews Newsletter with all the week's new releases, international openings and full festival reviews delivered free to your mailbox every Friday, please click HERE
Production companies
Alcon Entertainment
Silver Pictures
North American distribution
Warner Bros
International sales
Summit International
Producers
Joel Silver
Denzel Washington
Broderick Johnson
Andrew A Kosove
David Valdes
Screenplay
Gary Whitta
Cinematography
Don Burgess
Production designer
Gae Buckley
Editor
Cindy Mollo
Music
Atticus Ross
Main cast
Denzel Washington
Gary Oldman
Mila Kunis
Ray Stevenson
Jennifer Beals
Michael Gambon
Frances De La Tour
Tom Waits
Malcolm McDowell