Dir. Richard Kelly. US. 2009. 110 mins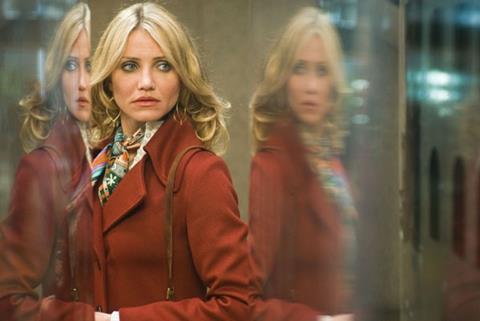 Richard Kelly's third feature is more accessible than his second, the impenetrable and financially disastrous Southland Tales, but less arresting than his first, cult classic Donnie Darko. Playing like an over-extended if well-mounted Twilight Zone episode, The Box has more commercial potential than its writer-director's earlier efforts, thanks to the casting of Cameron Diaz and the popularity of a new wave of Zone-influenced TV shows (Lost, Fringe, et al). Yet it still seems unlikely to appeal much beyond its limited core audience of weird-loving fantasy/sci-fi fans.
Too often Kelly seems interested in weirdness for weirdness' sake
The Radar/Media Rights Capital production gets a wide North American release (with a PG-13 rating) through Warner on November 6. With Sony's buzzed-about 2012 aiming for a similar audience just a week later, though, it will have to make an impact quickly.
Independent distributors which picked up the film from the Weinstein Company for international markets may be better suited to the content (though an early eighth-place opening in Australia is not encouraging). They may also be able to make more of the presence of Diaz, whose rom-com What Happens in Vegas did much better internationally last year than domestically.
Working for the first time with outside source material, Kelly has based his screenplay on the 1970 short story Button, Button (also the basis for an episode of the mid-eighties Twilight Zone revival series) by I Am Legend novelist Richard Matheson.
Kelly's version, set in 1976 against the backdrop of the first NASA probe landing on Mars, makes Norma Lewis (Diaz) a teacher at a private high school and her husband Arthur (James Marsden) an ambitious NASA engineer.
Out of the blue, a box with a large button attached is delivered to the financially-stretched couple's door. Soon after, Arlington Steward (Frank Langella), a mysterious man with a disfigured face, calls on the couple and their young son to explain: if they push the button they will get a million dollars but someone they don't know will die.
The Lewises' moral dilemma doesn't last too long and for the rest of the film Kelly spins out the mystery with hints and clues regarding Steward – a former NASA employee who was hit by lightening just as the Mars probe was sending its first signal back to Earth - and his mission. This seems to involve some kind of higher intelligence – helped by a 'staff' of zombiefied humans and, maybe, the CIA – testing the worthiness of humankind.
While there are some imaginative effects and spooky moments (as well as a few hackneyed sci-fi touches) the whole thing gets pretty silly at times, and the mystery is never fully resolved. Too often Kelly seems interested in weirdness for weirdness' sake, rather than in weirdness that might add to the drama or develop the characters.
DoP Steve Poster, one of several below-the-line Kelly regulars who worked on the project, gives the film a handsome period look. The actors, though, sometimes appear to be struggling to make the material relatable. With his gruesome CGI scar and immaculate wardrobe, Langella is effortlessly scary. But Marsden and Diaz, the latter using a strong southern accent, come close to going over the top, particularly in the film's overwrought finale.
To sign up for Screen's weekly Reviews Newsletter with all the week's new releases, international openings and full festival reviews delivered free to your mailbox every Friday, please click HERE
Production companies
Media Rights Capital
Radar Pictures
North American distribution
Warner Bros
International sales
The Weinstein Company
+ 1 212 941 3800
Producers
Sean McKittrick
Richard Kelly
Dan Lin
Screenplay
Richard Kelly, based on the short story Button, Button by Richard Matheson
Cinematography
Steven Poster
Production design
Alexander Hammond
Editor
Sam Bauer
Music
Win Butler
Regine Chassagne
Owen Pallett
Main cast
Cameron Diaz
James Marsden
Frank Langella
James Rebhorn
Holmes Osborne
Sam Oz Stone