An unusual Indian boxing film from the director of 'Gangs of Wasseypour'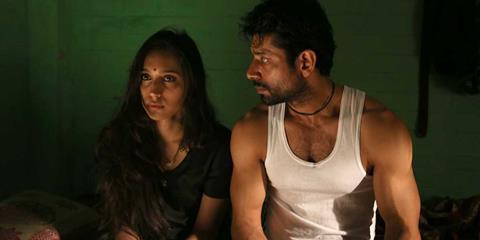 Dir. Anurag Kashyap, India, 2017, 151 minutes
In The Brawler, Anurag Kashyap manages to pack caste inequality, corruption and a triumph over disability into a romantic melodrama built around the boxing ring. While it's no Raging Bull, it is fun, if you're willing to roll with the punches. Kashyap's (Gangs of Wasseypur) latest is a time-tested tale of true grit as well as a novelty film (for India) about boxing.
The Brawler is on the progressive side of those caste and nationalist conflicts that divide India
There are enough stars in this Indian Rocky to ensure a good ride in India and among South Asian expats globally. It could even get some exposure on the more adventurous side of sports television. Prospects in the mainstream US and European markets, however, are slim for a film that, for all its earnest charm, lacks the technical polish of so many studio boxing movies.
The hero in this bout between good and evil is Shravan (Vineet Kumar Singh), a low-caste boxer who is knocking around a gym where the Brahmin boss calls the shots. When he gets a glimpse of Sunaina (Zoya Hussain), niece of gangsterish Brahmin Bhagwan Das (Jimmy Shergill), head of the boxing federation (and this film's Raging Bull), he's in love. Soon enough, she is too. There are complications. The pretty Sunaina is mute, although she can hear. Far worse, her ruthless, childless uncle forbids her to see the low-caste fighter.
The Brawler is a love story, but it's also a family saga, with a cast of relatives under the thumb of Bhagwan Das and henchmen who beat boxers and family into submission – yet another violent gang for a director who's made his share of gangster films. Kashyap isn't out for subtlety as this morality tale takes you in and out of the ring, but his actors can brush ardour, rage, pain and deceit in broad, sometimes bawdy strokes.
With a few odd twists stirring the melodrama and the improbability of an Indian boxing film, Kashyap manages to keep a tight pace over more than two hours, even with clever entertaining musical numbers that don't advance the plot much. Still, the boxing in The Brawler is not at world competitive levels. These boxers don't stand, or move, or punch like professional boxers, and the sounds of gloves hitting flesh are sometimes a touch out of sync. Yet if you buy into the drama (and the occasional comedy) these obvious imperfections won't matter. Other production values are fine.
Although Shravan – less monosyllabic than most screen boxers – calls himself the Mike Tyson of India, his muscled body (a sure attraction for some audiences) is not heavyweight. Vineet Kumar Singh may not look like any boxers fighting today, but the US public may find that he bears an uncanny resemblance to Bobby Jindal, the boyish former governor of Louisiana and one of the best-known Indian-Americans.
As Sunaina, Zoya Hussain has an I'm-not-disabled pluckiness, aided by her own hard-hitting right hand. She can't speak, but in the era of mobile devices, texting gives her a voice. Veteran Jimmy Shergill as Bhagwan Das is a boilerplate villain, from his moustache down to his caste arrogance.
Kashyap does manage to add some political topicality to the film's boilerplate. Indian nationalists are in the villains' corner, torturing Sunaina's father when a delivery of sacrilegious beef is made to his house. The Brawler, a title that points to its protagonist's humble origins, is on the progressive side of those caste and nationalist conflicts that divide India.
Kashyap's film often feels like a parable for modern India – if you can't vote away injustice, maybe you can punch your way beyond your caste. In the ring, the punches may not always be on target, but the film's heart is in the right place.
Production company: Colour Yellow Productions Private Ltd
International sales: Stray Dog Nathan@stray-dogs.com
Executive Producer: Ajay Rai, Kanupriya
Producers: Aanand L. Rai, Vikramaditya Motwane, Madhu Mantena, Anurag Kashyap
Screenplay: Anurag Kashyap, Vineet Kumar Singh, Mukti Singh Srinet, K.D. Satyam, Ranjan Chandel, Prasoon Mishra
Cinematographers: Rajeev Ravi, Shanker Raman, Jay Patel, Jayesh Nair
Editors: Aarti Bajaj, Ankit Bidyadhar
Production design: Shazia Iqbal
Music: Rachita Arora, Nucleya, Prashant Pillai
Main cast: Vineet Kumar Singh, Zoya Hussain, Jimmy Shergill, Ravi Kishan, Sadhana Singh, Rajesh Tailang, Shreedhar Dubey, Shakti Kumar