Hilarious 'womance' comedy from New Zealand is executive produced by Taika Watiti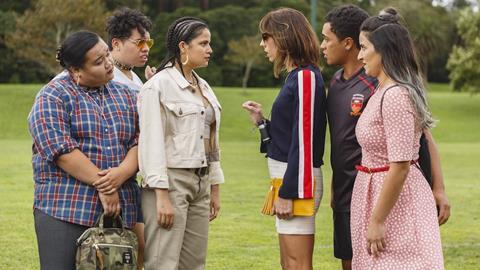 Dir/scr. Jackie van Beek, Madeleine Sami. New Zealand. 2018. 82 mins.
One person's heartbreak is someone else's payday in The Breaker Upperers — and also the start of a hilarious and heartfelt ode to female friendship. The latest New Zealand comedy to find both sweet insights and surreal humour in an unconventional premise, this idiosyncratic crowd-pleaser follows two women who have turned ending other people's relationships into a lucrative enterprise. Of course, while writer/director/star duo Jackie van Beek and Madeleine Sami are dashing romances all over Auckland, their love-averse characters are also realising how much they mean to each other. If the bromance genre can thrive, giving platonic male bonds the rom-com treatment, then so can this uproarious 'womance'.
Turning the tables on society's expectation that romance is the path to happiness
It's disingenuous to badge The Breaker Upperers as a mere female-centric step into typically male-focused terrain, however; unlike gender-swapped big-budget fare like Ghostbusters and Ocean's 8, van Beek and Sami aren't following a strict template. Theirs is a loose, improvisation-friendly effort brimming with personality rather than formula. After premiering at SXSW in March, the film is proving a hit as it makes its way around the world — releasing to box office success in its homeland in May, and opening the Sydney Film Festival before an Australian theatrical run in July. Anyone interested in smart, proudly distinctive comedies — not to mention timely, given the growing pull of female-led features — ought to take notice.
If the movie has a predecessor, it's the filmography of Taika Waititi, who earns an executive producer credit here — and who worked with van Beek and Sami in both Eagle vs Shark and What We Do in the Shadows. What the latter did for house-sharing vampires, aka giving a relatable concept a charmingly unusual twist, The Breaker Upperers does for outsourcing the age-old task of dumping an unwanted paramour. Like Waititi's efforts, the feature also stacks its cast with top New Zealand comic talent, including an appropriately awkward appearance by Jemaine Clement.
Van Beek and Sami play hardened cynic Jen and the more open-hearted Mel, two long-term pals who have parlayed their own relationship woes with the same man into a busy 15-year business. Introduced in faux police uniforms lying to the sobbing Anna (Celia Pacquola) about her husband's whereabouts, they're delighted with their morally ambiguous job. As a lively early montage demonstrates (demonstrating the well-timed editing by Hunt for the Wilderpeople's Tom Eagles in the process), there's no costume they won't don, situation they won't fake and client they won't take. That includes 17 year-old rugby-playing high schooler Jordan (Boy's James Rolleston with a stellar case of comic timing), who already tried to dump his tough-talking girlfriend Sepa (scene-stealing film debutant Ana Scotney) via emoji. He's also instantly smitten with Mel, much to Jen's disapproval.
The Breaker Upperers keeps its story simple, charting the tension that both Anna's reappearance and Jordan's puppy love creates between Jen and Mel. It's the skeleton that van Beek and Sami mould their standout jokes and scenes around — and working with an idea that was always going to rise or fall on the size of its laughs, the duo rarely misses an opportunity. Hallucinating a music video for Celine Dion's mid-'90s ballad 'It's All Coming Back to Me Now' might sound hit-and-miss on the page, yet it's a pitch-perfect piece of comedy on screen. The same can be said for the movie's cop shop-set striptease sequence and climactic 'All My Life' serenade, both of which are shot with exuberance by Shopping's Ginny Loane.
Crucially, van Beek and Sami flesh out their premise with more than just gags, turning the tables on society's expectation that romance is the path to happiness. Beyond the ample break-ups, the film offers a considered but always comic exploration of finding fulfillment in other ways. The Breaker Upperers might suffer from a too-neat third act, but it wins hearts and hearty guffaws along the way. Filmed in 22 days, it's also a superb showcase for its key talents.
Production companies: Piki Films, Miss Conception Films
International sales: Piki Films, emily@pikifilms.com
Producers: Carthew Neal, Ainsley Gardiner, Georgina Conder
Production design: Brant Fraser
Editing: Tom Eagles
Cinematography: Ginny Loane
Main cast: Jackie van Beek, Madeleine Sami, Celia Pacquola, James Rolleston, Ana Scotney.