An art critic becomes embroiled in a plot to steal a painting from a celebrated reclusive artist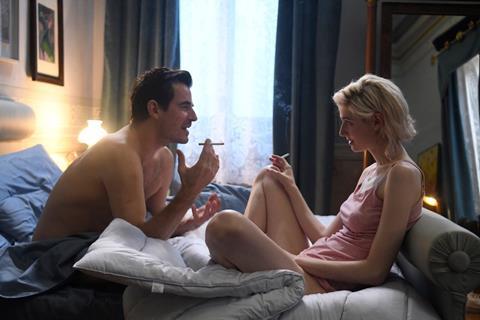 Dir: Giuseppe Capotondi. UK-Italy. 2019. 98mins
Two tasty extended cameos from Mick Jagger and Donald Sutherland pour sauce on an undercooked art world neo-noir in Italian director Giuseppe Capotondi's second feature (after 2009's The Double Hour) and first English-language project. Drawing parallels between the stories experts tell about artworks and the stories people tell about themselves, and taking a jaded view of the power of critics to make or break artistic reputations and influence the market, The Burnt Orange Heresy packs in more themes than Banksy does spraycans. It's as a thriller that it falls down: for all the commitment that Claes Bang and Elizabeth Debicki bring to the central roles, their characters never really emerge as autonomous beings from the faintly preposterous story they're trapped in.
Clearly meant to be an intense chamber thriller, but instead feels simply thin
This is the third drama in two years, after Ruben Ostlund's The Square and Dan Gilroy's Netflix-funded Velvet Buzzsaw, to combine a satirical view of the art world with darker genre elements. The Burnt Orange Heresy is easily the tamest of the trio, with neither the moral complexity and unpredictability of The Square nor Velvet Buzzsaw's glee in its own schlocky horror spiral. Its Italian setting, those Jagger and Sutherland turns and a decent technical package may give the film some traction as a classy date movie option, but it will need further critical support to find its way into multiple territories.
Bang, who also headlined The Square as a conflicted museum curator, here plays James Figueras, an art critic whose first appearance – giving a paid talk to a group of Americans in an ornate Milanese palazzo – establishes his slippery, Machiavellian persona. Showing his audience an abstract painting, he first elevates it from daub to masterpiece by spinning an elaborate yarn about the artist who created it, then deflates it once more by revealing the story as a pack of lies, and the painting as his own hasty creation. At the back of the room, Berenice (Debicki), a willowy American abroad, lingers at the end of the lecture with some questions for the cocky critic – and before we know it they're having hot sex in Figueras' modernist Milan apartment.
Both partners turn that holiday-romance doubt into a teasing game with an erotic frisson. The pill-popping Figueras soon invites his new girlfriend to join him for a weekend at the Lake Como villa of Mick Jagger's wealthy art collector Joseph Cassidy; a wary, wily soul who turns out to know a thing or two about some murky episodes in Figueras' past, and is skeptical about Berenice's claim to be just a little provincial girl from Duluth, Minnesota.
Larging it in his posh Como gaff with its Rothkos and Manzonis, with a Cockney drawl that duets with Bang's own slightly odd Scandi-Shoreditch twang, Jagger clearly enjoys his brief screen time, and, for all that he over-eggs his character, so do we. It's not long before we're gifted another full-throttled thespian performance, in the shape of Donald Sutherland's reclusive artist Jerome Debney, who is living in an outhouse on this lakeside estate, and expresses himself in an elaborate rhetorical style larded with phrases like "If I tarry much longer…". A legend in the art world – partly because of the scarcity of his output – he's never given an interview. Cassidy promises Figueras exclusive access to Debney, in return for his help in securing the collector a new work by the artist, by any means necessary.
There are only a handful of lines not spoken by these four protagonists in what is clearly meant to be an intense chamber thriller, but instead feels simply thin. The film seems worried about going too far into noir territory, and though the ambitious streak in Figueras darkens gradually into menace, the growing disdain with which he treats Berenice never feels particularly threatening – partly because the script backs itself into a corner by making her too smart to stay with a complete bastard.
Mostly shot at night, Milan is a place of airless boxes, while Lake Como is portrayed in autumnal mood, an often dank place with gloomy inlets where flies – a major thematic riff that becomes tiresome well before the end – breed in the lakeside mud. In a way, this story could have been set anywhere, anytime in the last 20 or 30 years; unlike Nocturnal Animals, say, or the previously mentioned films by Ostlund and Gilroy, it's not particularly in touch with the current art world zeitgeist, and namechecks are reduced to a few obvious media outlets like Flash Art.
This lack of real interest in the field that inspires the plot is brought home in The Burnt Orange Heresy's lack of any real critical discourse about art over and above market value, in the tiny glimpses we're afforded of Cassidy's supposedly world-class collection, and in a perplexing final scene involving a drawing by Debney that is just plain bad. Admittedly, if the story was stronger, these details wouldn't matter half as much.
Production companies: MJZ, Rumble Films, Wonderful Films, Indiana Production
International sales: HanWay Films (except UTA/CAA North America) info@hanwayfilms.com
Producers: David Zander, David Lancaster, William Horberg, David Campos Pavoncelli
Screenplay: Scott B. Smith, from the novel by Charles Willeford
Production design: Totoi Santoro
Editing: Guido Notari
Cinematography: David Ungaro
Music: Craig Armstrong
Main cast: Claes Bang, Elizabeth Debicki, Mick Jagger, Donald Sutherland