A father and son are beguiled by the same woman in the debut of Australian filmmaker Priscilla Cameron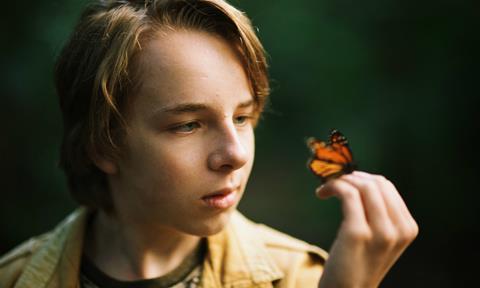 Dir/scr. Priscilla Cameron. Australia, 2017, 97 mins.
Fluttering away inside The Butterfly Tree is a tale of grief and second chances, albeit one struggling to transform a cocoon of clichés into an emotionally resonant effort. Telling of a father and son coping with loss by both falling for the enchanting new woman in town, the debut of Australian filmmaker Priscilla Cameron wears its heart on its greenery and insect-filled frames, but saddles its story with too much obviousness and convenience to have the desired impact.
In what is essentially an actor's showcase, the main trio of Melissa George, Ed Oxenbould and Ewan Leslie exceed the limitations of the material
Star power may still garner modest interest, however, as the film marks Melissa George's first Australian role since 2013 and also features The Visit's Ed Oxenbould. At the very least, the Melbourne International Film Festival-premiering feature — which aims to parlay a blend of coming-of-age drama, lessons in life and love, and magical realism into wide audience appeal — will receive an Australian theatrical release late in 2017, though its prospects elsewhere are far less assured. Streaming platforms might offer an avenue to undemanding viewers.
George plays burlesque performer turned florist Evelyn, a person of keen interest for 13-year-old Fin (Oxenbould) and his writing teacher father Al (The Daughter's Ewen Leslie). The duo warm to her charms separately, but it doesn't take long for an unconventional love triangle to form.
Straddling the cusp of adulthood and filled with yearning for his dearly departed mother, Fin regards Evelyn as both a source of allure and a surrogate maternal figure, which proves a delicate mix. Al's wooing attempts are complicated by his affair with his infatuated student Shelley (Sophie Lowe), a situation that also threatens his job. Meanwhile, Evelyn's calm demeanour, glamorous '40s-style attire and penchant for donning gold roller skates masks her own inner turmoil.
From the precious but confused teen approaching maturity, to the self-destructive, mourning dad, to the enigmatic mystery woman, much about The Butterfly Tree keeps to the neat and familiar. And, in everything from the almost-constant presence of the symbolic titular creature (which Fin sees as a link to his mum) to the meet-cute manner in which the characters initially cross paths, much clings to the strained and overstated as well.
Indeed, when an early scene sees the stereotypically obsessed Shelley reading a suggestive poem aloud in class, but not even trying to hide its relevance to her illicit relationship with Al, it's a telling inclusion; a clumsy, overdone moment, like most of the film that follows.
Although Cameron takes inspiration from the real-life illness of a friend, endeavouring to chart rich thematic territory in the process, The Butterfly Tree consistently falls short of conjuring the intended heartfelt, fantasy-tinged exploration of life. Though the script won the 2010 Australian Writers Guild award for best unproduced work, it's hampered by contrived plot developments, clunky dialogue, routine characterisations and overt expressions of sentiment — telling audiences what to feel, rather than earning it.
Still, the film's look fares considerably better than its narrative. A stylised rather than subtle affair, colour, texture and eye-catching composition all thrive courtesy of Cameron and cinematographer Jason Hargreaves's eye for visual flair. Production designer Charlie Shelley excels in immersing Fin, Al and Evelyn in vibrant yet earthy surroundings, while costume designer Chrissy Flannery has fun with the latter's wardrobe.
And, in what is essentially an actor's showcase, the main trio of George, Oxenbould and Leslie similarly exceed the limitations of the material. Their protagonists and their corresponding dramas play like a means to an end, but they remain engaging to watch. In fact, each adds a near career-best performance to their respective resumes, offering up commanding turns that bring depth to thinly written characters.
Production companies: Midwinter Films, Cowlick
Australian distribution: Vendetta Films, info@vendettafilms.co.nz
Producer: Bridget Callow-Wright
Co-producers: Simon Callow-Wright, Peter Drinkwater, Abi Tabone, Jade van der Lei
Executive producers: Phil Bremner, Jill Macnab, Michael Wrenn
Cinematographer: Jason Hargreaves
Editor: Rodrigo Balart
Music: Caitlin Yeo
Production designer: Charlie Shelley
Costume designer: Chrissy Flannery
Cast: Melissa George, Ed Oxenbould, Ewen Leslie, Sophie Lowe