Deceptively simple but emotionally jarring mid-length feature from Argentina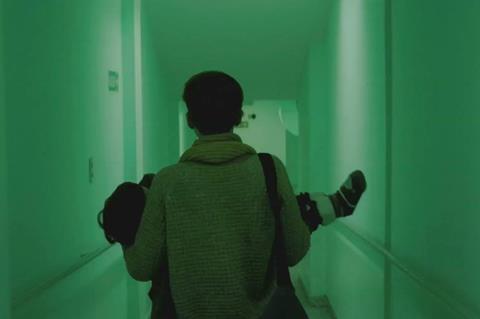 Dir. Mariano González. Argentina. 2019. 68 mins.
In his second feature The Care of Others, Argentinian writer-director-actor Mariano González serves up an ostensibly slight yet subtly disquieting slow-burn contemplation on chance and responsibility. This narratively lean drama – González's follow-up to 2016's Balloons - features a strong, tautly underplayed lead from Sofia Gala Castiglione, and a nicely indirect approach to conveying information. Its determinedly minor-key nature and schedule-defying medium-length status won't move mountains in terms of further exposure (the film receives its European premiere in Thessaloniki after bowing in Mar del Plata). But The Care of Others should continue to find deserving slots, and enhance the reputations of both Castiglione, previously seen in Anahi Berneri's 2017 Alanis, and writer-director González, who self-effacingly casts himself in a broadly unsympathetic role.
Speaks volumes about the question of how we all choose to be involved – or not – in the world around us.
Castiglione plays Luisa, a young Buenos Aires woman who earns her keep as a child minder, while also working alongside boyfriend Miguel (González) at a workshop that turns out moulded items such as copies of Chinese Buddha statues. When she checks in to look after Feli (Jeremías Antún), the young son of hospital doctor Carla (Laura Paredes, one of the leads in Mariano Llinas's experimental epic La Flor), everything proceeds as usual until Luisa accidentally locks herself out of the apartment while taking out the rubbish. Anxious about Feli, Luisa tries her best to get back in, with help from Carla's neighbours and from the building's caretaker – and eventually succeeds, at which point both she and the audience heave a sigh of relief.
However, this is just where Luisa's troubles begin, because a tiny window of chance results in something terrible happening that she could not possibly have predicted – and it involves Miguel too. Struck by guilt about her responsibility, and desperate to know how the crisis is developing, Luisa finds herself playing a waiting game – while Miguel detaches himself from the whole affair, retreating into the daily business of the workshop and tinkering with his bike. What makes the story so powerful from here on on is the way that González effectively suspends the narrative for much of the time, keeping us dangling along with Luisa – and also making wonder about what she's thinking and feeling, as she goes into a kind of state of shock, or at least a precarious pseudo-calm that we sense must surely crack before too long.
González cannily tells the story in elliptical fashion, moving sometimes abruptly between scenes, often keeping key events off-screen or happening in the distance. Once the central drastic incident happens, very little is said – especially between Luisa and Miguel – as taciturnity and evasion become the norm of their life together. Eventually, however, Luisa has to make a hard choice about acting on her sense of guilt.
Shot by Manuel Rebella with very mobile camerawork, and in desaturated beige-dominated colours, the film is stylistically in something of a Dardenne brothers mode: in the narrative pacing and use of gaps; in the way that the camera often hangs close at the back of characters in motion; and in the detailed observation of everyday activities. It's up to us to decide whether the work done at Miguel's studio has any metaphorical significance, but its concrete detail gives a solid context for Luisa's story. The sudden cut-off of the final scene, suggesting further developments, but not letting us be party to them, also feels like a Dardennes trope, very astutely used.
Castiglione gives a low-key but compelling performance, all the more involving in eschewing – for the most part – visible emotional display. And González deserves plaudits for casting himself in such a generally ineffectual role, whose background blankness speaks volumes about the question of how we all choose to be involved – or not – in the world around us.
Production company: 188 SRL
International sales: Kino Bureau, info@kinobureau.com
Producers: Ignacio Sarchi, Francisco Larralde
Screenplay: Mariano González
Cinematography: Manuel Rebella
Editors: Delfina Castagnino
Production design: Marina Raggio
Main cast: Sofía Gala Castiglione, Mariano González, Edgardo Castro, Laura Paredes