Feras Fayyad's award-winning documentary follows a female doctor in an underground hospital in Damascus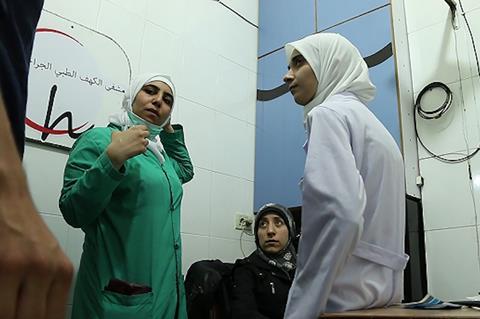 Dir: Feras Fayyad. Denmark-Syria. 2019. 107mins
Syrian Filmmaker Feras Fayyad returns to his war-torn homeland for his follow-up to 2017 Oscar-nominated documentary Last Men In Aleppo, which followed volunteer organisation The White Helmets as they saved lives on the streets of Aleppo. This time, he descends deep into the bowels of Eastern Ghouta, a suburb of Damascus that has been under siege for over five years, to an underground hospital called 'The Cave'. As he documents the experiences of the facility's manager, 30-year-old Dr Amani, and her team as they attempt to cope with an unending line of wounded citizens throughout 2017 and early 2018, the resulting film is desperate, devastating and essential.
The work is relentless, their bravery inspirational and the scale of inhumanity never less than breathtaking.
The Cave plays the London Film Festival as a documentary special presentation after premiering in Toronto (where it won the People's Choice Award) and, thanks to its timely subject matter and unflinching approach, further festival interest is likely. National Geographic will release The Cave in the US in October, with Dogwoof bringing the film to the UK in December, and word of mouth should help it find an audience. It comes hot on the heels, though, of Waad Al-Khateab and Edward Watts' For Sama — another fly-on-the-wall documentary shot by the wife of a Syrian doctor, which has already been released on both sides of the Atlantic.
Comparisons with For Sama are unavoidable, although that's not to say there isn't room for both — and indeed more — films about the nightmarish situation that continues to grip Syria. Both films feature a woman who is determined to stay and help, despite the dangers; both include voice-over readings of private diaries to provide intimate context; and both present an unflinching view of the human impact of war that is often near-impossible to watch.
Whereas For Sama was framed by protagonist Waad Al-Khateab's letter to her infant daughter, explaining her personal reasons for remaining in Syria, here Dr Amani's diary entries often target the perpetrators of the war, her rage and anguish often boiling over on-screen. "Damn you Bashar," she rails at the country's president, as she and her team tend to the multiple victims of a chemical attack; mortally injured men, women and many, many children pushing the hospital's resources to breaking point yet again.
More explicit here, too, is the difficult situation in which Dr Amani finds herself as a young professional woman in this most traditional of countries. In one astonishing scene, the husband of a woman whose life Dr Amani has saved berates her for working, and asks for a male manager "who can do a better job". "Women are used as tools of war," reminds her worried father, over video chat. Later, a single mother of several malnourished children, her face covered, refuses an offer of help because she is fearful of her husband's reaction.
As with Last Men In Aleppo, Fayyad favours a straight-forward cinema verite approach; DoPs Muhammed Khair Al Shami, Ammar Suleiman and Mohammed Eyad duck and weave through the blood-spattered rooms as Dr Amani and her team go about their medical duties, laugh and joke together on a rare break, or take themselves away to weep in private. The work is relentless, their bravery inspirational and the scale of inhumanity never less than breathtaking.
Fayyad has made some cinematic concessions in the film's use of sound. In this claustrophobic subterranean setting, every surface noise is amplified; the roar of the planes becomes overwhelming, the sound of bombs rumbles like thunder. Footsteps, conversations are muffled. Matthew Herbet's score is, for the most part, sensitive and respectful. Its emotional cues can be heavy-handed, although that does not detract from The Cave's raw and lingering power.
Production companies: Danish Documentary Production, Hecat Studio
International sales: Dogwoof info@dogwoof.com
Producers: Kirstine Barfod, Sigrid Dyehjaer
Screenplay: Alisar Flasan, Feras Fayyad (based on the concealed diaries of Dr Amani)
Editing: Per K Kirkegaard, Denniz Gol Bertelsen
Cinematography: Muhammed Khair Al Shami, Ammar Suleiman, Mohammed Eyad
Music: Matthew Herbert