Social media-based thriller based on Dave Eggers' 2013 novel starring Tom Hanks and Emma Watson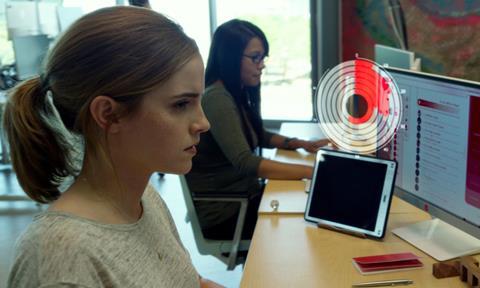 Dir. James Ponsoldt, USA, 2017, 110 minutes
Tom Hanks and Emma Watson headline The Circle, a film which highlights the threat of the death of privacy, brought to you by a major corporation, as seen through the eyes of a novelist. Director James Ponsoldt's adaptation of Dave Eggers's 2013 vision of total tech transparency foresees a near future that is all too present New executive orders by US president Donald Trump giving corporations access to personal digital information make The Circle more than an imagined threat. This warning in the form of a movie is the far more fearsome side of The Social Network.
We're lucky that moralists like Ponsoldt and Eggers have a sense of humor
The allure of a grand panoramic view of social media and its collateral damage could potentially get audiences under 30 off their mobile devices and into theaters for two hours and The Circle should also enjoy an extended life on VOD in all markets. Even with the diminished political leadership of Washington, the rest of the world does still look to Silicon Valley for what author Michael Lewis called "the new new thing".
Ponsoldt's film follows the general contours of Eggers's book as Mae (Emma Watson) toiling at her hometown water company, gets an interview and then a job at The Circle, a huge social media conglomerate. Viewers will wonder whether The Circle is intended to be Google, Facebook or Twitter, or all of the above. A former schoolmate climbing the corporate ladder (Karen Gillan) delivers Mae to the firm's garden campus, complete with gleaming architecture and a see-through vision of transparency. The mission, in case you haven't guessed, is to complete the circle – it's a quest for information monopoly.
The script, a lot leaner than the novel, distills most of the firm's messaging into the character of CEO Eamon Bailey (Tom Hanks). The avuncular Bailey has none of Steve Jobs's private nastiness. He's the back-slapping 'aw shucks' CEO who peddles a vision and a business plan with the skill of a preacher and stand-up comic.
Initially shy, Mae, identified among newcomers (called 'guppies') as a rising talent, agrees to wear a camera that brings her entire life (and we mean entire) to the web. The firm's goal is to place those tiny cameras everywhere and on everyone, and to stockpile collected information. As Bailey puts it, "knowing is good, knowing everything is better."
The firm's headquarters, seen from a distance in CGI, looks a lot like the Pentagon, suggesting the military value of all this knowledge. The shot could come from a documentary about Edward Snowden.
The potential hegemony of the firm seems achievable, complete with its positive aspects, such as tracking armies, disease and criminals. But doubters (treated like heretics) include Mae's parents, an ex-boyfriend, and even defectors inside The Circle itself. In Mae's clever response, we comprehend the moral message at the core of this gentle jeremiad.
Films about the future (and utopian literature before that) are often built on the threat of individuals losing freedom and privacy – 1984, Brave New World, The Handmaid's Tale, or Woody Allen's Sleeper. In Ponsoldt's and Eggers's version, the lure into this industrial machine is a tender trap of manicured gardens and gleaming spaces designed by architects. The tech temptations will be recognisable to the audience, as will the huge price to pay, and the firm's aim to consolidate all information-gathering, and to do it more cheaply than a government can.
It's a constantly self-renewing threat, given advances in technology, yet The Circle treats it all with a conventional succession of story elements: parents caught on camera in embarrassing private moments, ex-boyfriend fleeing scrutiny, colleagues quitting the company or whispering doubts secretly, and a head-on crescendo clash with management
Watson gives us something to watch, in her plucky transformation from a shy tech functionary into an innovator. And once she's hooked up to the constant camera, the comments that pop up instantly in multiple languages are hilarious, even though they are what we have already come to expect. We're lucky that moralists like Ponsoldt and Eggers have a sense of humor.
Hanks, as a self-mocking executive, plays to a tech type that speaks to conferences every day. (It's a far cry from his world-weary exec in Saudi Arabia in A Hologram for the King, another adaptation of an Eggers novel.)
We see the darker side of that tech tycoon, and of another exec (Patton Oswalt) in a campaign to smear a congresswoman concerned about threats to privacy.
Production designer Gerald Sullivan also gives us a dead-on glimpse into the corporate culture of futurist aesthetics, casual comfort and constant parties of a firm that might appear on someone's list of 'The Top Ten Companies'. In the office where there are few enclosed spaces, the same firm sends smiling managers to Mae's desk to inquire why she was absent at corporate social events.
The intimidating potential of tech culture was already evident in the 2014 documentary film The Internet's Own Boy: The Story of Aaron Swartz, about the suicide of a talented young digital rebel who was prosecuted for trying to democratise information. In a field where the new is celebrated, The Circle is about the threat of ceding control of personal data to a business monopoly. Now we've seen it once again, with marquee stars. It's still a threat.
Production companies: EuropaCorp, Image Nation Abu Dhabi, Playtone, Likely Story
Producers: Anthony Bregman, Gary Goetzman, Tom Hanks, James Ponsoldt
International sales: EuropaCorp cfouche@europacorp.com
Screenwriters: James Ponsoldt, Dave Eggers
Based on the novel by Dave Eggers
Cinematographer: Matthew Libatique
Editors: Lisa Lassek, Franklin Peterson
Composer: Danny Elfman
Main cast: Emma Watson, Tom Hanks, John Boyega, Karen Gillan, Ellar Coltrane, Patton Oswalt, Glenne Headly, Bill Paxton