Michael Angelo Covino makes his directorial debut with this sour bromance between two lifelong friends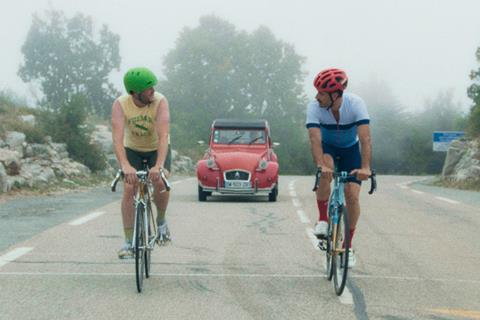 Dir. Michael Angelo Covino. US. 2019. 95 mins.
Without a doubt, US comedy The Climb is a bromance – albeit of a singularly sour variety. An expansion of his 2018 short of the same name, this debut feature by actor and producer Michael Angelo Covino examines the close but rarely less than painful relationship between two middle-aged American men as they drag themselves painfully through adulthood without ever being able to leave the toxic dynamic of their school days behind. Witty, tart and executed with virtuoso skill, The Climb never quite packs quite as many laughs as its situations promise, partly because the stylistic dazzle has a certain distancing effect. Still, this inventive, accomplished piece is certain to be a festival crowd-pleaser, and is likely to score with international audiences who like their indie comedy with a harsh, somewhat Seinfeld-ian edge.
Gayle Rankin, meanwhile, exudes caustic comic energy, offsetting the balance in a film that's otherwise male to the core
Divided into seven chapters, the film begins with the titular climb, as friends Mike (Covino himself) and Kyle (the film's co-writer and co-producer Kyle Marvin, endearingly game) cycle up a hillside in the South of France. Captured in a sinuous, seemingly unfaked 10-minute shot, the scene sketches out the nature of their relationship: gauche, trusting Kyle, affable and schlubbish, enthuses about his forthcoming marriage, only to learn that Mike has long-standing, still unfinished business with the bride-to-be (Judith Godrèche, who briefly appears in the next scene). With this revelation fresh in the air, Mike's abrasive temperament finds him taking a thrashing from an irascible French motorist – one of several injuries that this arrogant, abrasive and accident-prone character incurs throughout the film.
After a stop-off at a French hospital, the film jumps in time to a graveyard in the US, where Kyle, despite their falling out, attempts to give support to a forlorn Mike. Later, Mike is a drunken guest at Kyle's family Christmas party – a sequence that mixes Altman-like overlapping dialogue and farcical pratfalls, all corralled by DoP Zach Kuperstein in a single take that circles the house from outside, framing its characters through windows.
A beautifully calibrated Thanksgiving scene sketches in Kyle's relationship with new partner Marissa (Gayle Rankin, from TV's GLOW) – laying the ground for some crisp character gags about the fact that no-one in Kyle's family can stand her. Whatever vagaries they go through, put-upon Kyle and neurotic Mike remain lamentably true to type and stuck in their co-dependency – although a downbeat ending seems to offer some promise that they're capable of growing up.
Kuperstein's roaming camera may sometimes overwhelm the film with its artful choreography, but generally manages to take the viewer by surprise – as does a comic narrative which constantly takes unexpected turns. The long-take approach is stylishly deployed and pays off with genuine surprises – notably on an ice fishing trip and when a clip of a Truffaut film leaps seamlessly into a wedding sequence (the film wears its Francophilia cheerfully on its sleeve, with its offbeat score including songs by Georges Brassens and Gilbert Bécaud). Less well integrated, however, are the out-of-nowhere musical interludes - a close harmony spiritual and a Ukrainian lament – although better value is Kyle lip-synching to Shawn Mullins's 'Lullaby', as he does his best to play sexy for Marissa, only for her to deliver a casually crushing response.
Supporting performances include George Wendt, affable but used barely as more than set dressing, and Mad Men regular Talia Balsam as Kyle's mother, nicely downplayed while conveying an unforgiving hard edge. Gayle Rankin, meanwhile, exudes caustic comic energy, offsetting the balance in a film that's otherwise male to the core. As for the lead duo, Marvin's Kyle is as likeable – in a self-mocking, fuzzy, Seth Rogen-ish way – as Covino's self-absorbed, lizard-like Mike is mesmerisingly obnoxious, and with a little more development, you can imagine these characters, or versions of them, lasting the course in a TV series of their own.
Production company: Topic Studios, Watch This Ready
International sales: Memento Films International, sales@memento-films.com
Producers: Noah Lang, Michael Angelo Covino, Kyle Marvin
Screenplay: Michael Angelo Covino, Kyle Marvin
Cinematography: Zach Kuperstein
Editor: Sara Shaw
Main cast: Michael Angelo Covino, Kyle Marvin, Gayle Rankin, Talia Balsam, George Wendt, Judith Godrèche