Dir. Thomas Vinterberg. Denmark, Sweden, Netherlands. 2015. 111 mins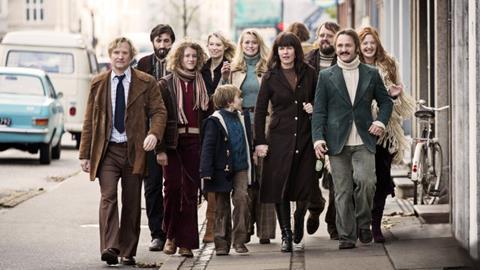 Thomas Vinterberg draws on his own childhood experience of communal living with this tragi-comic depiction of life within a 1970s domestic collective. Written with regular collaborator Tobias Lindholm, who also co-wrote The Hunt and Submarino, and adapted from Vinterberg's own play, the film is a patchwork portrait that combines the joys and irritations, the petty arguments and the homespun warmth of this environment. Against the contained chaos of the backdrop, the central story of a disintegrating marriage unfolds.
Used to being the alpha male in his small household, Erik now finds himself drowned out by the hubbub of voices
Vinterberg has assembled a first rate cast: Trine Dyrholm and Ulrich Thomsen take top billing as Anna and Erik, the professional couple who decide to start a commune when they inherit a large house in an upmarket suburb of Copenhagen. Their presence alone, along with Vinterberg's name on the credits, should be enough to generate interest within an arthouse audience. However broader commercial potential may be tempered by the rather disheartening trajectory of Anna's storyline. The film opened at home in Denmark in January and has taken $2.3m there.
The latest in a series of Scandinavian films dealing with communal living – it follows Lukas Moodysson's Together and Lars von Trier's The Idiots, The Commune centres around TV news reader Anna and architecture teacher Erik, whose dream of communal living comes about because they can't afford to run the house his estranged father left him. They invite Ole (Lars Ranthe), Mona, (Julie Agnete Vang), Allon (Fares Fares) and couple Steffen (Magnus Millang) and Ditte (Anne Gry Henningsen) and their young son Vilads (Sebastian Grønnegaard Milbrat) to live with them and their fourteen-year-old daughter Freja (Martha Sofie Wallstrøm Hansen).
Initially, it works well – Vinterberg subtly shifts the colour palette to reflect the social temperature in the house. When times are good, the rooms are bathed with a warm, tawny light which reflects the earth tones of the costumes. It being the 1970s, suede features heavily.
Used to being the alpha male in his small household, Erik now finds himself drowned out by the hubbub of voices. So when an attractive student, Emma (Helene Reingaard Neumann), not only hears him but listens to what he has to say, he readily falls into an affair. Tensions rise when Emma moves into the commune – with Anna's initial blessing – ousting Erik's wife from her place in his bed and by his side.
By the nature of the film's ensemble structure, some characters are more substantially sketched than others. Freja, the daughter, is one of the more interesting subplots – we see her quietly coming of age while her parents fall apart. Idealistic Anna is an engaging, likeable presence. It's for this reason that her descent into hysteria and wine-sodden weeping is difficult to watch. In one of the more problematic devices, Vinterberg echoes her metaphorical broken heart with a literal one: six-year-old Vilads has a coronary defect. He predicts his own death as a way of impressing girls.
While Vinterberg's decision not to judge or punish the reprehensible Erik is bold, it doesn't make for a conventionally satisfying ending. But the main issue with the character is the fact that the film magnifies his most unsympathetic traits – a violent temper, a streak of cruelty – and gives us little indication why this is a man with whom two women would fall in love.
Production company: Zentropa Productions, Toolbox Film
International sales: TrustNordisk info@trustnordisk.com
Producers: Sisse Graum Jørgensen, Morten Kaufmann
Screenplay: Thomas Vinterberg, Tobias Lindholm
Cinematography: Jesper Tøffner
Editor: Anne Østerud, Janus Billeskov Jansen
Production design: Niels Sejer
Main cast: Trine Dyrholm, Ulrich Thomsen, Helene Reingaard Neumann, Martha Sofie Wallstrøm Hansen, Lars Ranthe