Chris Pine breaks out of his superhero mould as a former Green Beret in Tarik Saleh's efficient action thriller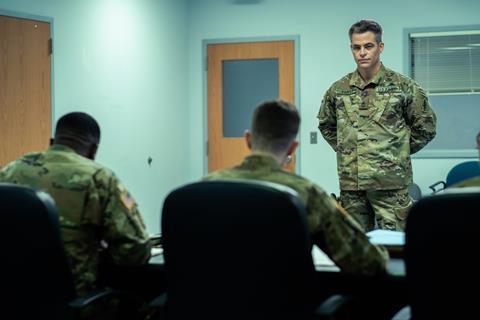 Dir: Tarik Saleh. US. 2021. 103 mins.
Efficient but not especially electric, The Contractor is led by a compelling performance from Chris Pine as a former soldier who begrudgingly accepts an assignment with a private military force, discovering that everything that can go wrong will. This unfussy action-thriller has a lot of Jason Bourne in its bloodstream, with director Tarik Saleh focusing on taut pacing and crisp sequences. But despite some solid craftsmanship, the film never fully transcends what is familiar about the setup — much like the titular hero, The Contractor gives its all, possibly in vain.
The Contractor demonstrates that the Star Trek and Wonder Woman star can be an empathetic, arresting onscreen presence
Releasing in the US on April 1, the picture will attract audiences thanks to Pine, who reunites with his Hell Or High Water and The Finest Hours costar Ben Foster. In addition, The Contractor should appeal to genre fans — in particular, those who prefer action scenes consisting of close-quarters combat and tense shootouts. But up against the higher-profile Morbius, this modest affair may end up being a commercial afterthought.
Pine plays James, a former Green Beret recovering from a crippling knee injury from his time serving the US in Afghanistan and Iraq. Honourably discharged and stripped of his pension, James feels betrayed by his government, and now he needs to find a way to support his wife and young son. Assistance comes in the form of his friend and fellow soldier Mike (Foster), who tells him about a private company that will hire them as military contractors, promising James that the missions are nothing too dangerous. Not surprisingly, James will quickly learn that his old buddy is mistaken: once they arrive in Berlin, they are assigned to take out a virologist (Fares Fares) who may be working with Al-Qaeda.
The Contractor's opening reels establish the emotional and physical toll of James' military service, which has left him permanently broken and disenfranchised. (It is cold comfort that at least he is not as suicidal as some of his wartime friends.) Pine and Foster's lowkey rapport is especially affecting in these early sequences as their characters struggle with transitioning to civilian life, finding in each other the support even their loving wives can't give them.
Soon, though, Saleh (The Nile Hilton Incident) switches gears, plunging us into the intrigue and double-crosses that occur in Berlin once James and Mike realise that their mission has been compromised. For much of The Contractor, James must fend for himself, not sure who to trust as shadowy forces descend upon him while he tries to navigate safe passage back to America. (Kiefer Sutherland plays their contact at the private military company, conveying such grizzled warmth that one immediately questions how honourable his character actually is.)
Working from a script by J.P. Davis, Saleh and Pine emphasise James' resourcefulness and calm authority. Whether fighting off armed baddies hot on his trail or carefully planning his escape from Europe, James is a man of few words, and it can be pleasurable to watch this career soldier extricate himself from one jam after another. Unlike the bravura sequences in the Jason Bourne pictures, The Contractor's set pieces are lower-budget and less imaginative, but editor Theis Schmidt gives them a muscular propulsion that is consistently gripping.
And the film is well-cast, recruiting Nina Hoss and Eddie Marsan for small roles as friendly faces who help James along the way, the veteran actors lending gravitas and humanity to a plot that can be by-the-numbers. Similarly, after showing vulnerability in The Contractor's initial stretches, Pine must become more of a one-note action star, and he is convincing in the part — although the moments where we see how much James' bum knee is still impacting him are welcome reminders that he is no all-powerful superhero.
To be sure, there are twists in store for James and the audience — unfortunately, they are often mechanically executed, lacking much resonance. Likewise, the film burdens James with a torturous backstory — seen through flashbacks — in which we are meant to understand how his demanding soldier father scarred him as a boy. These plot points all feel rather rote, although it is a testament to Pine's commitment that he nearly sells these cliched character beats. The Contractor demonstrates that the Star Trek and Wonder Woman star can be an empathetic, arresting onscreen presence — even when the film fails in its mission to provide him with sufficient backup.
Production company: Thunder Road Films
International sales: STX Films
Producers: Basil Iwanyk, Erica Lee
Screenplay: J.P. Davis
Production design: Roger Rosenberg
Editing: Theis Schmidt
Cinematography: Pierre Aim
Music: Alex Belcher
Main cast: Chris Pine, Ben Foster, Gillian Jacobs, Amira Casar, Nina Hoss, Eddie Marsan, JD Pardo, Kiefer Sutherland, Fares Fares