Israeli filmmaker Tzahi Grad directs and stars in this wry comedy about Middle Eastern hostilities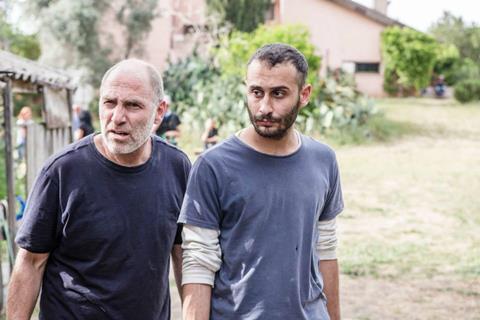 Dir/scr: Tzahi Grad. Israel, 2017, 92m.
Exploring the complexities of the Israeli-Palestinian conflict from an everyday perspective, what The Cousin lacks in subtlety it boasts in growing impact. In his third stint behind the camera, actor, writer and director Tzahi Grad probes the difference between intentions and actions with tension as well as slivers of humour. He uses a comic-leaning tone than is often applied to Middle East hostilities to explore the gulf between talking about cultural harmony and following through when faced with a fearful, prejudiced and accusing community.
The filmmaker has written himself a meaty yet delicate role, and proves more than up to the task.
Premiering in the Venice's Orizzonti strand, with subsequent festival play highly likely, The Cousin proves reminiscent of the moral quandaries of Iranian cinema mixed with the observations of behavioral absurdities evident in Greece's recent output. A good man forced into a difficult situation, several victims of circumstance, male posturing heightened by inflamed sensitivities, ample real-life context; if Asghar Farhadi combined his emotional precision and societal dissection with Chevalier-like scenes of bluster, and set it in Israel, it might look something like this.
In his most significant big screen role since 2013 festival hit Big Bad Wolves, Grad directs himself as Naftali, an actor and television personality. Personally, he wants to see renovations on his ramshackle studio completed, awakening before dawn to collect the worker tasked with turning it into a usable space. Professionally, he's preparing to pitch a new project to a TV network: a reality show that brings a series of Israelis and Palestinians together along the Green Line to document their attempts at mediation.
Alas, a simple choice — taking his gardener's advice and enlisting a Palestinian to undertake the remodeling, rather than hiring someone local — drastically alters what should have been a drama-free day. Instead of the contractor Naftali has been liaising with, the man's brother, Fahed (Ala Dakka), takes on the job. Initially reluctant, Naftali ultimately weathers the change, but when a girl reports an assault nearby, his friends and neighbours are quick to point fingers at the outsider in their midst. That the duo had been at the site of the attack, a grating supplier's work yard, just that morning, further enrages the growing number of involved parties.
The contrast between Naftali's idealistic TV concept and the terseness unfolding at home isn't meant to escape attention; Fahed himself calls the small screen project naïve, long before such allegations come his way, and the film makes plain the extent of the ingrained resistance to change.
Indeed, the juxtaposition informs much of the wry amusement that eventuates. Sometimes all you can do is laugh, Grad seems to posit, with his approach to the scenario saying plenty about the inherent distrust of anyone different or unknown that festers at the heart of this and many other conflicts.
While the overt clash between rival sides informs much of The Cousin's drama and comedy, the battle waged within Naftali provides its perceptive, penetrating centre.. Initially trying to stay loyal to his employee, even when faced with vocal and threatening opposition, including from his wife Yael (Osnat Fishman), Grad's protagonist wears the weight of constant intellectual and emotional readjustment on his shoulders. The filmmaker has written himself a meaty yet delicate role, and proves more than up to the task.
He's well matched by Dakka and Fishman, both fleshing out pivotal parts that could have remained thin in other hands. Behind-the-lens contributions are also solid, grounding the heated situation in naturalistic tones and finding the balance between urgent and contemplative pacing — though a late, literal needle scratch doesn't quite fit.
Production companies: Mh1, Bleiberg Entertainment
Contact: Bleiberg Entertainment, info@bleibergent.com
Producers: Ehud Bleiberg, Tzahi Grad
Executive producers: Nicholas Donnermeyer, Charles Wachsberg
Cinematographer: Eitan Hatuka
Editors: Sari Bisharat, Danny Rafic
Production designer: Miguel Merkin
Costume designers: Dany Bar Shai, Naim Kassem
Composer: Sapir Matityahu
Cast: Ala Dakka, Tzahi Grad, Osnat Fishman