Dir. Rifqi Adnan Assaf. UAE/Egypt/France/Jordan. 2015, 81 mins.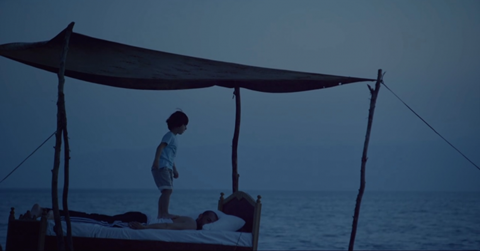 The Curve is a tiny film which addresses big emotions – a road trip across Jordan in a VW camper van where the displaced occupants speak hauntingly of places they will never reach again. There are moments which single this out as a directorial debut of note, and Rifqi Adnan Assaf's own screenplay is very special. He isn't always sure of his feet onscreen, however, and even at 81 minutes, The Curve experiences some bumpy terrain, but this is a lyrical start to Assaf's career on features after three impressive shorts.
The Curve is both haunted and haunting; schoolboys and soldiers by the side of the road seem like fragments of a memory
Sold by MAD Solutions, The Curve will find a reception in the Middle East, particularly with those who are displaced. Improved subtitling may lift some of the fogginess around the specifics of the final sequence, although undoubtedly Assaf would like this voyage to always be shrouded in mystery. Those involved in tracking talent should also pay attention to the Jordanian director's ability to draw touching, restrained performances from his actors which include Paradise Now's Ashraf Barhom in the lead role.
Radi (Barhom) lives alone in a blue VW camper van. We are never told why he has ended up here, eating food from a tin in his carefully-arranged living quarters, but he's clearly a damaged soul and flashbacks indicate he may have had a partner, and definitely a son, who are no longer with him.
The talkative Laila (Fatima Laila), meanwhile, hastily jumps into an Amman taxi bound for Syria and is rescued by Radi when her decision proves predictably rash (a point she readily admits). Sami (Mazem Moudam) is an exiled Lebanese director of TV shows whose car breaks down on the road to Irbid in the north of Jordan and is also picked up by the couple. Eventually a nosy Jordanian policeman also hops on board, squeezing exposition out of the other three passengers.
It turns out that driver Radi is a Palestinian exile, born in Amman but living in a camp in Jenin; Laila is also Palestinian, but returning to the Yourmouk camp in Syria where her family lives after a bad marriage in Jordan; and Sami, the director's alter ego, is fleeing a Lebanon where it was impossible for him to work.
The Curve is both haunted and haunting; schoolboys and soldiers by the side of the road seem like fragments of a memory, and although Radi's own flashbacks are less visually effective, they do lead the film towards its endless circle of loss. Digital camerawork by Piotr Jaxr is very effective in its immediacy, providing sharp images of the trip and placing the principals in clear relief against their land of exile.
Production company: The Imaginarium Films
International sales: MAD Solutions
Producers: Rula Nasser
Screenplay: Rifqi Adnan Assaf
Cinematography: Piotr Jaxa
Editor: Doaa Fadel
Music: Suad Bushnaq
Main cast: Ashraf Barhom, Fatina Laila, Mazem Moudam, Ashraf Telfah