Fox's new YA dystopian thriller stars Amandla Stenberg and Harris Dickinson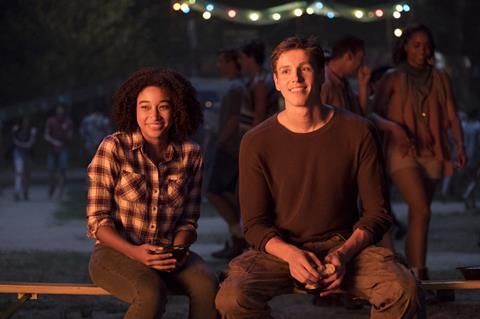 Dir: Jennifer Yuh Nelson. US. 2018. 103mins.
Mutant powers, a post-apocalyptic setting, a main character whose coming of age coincides with her becoming a hero: The Darkest Minds recycles many recent popular cinematic tropes, resulting in a familiar young-adult drama that struggles to find its voice. Rising star Amandla Stenberg has a few affecting moments as one of the few teen survivors of a mysterious pandemic, but director Jennifer Yuh Nelson's live-action feature debut mostly walks in the footsteps of bolder and more original takes on similar sci-fi subject matter.
A constrictive narrative hems in Stenberg, who isn't given enough opportunities to be a truly dynamic leading lady.
Releasing August 3 in the States and August 10 in the UK, this Fox offering will hope to cater to the same audiences that sought out The Hunger Games, The Maze Runner and Harry Potter. (The fact that the characters have incredible powers might also intrigue fans of superhero films.) The Darkest Minds may be too late to cash is on the YA/fantasy trend, however, and without major stars the movie could prove to be only a modest performer.
Based on Alexandra Bracken's 2012 novel, the film stars Stenberg as Ruby, a sensitive teenager living in a nightmare scenario: an unknown disease has killed off most of America's children, and the ones who remain must be shipped off to rehabilitation centres because they possess varying degrees of superpowers. Ruby learns that the most powerful amongst them are eliminated because the government fearing that they can't be controlled. Thus Ruby (who can manipulate people's minds) must hide the extent of her powers.
Soon, she is sprung from the rehabilitation centre by Cate (Mandy Moore), a caring doctor who works for The Children's League, an underground organisation determined to eradicate these centres. But Ruby distrusts Cate and runs away, teaming up with a group of fellow survivors, including the handsome Liam (Harris Dickinson), to search for an undisclosed safe house for those with superpowers.
Nelson (who directed Kung Fu Panda 2 and co-directed Kung Fu Panda 3) gives The Darkest Minds all the requisite gloomy grandeur, presenting a crumbling world thrust into chaos and paranoia. The film uses the teens' powers as obvious metaphors for adolescent anxiety, hormones and the fear of being a misfit. (The tyrannical forces after our central characters are stand-ins for bigotry and homophobia.) But whether it's Russell Barnes' spartan production design or Chad Hodge's earnest screenplay, the film visually and thematically echoes so many previous franchises, recalling The Hunger Games' look and the X-Men movies' exploration of our need for community.
Stenberg, who played Rue in The Hunger Games, gives Ruby a vulnerability and intelligence that make her an appealing, albeit overwhelmed heroine. She and Dickinson have a sweet, awkward chemistry that's completely fitting for two young people summoning up the courage to admit their feelings. But in yet another sign of the film's dutiful adherence to modern blockbuster traditions, The Darkest Minds sets the stage for future instalments, and so Ruby mostly spends this film learning to embrace her destiny as a leader of this teen revolution. That constrictive narrative hems in Stenberg, who isn't given enough opportunities to be a truly dynamic leading lady.
The Darkest Minds feels geared to younger audiences, encouraging them to celebrate what makes them special. There's a lack of sophistication in the storytelling, but Nelson takes care to focus on some of the film's underlying messages, including how women are marginalised and preyed on by men. It feels ungenerous to fault a film that can be thoughtful and heartfelt about the terrors of being different in a cruel, callous world, and yet The Darkest Minds ultimately doesn't say much new about female empowerment or the importance of diversity.
That feeling of déjà vu is only driven home by some pretty subpar action sequences filled with tedious spectacle — not to mention some fairly predictable plot twists and broad performances from the ensemble that make it easy to guess who's secretly a bad guy. The Darkest Minds pays tribute to those who dare to stand out — too bad the movie itself easily blends into the background.
Production company: 21 Laps Entertainment
Worldwide distribution: 20th Century Fox
Producers: Shawn Levy, Dan Levine
Screenplay: Chad Hodge, based upon the novel by Alexandra Bracken
Production design: Russell Barnes
Editing: Maryann Brandon, Dean Zimmerman
Cinematography: Kramer Morgenthau
Music: Benjamin Wallfisch
Main cast: Amandla Stenberg, Mandy Moore, Bradley Whitford, Harris Dickinson, Patrick Gibson, Skylan Brooks, Miya Cech, Gwendoline Christie