A long-distance bus ride turns into an adventure for Pauline Garcia's Argentinian maid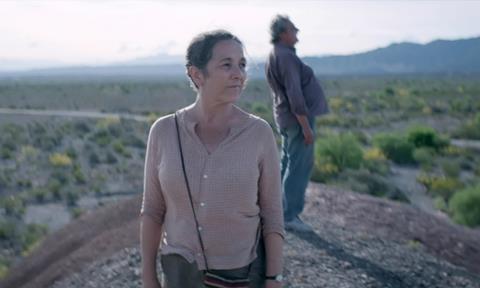 Dir/scr Cecilia Atán & Valeria Pivato. Argentina/Chile. 2017. 78mins.
A delicate late-life love story that is also a tale about the empowerment of a woman who has lived her whole life in the shadow of others, The Desert Bride stars Chilean actress Pauline Garcia in a moving, quietly focused performance as a family maid who takes some unplanned time out in an Argentinian pilgrimage town during a long-distance bus ride.
Paints a diverse picture of an Argentinian society in transition without resorting to class-conflict clichés
There are distant echoes here of Gloria, which won Garcia the 2013 Berlinale Silver Bear for best actress, in that both films deal with a woman in her fifties for whom an affair becomes a voyage of self-discovery. But the comparisons end there. The Desert Bride carries itself lightly, charting with grace and sympathy the opening up of a closed bud of a woman when the world with which she is familiar falls from under her. Short (at just under 80 minutes) and sweet, this is a likeable slip of a film whose audience appeal will not be limited to Spanish-speaking territories.
Refreshingly, the film paints a diverse picture of an Argentinian society in transition without resorting to class-conflict clichés. Take the family Garcia's character Teresa has tended to for over thirty years: a series of deftly stitched-in flashbacks reveal them to be good people, who are forced to sell their family house and say goodbye to their maid – information which the mother of the family, who must be around the same age, imparts while painting Teresa's nails.
A place as a carer is found for Teresa with relatives of the same family, but it's in distant San Juan, a city in the semi-desert Cuyo region of Western Argentina. En route, her bus breaks down near a small town, and the former maid has several hours to kill until the replacement is ready. She's ended up in a pilgrimage town dedicated to La Difunta Correa – a semi-mythical woman who died while crossing the desert in the early 19th century but was survived by her suckling baby.
Though it's not explained in the film, the cult that grew around La Difunta will be familiar to most Argentinians and Chileans. It's used in the film not as a religious symbol but as a chance to create a semi-magical transition space around Teresa as she wanders at night under fluttering bunting, past piles of water bottles left by pilgrims to quench the insatiable thirst of a 'saint' never recognized by the official Church. Here, pressed to try on a dress by El Gringo (Claudio Rissi), an easy-mannered travelling tradesman with the gift of the gab, she decides against it – but then realizes that, with a storm coming, El Gringo has driven off with her travel bag in his camper van.
This begins Teresa's search for El Gringo, a search which segues into a desert road movie when she finds him, but not the bag. At first, this emotionally bottled-up woman is tight-lipped and anxious, but gradually, as she lets down her guard and opens up to El Gringo's amiable charm and gallantries, a quiet radiance begins to suffuse her. In a film that is all about the slow unpicking of the knit of ultimately fragile and illusory emotional attachments to a family not her own that for Teresa is her only security, there's freedom but also danger in the mountain-backed desert landscapes that pepper the action.
There's rather too much use of very shallow-focus camerawork (and yes, we get it that Teresa's world-view lacks a certain depth of field), but this is a minor quibble in a film that is a small delight, a perfect cinematic short story.
Production companies: El Perro en la Luna, Ceibita Films
International sales: Cité Films, rberdugo@citefilms.com
Producers: Eva Lauría, Alejo Crisóstomo
Cinematography: Sergio Armstrong
Production design: Mariela Ripodas
Editor: Andrea Chignoli
Music: Leo Sujatovich
Main cast: Paulina Garcia, Claudio Rissi