Dir/scr Sean Byrne. US, 2015, 79mins.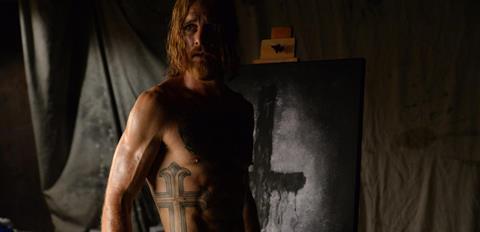 A beautifully calibrated horror movie in which the themes are as potent as the suspense, The Devil's Candy establishes its characters first, which makes their eventual and inevitable descent into terror all the more gripping. Writer-director Sean Byrne's follow-up to his beloved cult debut, The Loved Ones, may tread familiar terrain in its story of a family who move into a home with a bad past, but The Devil's Candy consistently upends expectations by being more emotional and more tonally confident than its peers.
The Devil's Candy is a masterful slow burn, the horror and violence alluded to rather than seen.
Premiering in Toronto's Midnight Madness section, which is where The Loved Ones screened in 2009, winning the People's Choice Award, The Devil's Candy should be manna to horror-movie aficionados. With no big names in the cast and an unapologetically B-movie tone, the movie probably doesn't have much of a shot at crossover success, but it ought to enjoy a warm welcome at genre festivals and with its core audience.
The Devil's Candy stars Ethan Embry as Jesse, a metal-loving painter who buys a rustic home with his wife Astrid (Shiri Appleby) and teen daughter Zooey (Kiara Glasco). But beyond the anxieties of affording a mortgage and helping his daughter cope with a new school, Jesse is also confronted with the fact that a possibly deranged man named Ray (Pruitt Taylor Vince) has taken a special interest in their house because his parents died there years ago.
Byrne's sophomore effort couldn't have a more conventional setup: A happy family moves into a seemingly perfect house, only to discover it holds a terrible secret. But the filmmaker has taken that premise and invested it with genuine feeling, carefully developing his main characters so that there are real stakes.
Jesse and Zooey don't just share a love of heavy metal but also a sarcastic, rebellious streak, and Embry and Glasco create a touching father-daughter bond in a few brief scenes. Astrid may be more on the periphery of the drama, but Byrne even spends a little time shaping Ray, showing him to be a troubled man who hears an eerie, monotonous chanting, a maddening noise he can only silence by playing loud power chords on his guitar. Vince brings just enough vulnerability and anguish to Ray in the early going, showing how tormented he is by these invisible voices, that one almost feels sympathy — a sentiment Byrne will later twist by revealing the monstrous depths of the character's insanity.
With echoes of The Shining, The Devil's Candy can be read as a horror movie about fatherhood and creativity, how Jesse is grappling with his daughter's growing up as well as his own artistic frustrations. But because Jesse really loves his family — as opposed to Jack Nicholson's frighteningly self-centred Jack Torrance — his journey into madness is more tragic, and Embry makes that transformation resonant. Leaving the explanation teasingly vague, Byrne has Jesse start to hear the same voices as Ray, which fuels the father's most inspired paintings, although they depict horrible images, including Zooey's death. Ray's pursuit of Zooey, and Jesse's struggle to safeguard her, becomes a fraught metaphor for universal male anxieties about providing for and protecting one's family.
Where The Loved Ones was gory, grisly torture-porn, The Devil's Candy is a masterful slow burn, the horror and violence alluded to rather than seen. Working with cinematographer Simon Chapman, who also shot The Loved Ones, Byrne crafts a house-in-the-middle-of-nowhere horror movie that doesn't rely on shock scares but, rather, a gradually building sense that something very wrong is happening within Jesse — as well as outside the house through the looming presence of Ray. The gore comes eventually, but The Devil's Candy's outlandish ending feels earned, a catharsis derived from the tension that's been simmering all along.
Production company: Snoot Entertainment
International sales: HanWay Films, info@hanwayfilms.com
US sales: Creative Artists Agency, info@caa.com
Producers: Keith Calder, Jessica Calder
Screenplay: Sean Byrne
Cinematography: Simon Chapman
Editor: Andy Canny
Production design: Thomas S. Hammock
Music: Michael Yezerski
Main cast: Ethan Embry, Shiri Appleby, Pruitt Taylor Vince, Kiara Glasco