Yona Rozednkeir's impressive debut is headed next for Locarno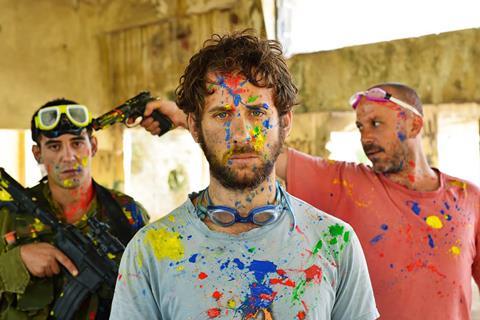 Dir/scr Yona Rozenkier. Israel. 2018. 91 mins
A father's last request is designed to reconcile his three fractious sons in The Dive (Hatzlila). Director/writer/actor Yona Rozenkier handles strongly autobiographical material with assurance in a sincere, involving family drama that develops into a commentary on the way definitions of masculinity are warped by a society constantly in conflict. An impressive feature debut should secure further festival attention following its world premiere at Jerusalem and subsequent appearance at Locarno.
There are echoes of The Deerhunter in The Dive as Rozenkier explores the lingering impact of war on a community and its menfolk
Yoav (Yoel Rozenkier) is the prodigal son who returns from Tel Aviv to bury his father. The small kibbutz of his youth has a melancholy, abandoned air. Many people have left and only the elderly diehards remain. It is still home to his Italian mother Franca (Claudia Dulitchi), brother Itai (Yona Rozenkier) and younger brother Avishai (Micha Rozenkier). Avi is shortly to complete his military service in Lebanon and is desperately unprepared and reluctant to leave. Yoav and Itai are both veterans with very different views on the value of service and the call to arms.
Rozenkier effectively conveys the sense of a country constantly on alert. Jets fly overhead whilst the background babble of television and radio news is always about soldiers, skirmishes and casualties. The sound of distant shelling has become part of life's soundtrack and members of the kibbutz receive text alerts warning them of incoming missiles. War is relentless and inescapable.
The father's final wish is for the three sons to dive together and place a part of his remains in a cave under the sea. Whether this actually happens is secondary to the time the trio spends together in the two days remaining before Avi must leave. The macho, domineering Itai feels that he must do everything to prepare him for war. The clearly traumatised Yoav wants to do everything in his power to convince him not to go.
Old resentments are aired as the tension between Yoav and Itai escalates. Itai has a fierce sense of what a country expects from its men; duty, service, loyalty. The pressure on men to conform to these expectations is underlined throughout the film. Yoav's revelation that he is now working as a veterinary nurse is met with sniggers. A casualty of war leaves a parent to observe: "I want them to know he was once a little boy who liked to wear dresses". A bar-room poster of Clint Eastwood's The Outlaw Josey Wales prompts the remark: "This is all your fault".
There are echoes of The Deerhunter in The Dive as Rozenkier explores the lingering impact of war on a community and its menfolk. The material may not seem that original but it feels authentic and heartfelt. Rozenkier gives it a plaintive emotional grip and secures strong work from his cast of family members whilst also being utterly convincing in his own performance as the often deeply unsympathetic Itai.
Production company: Gaudeamus Productions
International sales: Stray Dogs sales@stray-dogs.com
Producers: Efrat Cohen, Kobi Mizrahi
Screenplay: Yona Rozenkier
Production design: Yonatan Bereskin
Editing :Or Lee-Tal
Cinematography: Oded Ashkenazi
Music: Israel Bright
Main cast: Yoel Rozenkier, Micha Rozenkier, Yona Rozenkier, Claudia Dulitchi