Life through a lens in Ukraine's war zone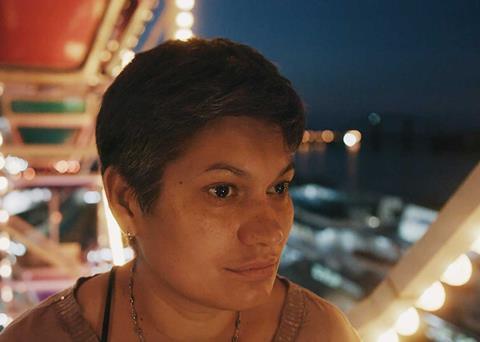 Dir. Iryna Tsilyk. Ukraine. 2020. 74 mins.
Iryna Tsilyk offers an intimate and surprisingly playful family's eye view of life in the Ukraine warzone in her debut feature documentary, which focuses on the Trofymchuk-Gladky clan. Mother Anna and her four children - teenagers Myroslava, Anastasiia, and their younger brothers Vladyslav and Stanislav - are, in turn, offering their own view of their circumstances through a short fiction film, 2014, that they're working on.
Life goes on, but the cloak of normality in itself is odd
This push and pull between the real and the constructed gives much of the film a surreal air - heightened by the title, which is taken from a poem by the poet Paul Eluard. Tsilyk was rewarded with the World Cinema Documentary directing award at Sundance, an accolade which, coupled with its human interest subject matter, is already propelling her film around the festival circuit, with stops at Berlin and CPH:DOX so far.
That the family are living in a conflict zone is underlined at the start, when Tsilyk synchronises a clapperboard snap with the sound of a bomb and we see them cautiously investigating the aftermath of an explosion that has ripped down the wall of a neighbour's house. Mostly, though, the focus remains on the family with the scars of war - empty streets, bullet-riddled buildings - left to form a backdrop.
Tsilyk met Myroslava at a mentoring workshop and the teenager's move from school to study cinematography at college gives the film much of its impetus, although whether journeys back and forth on the train add much beyond showing life continuing as normal is open to debate. The director's most powerful choices come when illustrating how the everyday rubs shoulders with the conflict - such as when Myroslava and her friend in their fancy school graduation frocks have their photos taken with a derelict building in the background, or she snaps photos of her boyfriend in a bombed-out shop holding a sign apologising for the "temporary inconvenience".
Equally surreal is a moment when we see Myroslava direct actual soldiers to play roles in 2014. When the family heads down to the cellar to shoot a scene for her film, it becomes an act of reclamation as she repurposes their experience at the same time as prompting us to think about what it must be like to have this sort of activity become a part of the day-to-day routine. And, when cinematographer Viacheslav Tsvielav Tsvietkov trains his camera on an audience as they watch 2014, it brings home the emotion and trauma that is lying beneath the surface of everyday goings on.
Life may be continuing largely as normal - the kids practice their musical instruments, joyfully celebrate Myroslava's college acceptance and decorate a Christmas tree - but there's also an awareness on the part of the family that the cloak of normality is, in itself, is odd.
"Just a sec, it should be kind of tragic," Anastasiia says as she tries to compose herself to talk directly to camera about her feelings on the war.
"War is emptiness," Myroslava says towards the end of the film, noting how it has left homes deserted and caused friends to flee. This film is a testimony to the way this family and many others like them have done their best to fill that emptiness with love and hope.
Production company: Albatros Communicos Production
International sales: cat@catndocs.com
Producers: Anna Kapustina, Giedrė Žickytė
Cinematography: Viacheslav Tsvietkov
Editing: Ivan Bannikov