Dir/scr. Julien Temple, UK, 2015, 91 mins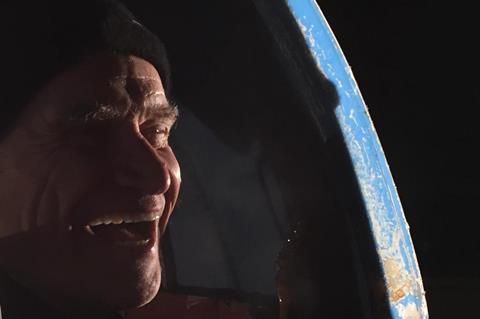 In The Ecstasy of Wilko Johnson, the former Dr Feelgood guitarist and Blockhead who featured in director Julien Temple's previous documentary Oil City Confidential talks about life under the sentence of terminal pancreatic cancer. For the curmudgeonly, almost reluctantly erudite Johnson, his certain and imminent death results in a rapturous embrace of life and he is filled with energy, embarking on a farewell tour and releasing a chart album with Roger Daltrey. Subsequently, however, his death becomes far less assured.
Temple loops his cameras through amusement arcades and across the beaches to present Canvey Island as a place of beauty, the way it lives in Johnson's mind.
Julien Temple returns to Canvey Island, the setting for Oil City Confidential, for Ecstasy, a trippy film which strongly bears his signature, featuring multiple film-clips and archival footage which meld into the derelict natural beauty of this forgotten island in the Essex estuary. It's a sequel of sorts to Oil City (released five years ago), and should mirror the same commercial path, perhaps pulling in some fans of Temple's more recent Olympian feat, London – The Modern Babylon. Festivals, particularly those with musical strands, should be eager to show the latest from the artistically influential Temple.
Here, Temple marries the world of music, with which he has long been associated (from The Great Rock And Roll Swindle on up) to cinema to relate a small-scale story of a man who only really comes alive when he is faced with death. The Ecstasy Of Wilko Johnson is suffused with film imagery, clip-upon-clip ranging from Nosferatu to The Mirror, Great Expectations, A Matter of Life And Death, and La Belle et La Bete. Its visual backbone is Bergman's The Seventh Seal; Johnson is photographed at length taking part in a chess game with a hooded death (himself) on the shores of the highly-photogenic Canvey.
Johnson is, as Oil City illustrated, a funny fellow – sharp, honest, literate, independent, taciturn. He can be foreboding – he was cast as a mute executioner in Game Of Thrones on the strength of his killer looks. You never really know what to expect from him – Milton one minute, a revelation of his own illegitimacy the next. A former teacher, Johnson is a highly literary chap, opening with Donne and moving on to Shakespeare, with Temple making frequent visual reference to the BBC's often-overlooked serialisation of Hamlet, featuring Christopher Plummer.
Johnson, himself, has a loyal following at home and overseas as the trailblazing quitarist for Dr Feelgood. He has an incredibly elastic face, which can look threatening and vulnerable, almost at the same time. Temple exaggerates his angles to emphasise which Wilko Johnson we're witnessing. Stylistically, the film feels like an ongoing conversation from Oil City to London – The Modern Babylon, with its rooted sense of location and rhythm, although, surprisingly given the blitz of imagery, it can feel slow-paced. Perched in the Essex estuary barely above water level, Canvey Island is known for being flooded and also for the petrochemical industry, but Temple loops his cameras through amusement arcades and across the beaches to present it as a place of beauty, the way it lives in Johnson's mind.
This unique cinematic conversation will undoubedly continue, with Temple still at work on his London-based documentary about musical legends The Kinks and the warring Davies brothers called You Really Got Me. The Ecstasy of Wilko Johnson may ultimately be viewed as a smaller stepping stone on his journey as a director, but it's a precious one nonetheless.
Production companies: Essential Arts Entertainment, Nitrate Films
International sales: Moviehouse Entertainment, gary.phillips@moviehouseent.com
Producers: Richard Conway, Andrew Curtis, Julien Temple
Executive producers: Grace Carley, Victoria Cadogan-Rawlinson, Richard Holmes, Alan Yentob
Cinematographer: Steve Organ
Editor: Caroline Richards
Music supervisors: Chantelle Woodnut, Maggie Rodwell