The grandson of a preacherman plies his trade in an opioid-afflicted West Virginia town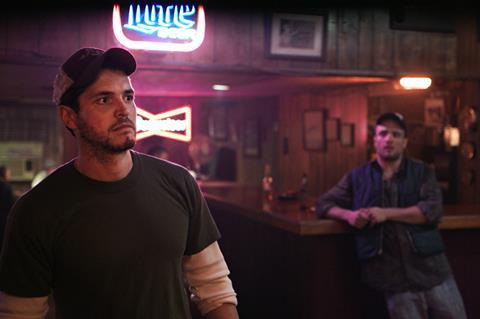 Dir. Braden King. US. 2020. 115 mins
Cole (Philip Ettinger) can barely scrape a living as an aide in a nursing home, supplementing his income by redistributing black-market prescription painkillers. He's one of the lucky ones in a community where addictions flooded in to fill the vacuum when the jobs disappeared. From a devoutly religious family, Cole considers himself to be the caring face of drug dealing, an alternative to the glowering local kingpin and his white trash sidekicks. But then Terry, a former friend, returns to town, with plans to cash in on what he considers to be Cole's lucrative business. Adapted from a novel by Carter Sickels, The Evening Hour takes an empathetic, slightly schematic, view of the opioid crisis and life in a poverty-blighted post-industrial community in small town America.
Cole knows his customers are in a bad way, but he can at least prevent them from getting any worse
The second feature film from Braden King (his first, Here, premiered at Sundance in 2011), The Evening Hour screens in Rotterdam following a world premiere at Sundance. Further festival berths seem likely: it's an atmospheric portrait which, while leaving several key story strands under-explored, does convey a vivid sense of the support system which powers and protects these lives lived on the periphery. Theatrical interest is possible. It certainly looks arresting, but tonal issues might prove to be a challenge. Thematically there are parallels with the hardnosed desperation of Winter's Bone but in the execution, there's a dewy warmth, almost a romantic quality, which is closer to the look of a Lasse Hallstrom film.
The handsome, widescreen canvas captures a thickly wooded Appalachian landscape which seems fecund and full of promise. But in fact, the opportunities for the people of Dove Creek, West Virginia dried up along with the shuttered mine and the defunct quarry. It's a community which has given up hope and is barely clinging to its pride. Cole is the grandson of a firebrand preacher, who, like the congregation he once dominated, has withered away to almost nothing.
But his teachings still inform Cole's life. His aunts trade scripture quotes with his grandmother; in the absence of his mother, they are the women who raised him and instilled in him the moral code which informs everything he does, even dealing oxycontin. Cole knows his customers are in a bad way, but he can at least prevent them from getting any worse. Terry (Cosmo Jarvis) sees them as a client base waiting to be tapped and tempted with heroin and the meth he plans to cook, just as soon as he has a place to do it.
And Terry is not the only returning figure in Cole's life. His mother, Ruby (Lili Taylor, underused), is drawn back into town for her father's funeral. The first encounter with her son is blistering – a lifetime of recrimination is packed into Cole's wordless stare. One of the film's more unexpected decisions is not to explore Ruby's return and their relationship in further detail. More weight is given to Cole's friendship with charming deadbeat Reese (an eye-catching performance from Michael Trotter), who dreams of a new life in Florida.
A sense of imminent tragedy for all is underlined by a heartsick score of ragged country music and bluegrass. The production design, with its glowering trailer parks and low-ceilinged bars strung with half-hearted party lighting, is atmospheric, yet, like the rest of the film, slightly prettier than expected. But perhaps the acknowledgement of the beauty that remains, even now, accounts for the reluctance of so many town folk to leave a place where poverty seems like a sickness in the blood of the community, tainting everything, especially Cole's good intentions.
Production companies: Secret Engine, Truckstop Media
International Sales: Film Constellation info@filmconstellation.com
Producer: Lucas Joaquin, Braden King, Derrick Tseng
Screenplay: Elizabeth Palmore
Editing: Andrew Hafitz, Joseph Krings
Cinematography: Declan Quinn
Production Design: Debbie De Villa
Music: Michael Krassner, Tim Rutili, Boxhead Ensemble
Main cast: Philip Ettinger, Stacy Martin, Cosmo Jarvis, Michael Trotter, Kerry Bishé, Marc Menchaca, Ross Partridge