The move from page to screen was a leap too far for Ken Scott's globe-trotting English-language adaptation of a best-selling French novel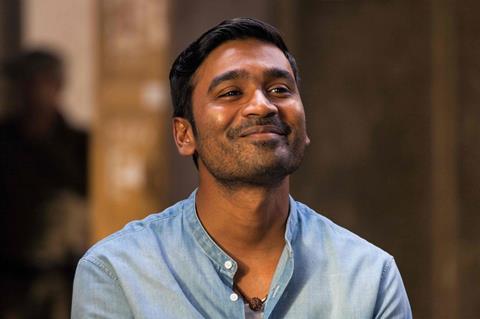 Dir. Ken Scott. France/India/Belgium. 2018. 96mins
If anybody tries to convince you that The Extraordinary Voyage of the Fakir hasn't lost most of its stylistic humour and bite in the transition from (much longer titled) French bestseller to English-language film, feel free to shout "Fak-ir news!". Ken Scott's (Starbuck) aggressively fanciful and relentlessly nice fable-like travelogue offers pleasant enough narrative developments and local colour galore while opting for a sunny retro tone (think the 1956 Around the World in 80 Days but with illegal immigrants and political refugees) that feels head-scratchingly peculiar in 2018.
Never too edgy or too suspenseful or too violent, it just rolls along at a nice pace telling a nice story.
Undemanding movie-goers may enjoy this oddly wholesome entertainment peppered with positive messages about generosity, overcoming adversity and hoping that your karma straightens itself out in this lifetime. Sony certainlly released it in France with minimal fanfare. Which is odd given that the original 2013 book – "L'Extraordinaire Voyage du fakir qui était resté coincé dans une armoire Ikea" (The Extraordinary Voyage Of The Fakier Who Got Trapped In An IKEA Wardrobe") – was a surprise hit (600,000 copies sold in French and translation into 30 other languages) and that a volume of the Fakir's subsequent adventures has just hit French bookstores.
We meet Aja Patel (adorable Hearty Singh) as a young boy in the slums of Mumbai, India. His mother (Amruta Sant) is a hard-working laundress who insists that Aja has no father and just sort of magically sprouted. They're dirt poor. In the hopes of getting rich, Aja learns sneaky magic tricks, perfects his pick-pocketing skills and even ends up in jail. But one day, having grown up to be famous Tamil actor Dhanush, Aja, armed with a passport, a plane ticket and a counterfeit 100 euro bill flies to Paris in search of his father.
Fakir… tells of poverty and loss and thwarted romance and illegal immigrants, of stowaways and criminals, of hard choices and incredible luck without ever stepping outside the sphere of palatably nice. Never too edgy or too suspenseful or too violent, it just rolls along at a nice pace telling a nice story.
Aja is a very appealing protagonist and when the armoire he has fallen asleep inside is shipped to London aboard a truck – where he meets some Somali refugees who have been on the road for 18 months – we're sad that he's going to miss the Eiffel Tower (where else?) rendezvous he made with Marie (Erin Moriarty), the cute but bland American woman he met in the Swedish furniture store. And when he ends up in the hotel suite of a movie star visiting Rome (Berenice Bejo) we don't want her to shoot him as an interloper.
Aja's adventures take him to Barcelona and Libya as well as Paris, London and Rome. Ironically, he has a passport and describes himself as a tourist but ends up being treated like an undocumented refugee more often than not.
It's doubtful that this is intentional (in which case it would be a bold conceptual indictment of tokenism in movie casting), but Moriarty plays Marie in such a lackluster register that she may as well be called "white American love interest" the way much older films might have listed "Chinese Laundry Owner."
Points for attempted creativity go to two jaunty dance numbers – one of which has a London immigration officer (Ben Miller, up for being foolish) showing misplaced pride in the application of unfair immigration policies.
The film passes the Bechdel test but unfortunately does so via cringeworthy dialogue between Marie and her roommate awash in completely gratuitous references to lesbianism as a trendy lifestyle rather than a biological reality.
Production companies: Brio Films, Vamanos Films, Scope Pictures, Little Red Car Films
International sales: TF1 Studio
Producers: Luc Bossi, Jaime Mateus-Tique, Gregoire Lassalle, Genevieve Lemal, Saurabh Gupta, Gulzar Inder Singh Chahal, Aditi Anand, Samir Gupta
Screenplay: Romain Puertolas, Luc Bossi, with the collaboration of Ken Scott, from the book 'The Extraordinary Journey of the Fakir Who Got Trapped in an Ikea Wardrobe' by Romain Puertolas
Production design: Alain-Pascal Housiaux, Patrick Deschesne
Editing: Philippe Bourgueil
Cinematography: Vincent Mathias
Music: Nicolas Errera
Main cast: Dhanush, Bérénice Bejo, Erin Moriarty, Barkhad Abdi, Gérard Jugnot, Ben Miller, Abel Jafri, Sarah-Jeanne