This sparkling contemporary Restoration farce from Yorgos Lanthimos stars Olivia Colman, Emma Stone and Rachel Weisz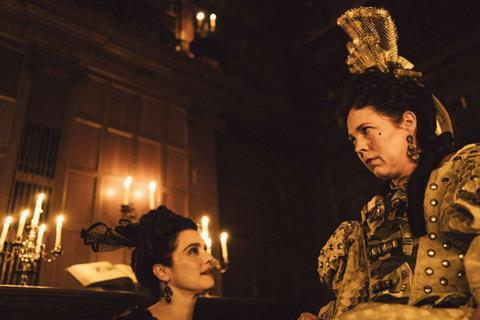 Dir: Yorgos Lanthimos. UK/Ireland/USA. 2018. 119 mins.
Anne is the British queen we all forget about, the one who isn't Victoria or either of the Elizabeths. If monarchs are made memorable by the stories future generations tell about them, then Yorgos Lanthimos' sparkling period drama The Favourite may yet save Anne for posterity, with the help of Olivia Colman's delightful tragi-comic performance as the benighted queen who was pregnant 17 times but never saw a child live past the age of eleven.
The energy generated by three talents at the top of their game and the energy generated by their characters swirl and merge in a perfect storm
Don't be wrong-footed by the delicious scene in which a courtly dance turns into a Baroque parody of various rock and roll dance moves. Lanthimos' entertaining, mischievous, shrewd and archly feminist portrait of intrigue at Anne's court is not, deep down, a historical makeover exercise in the style of Sofia Coppola's Marie Antoinette.
It's more subtle than that: this adroit historical romp's sense of humour derives as much from the Restoration Comedies of its period setting, or the works of contemporary verse and prose satirists like Pope or Swift, as it does from retrofitted references. And the traffic between present and past embedded in that dance scene, or in a facial scar that looks just like the Nike logo, is hardly one way. The Favourite's world of scheming courtiers who pretend to represent 'the country' (whatever that is) while really only serving themselves is clearly intended to resonate with audiences in the age of Brexit and Donald Trump.
It's the first time the Greek director of Dogtooth, The Lobster and last year's Killing Of A Sacred Deer has directed a script not co-penned by him and his regular writing partner Efthymis Filippou. In development for two decades (with Lanthimos attached to the project in 2009), The Favourite is based on an original screenplay by Deborah Davis developed by Australian writer Tony McNamara. Credit for the deft development of the love-and-power triangle at the film's core, as an old court favourite played by Rachel Weisz and Emma Stone's ambitious new girl spar for the position of chief confidante to Olivia Colman's weak, needy Queen Anne, should go to a peppy script that looks certain to generate Oscar traction. But Lanthimos' disaffected view of human foibles is present in every shot.
The way the poster has been designed (part of a cool graphics package that carries through into the credits), we read 'Olivia, Emma, Rachel' before we register the actress's surnames. That might well have qualified as an alternative title, as The Favourite is one of those rare films where the energy generated by three talents at the top of their game and the energy generated by their characters swirl and merge in a perfect storm.
Colman plays Queen Anne (who reigned from 1702 to 1714) as a whiny, insecure, ailing monarch. We meet the queen in 1704, a couple of years into her reign, when the Duke Of Marlborough has just won an important battle against the French during the War of Spanish Succession. This strengthens the hand of the parliamentary 'war' party, the Whigs, against the landowning Tories under Robert Harley (a tasty turn by Nicholas Hoult, confined to a minor supporting role like all the men in the cast, and the story).
It also plays into the hands of Marlborough's wife and Queen Anne's chief confidante, Sarah Churchill (a razor-sharp Weisz), who guides the unschooled, uncertain monarch in matters of public policy. She's also, we soon discover, a more intimate friend, for whom sex is just one way of holding sway over the sulky, jealous, childish monarch, who binge eats and keeps seventeen pet rabbits in her bedchamber, one for each of her failed pregnancies.
Into this comfortable ménage comes Sarah's poor cousin Abigail Hill (Stone, brilliant as a friendless waif in whose mouth butter would not melt). Taken on as a scullery maid, Abigail gradually begins to worm her way into influence at court, eventually challenging Churchill's place as the Queen's favourite. The long-running duel between two women who recognise and respect each other's hungry intelligence, and use the foppish men around them as mere stepping stones, is not the only pleasure to be found in the film's female triad – Colman's gout-plagued Queen Anne also becomes a surprisingly complex character in the course of the film, both pathetic and sympathetic.
The whole darkly wry edifice – which is surprisingly true to the historical record, even while it plays fast and loose with the details – is supported by sterling work in all the technical departments. Together with the low lighting (faces are often in the dark), Robbie Ryan's camerawork, notable for its use of distorting fish-eye lenses, creates a sense of oppressive claustrophobia, a quality abetted by the clever use of historic locations like Hatfield House, whose over-ornate paneled and tapestried chambers and hallways pen poor Anne up in a gilded prison (only Sarah and Abigail get to roam in the forest, though the former comes a cropper there).
Sandy Powell works her usual magic in the costume department, dressing the men as powdered fops, with just a suggestion of glam rock posing, and neatly escalating Abigail's sartorial choices as her influence in court increases. The appetising, saleable soundtrack mixes period pieces from Purcell, Handel Vivaldi and others with carefully gauged contemporary dischords by British composer Anna Meredith, and wraps with the original harpsichord version of Elton John's Skyline Pigeon, a perfect choice for this contemporary Restoration farce.
Production companies: Element Pictures/Scarlet Films
International distribution: Fox Searchlight, www.foxsearchlight.com
Producers: Ceci Dempsey, Ed Guiney, Lee Magiday, Yorgos Lanthimos
Screenplay: Deborah Davis, Tony McNamara
Production design: Fiona Crombie
Editing: Yorgos Mavropsaridis
Cinematography: Robbie Ryan
Main cast: Olivia Colman, Emma Stone, Rachel Weisz, Nicholas Hoult, Joe Alwyn, James Smith, Mark Gatiss, Jenny Rainsford